Tested and proven for decades, "chair grass" skirts are a colorful, durable, effective and economical alternative to high-priced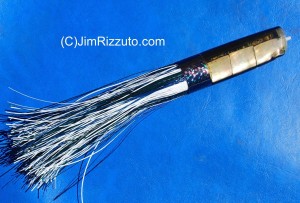 options. The skirts are made from chair webbing, a product manufactured for hard use outdoors in sun, rain, and abuse from heavy butts.  To see three ways to skirt lures with durable webbing, visit DIY lure skirts.
To learn how to make the lure head shown, check out Kona Lure-Making Book Two and Kona Lure-making Book One.
For lure-making pros, the shell pieces inside the lure shown were made from a discarded wrist band.  (I hope it was a discard or I'll have a lot to answer for when the owner sees this page.)