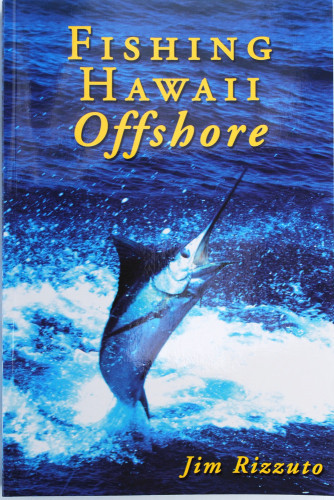 Fishing Hawaii Offshore was written for fishermen who like to read, readers who like to fish and everyone who enjoys exciting stories of men, women and the sea. It was inspired by the great books of the classic age of angling literature. When big-game fishing was in its infancy, superb writers brought their adventures back from far-flung places as alive and vivid as when they were written. 
What The Critics Say About FISHING HAWAII OFFSHORE:
"A must-have for serious fishermen...enlightening, nuts and bolts information gets high marks."
-Lew Carpenter, Western Outdoors magazine
"Trims the traveling angler's budget by thousands of dollars... By learning from these success stories, anglers can hone their skills ... no matter where they live or fish."
-Charlie Levine, Sport Fishing magazine
"A real catch for fishing fans ...a delightful combination of statistics, instruction, history and humor."
-Ray Pendleton, Honolulu Star-Bulletin
"Offers advice and anecdotes. The last chapter...is...worth the purchase price alone. A collection of the most interesting and bizarre stories about fishing in local waters."
-Bobby Command, West Hawaii Today
TABLE OF CONTENTS
ONE: A Century of Lure Development
TWO: The Bridled Live-Bait Rig
THREE: Grand Lessons
FOUR: Rigging Straight
FIVE: Tonner Tales
SIX: Pacific Marlin Controversies
SEVEN: On the Trail of the Yellowfin Tuna
EIGHT: 'Ahi, Matters of Habit
NINE: Deep Secrets for Yellowfin Tuna
TEN: Chug, Chug a Mahimahi
ELEVEN: The Kona/Cairns Connection
TWELVE: Marlin Mortality
THIRTEEN: Dueling with Spears and Swords
FOURTEEN: Hawaiian Fly
PHOTO GALLERY
FIFTEEN: Big Ono
SIXTEEN: Jacks Are Better
SEVENTEEN: FAD Fishing
EIGHTEEN: Other Tunas
NINETEEN: Special Tactics
TWENTY: Big Fish and Very Small Boats
TWENTY-ONE: Makos, Tigers and Other Monsters
TWENTY-TWO: Only in Hawaii
360 pages
Includes 46-page photo gallery with most images in color
List Price: This book is currently not available.