Big Blue Released off Red Hill
At high noon last Friday, Capt. John Bagwell was trolling off Red Hill when the week's biggest blue marlin crossed his path.  Aboard Silky with him, crew Steve Petras and angler Diane Reid were ready for the challenge. The fish raced into the tumbling waters in the 45-footer's wake, picked out a small version of the Koya Poi Dog lure, and pounced on it.
NIGHT RUNNER OFF AND RUNNING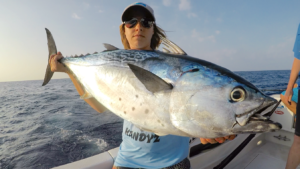 Night Runner ended 2016 with Kona's biggest spearfish, ono, kahala and kawakawa of the year.  A month into 2017, Capt. Shawn Rotella's crew is back on top in three categories.  Last week, Shawn and crew Britt McCurdy took the lead for kawakawa 22.5-pounds; rainbow runner,  21.5; and bonefish, 6.8.
SLOW-MOVING FAST LURE
Capt. Guy Terwilliger found a floater surrounded by little tuna as voracious as they were small.  The greedy little devils not only struck his lures, but they grabbed the swivels designed to spin out line twists.
LONG FIGHTS STILL HAPPEN SOMETIMES
In the early days of offshore gamefishing, long battles with marlin were common.  Some lasted more than a day.  Even though tackle and fighting tactics have improved steadily, long fights still happen occasionally in the modern era.
ODDEST CATCH OF THE WEEK
The giant trevally and bluefin trevally are the uluas that get the most attention, but Hawaii waters are actually home to a dozen members ot the trevally family.  Nearly all grow big enough (10 pounds or more) to be called "ulua," but they also go by other names, as well.  This week's odd catch is a perfect example.  Fishing with Robert Ventura, Charterdesk employee Talexii Ancheta-Ross caught three "island jack," as they are known elsewhere.  Here, they are usually called "yellowspot ulua," as indicated on the Hawaii Fishing News State Record site.
Big-Fish List for 2017. The list recognizes the biggest fish caught on rod and reel (except opakapaka and onaga, for which we'll accept handline catches) in West Hawaii waters for 2017 in each of 22 categories. They are listed by species, weight, angler, skipper, boat, and date. The list is updated every Sunday throughout the year (copyright 2017 by Jim Rizzuto). If we have overlooked you, give us a call (885-4208) or send an e-mail ([email protected]).
Blue marlin, 771, Brad Picking, Capt. Chuck Wigzell, Ez Pickens. Jan 28
Black marlin, vacant
Ahi, 191, Keri Clavin, Capt. Brad Damasco, Bite Me 6. Jan 15.
Bigeye tuna, 121.5, Kelsey Bestall, Capt. Jah Nogues, High Noon. Jan 14
Striped marlin, 81, Luke McCallum, Capt. Tim Hicks, Illusion. Jan. 3
Spearfish, 49, Paul Marks, Capt. Robert Hudson, Camelot. Jan 14
Sailfish, vacant
Mahimahi, 42, Nick Docken, Capt. Kenny Fogarty, Hula Girl. Jan 6.
Ono, 47, Devin Hallingstad, Kayak. Jan 10
Kaku, (barracuda), 39, Chad Culbertson, Capt. Jeff Rogers, Aloha Kai. Jan 23
Kahala, vacant
Ulua (giant trevally), vacant
Omilu (bluefin trevally), vacant
Otaru (skipjack tuna), 18, Larry Chu, Capt. Kent Mongreig, Seawife II. Jan 5.
Broadbill swordfish, vacant
Ahipalaha (albacore), vacant
Kawakawa, 22.5, Britt McCurdy, Capt. Shawn Rotella, Night Runner. Jan 31
Kamanu (rainbow runner), 20.5, Britt McCurdy, Capt. Shawn Rotella, Night Runner. Jan 31
Opakapaka (pink snapper), 14.5, Greg Hong, Kevin Shiraki, Erin Kai. Jan 12.
Onaga (ulaula ko`aie), vacant
Uku (gray snapper), 24.5, Brent Masunaga, Holly Ann 3. Jan 3.
O`io (bonefish), 6.8, Britt McCurdy, Night Runner, shoreline.  Jan 31.
Beasts of the week (marlin weighing 500 pounds or more, including R for releases).
Feb 01: Blue marlin (600 weight estimated) Capt. Keoni Llanes, Holiday
Feb 03: Blue marlin (800R) Diane Reid, Capt. John Bagwell, Silky
Released:
Jan 29: Spearfish (31.5) Candy Stewart, Capt. McGrew Rice, Ihu Nui
Jan 31: Bluemarlin (375) Mark Knotts, Capt. Chuck Wigzell, Hooked Up
Jan 31: Blue marlin (250) Kevin Jacques, Capt. McGrew Rice, Ihu Nui
Jan 31: Blue marlin (150) Jingto Shi, Capt. Tim Hicks, Illusion
Feb 01: Blue marlin (475) Mark Sawyer, Capt. Chuck Wigzell, Hooked Up
Feb 01: Blue marlin (175) Jordan Wheeler, Capt. Kenny Fogarty, Hula Girl
Feb 03: Spearfish (30) Larry Nissen, Capt. Mcgrew Rice, Ihu Nui
Weighed/Boated:
Jan 29: Spearfish (31) Brian Kischu, Capt. John Rooney, Miss Mojo
Jan 30: Aku (13) Capt. Kent Mongrieg, Seawife II
Jan 31: Blue marlin (483) David Pignolet, Capt. Rick Reger, Bite Me 5
Jan 31: Spearfish (40) Curt Buckholt, Capt. Jeff Heintz, Linda Sue IV
Feb 01: Blue marlin (85), spearfish (38) Gerry Springs, Capt. Jeff Heintz, Linda Sue IV
Feb 02: BoneFish (6.8) Brittany McCurdy, Shoreline
Feb 03: Blue marlin (181) Doug Miller, Molly Palmer, Camelot
Feb 04: Blue marlin (200) Capt. Will Lazenby, Linda Sue IV
Feb 04: Blue marlin 160) Capt. Chad Contessa, Bite Me 4
Feb 04: Blue marlin (350) Hal Westbrook, Capt. Larry Peardon, El Jobean