Three generations of the Blake family celebrated the holidays together with a fishing bonanza that will make 2015 and 2016 unforgettable for them.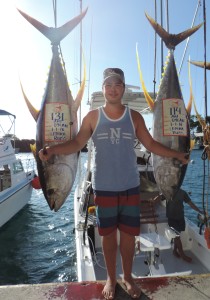 Peter Blake runs the family boat TLC 2. As happens annually, his son, Scott Blake, brought his family down from Anchorage for the school break.  Twins Matt and Dylan, 16, and Hunter, 11 were eager to escape the snow and haul in some tropical gamefish.
On the 30th, Peter took Matt and Hunter out on TLC 2 to try for pre-New-Years-Eve sashimi.  Peter had not caught an ahi in three years, so he was delighted when a hard-fighting tuna hit.  Matt got the call and pulled in the 141.5-pound yellowfin.
With their last fish of 2015 in the family album, the five Blake boys were set to start 2015 in high gear with competition in The Charter Desk New Year's Day Tournament.  To maximize their chances, they split up and fished on two boats.  Scott and Dylan fished with Capt. Russell Nitta on Lepika while Matt and Hunter joined Grandpa on TLC 2.