It's beginning to look a lot like New Year's. Sea temperatures are cooling down into the high 70s and the winter arrivals (shortbill spearfish and striped marlin) are beginning to show up in greater numbers and bigger sizes.
Wednesday was a banner striped marlin day for the Zupanicic family on Linda Sue IV with Capt. Jeff Heintz. John and Claudia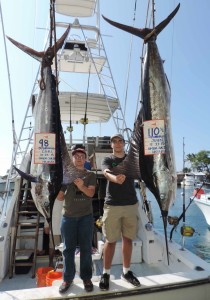 Zupanicic of Gilbert, Minnesota said they wanted to catch any fish possible for their two sons, John and Carl.
Kip Taylor and Will Lazenby were along as crew. With so many hands aboard, Jeff set out 7 lines so there was a lure to match any fish's taste for the day. The 7th rod proved to be the first rod hit. Jeff was running it from the bridge in stinger position with a green and silver jet. Whizzing along at the back of the spread, it looked like a frantic baitfish trying to catch up with the rest of the school. How could any predatory fish resist?
Devin Hallingstad got lucky with a pre-Christmas Eve grandslam.  He had an amazing day by raising 4 sailfish, hooking 3 and boating this 77pounder.   The 77 was on a double strike but the other one threw the hook. He got this one on my penn 16, "which made for a fun fight especially while the other was jumping all over the place," Devin said.  "I even had to dodge it couple times."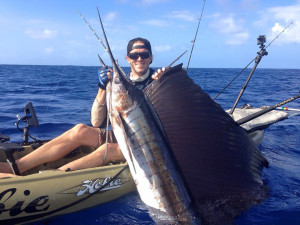 Big-Fish List for 2015. The list recognizes the biggest fish caught on rod and reel (except opakapaka and onaga, for which we'll accept hand line catches) in West Hawaii waters for 2015 in each of 22 categories. They are listed by species, weight, angler, skipper, boat, and date. The list is updated every Sunday throughout the year (copyright 2015 by Jim Rizzuto). If we have overlooked you, give us a call (885-4208) or send an e-mail ([email protected]).
Blue marlin, 1,309, Michael Bilich, Capt. Mat Bowman, Northern Lights.  Aug 26.  (1,368*, Guy Kitaoka, Darrell Omori, Rayna. July 28, *electric reel).
*   Black marlin, 209, Tim Flint, Capt. Butch Chee, Duck Soup. Sept. 7.
Ahi, 233, Ken Smith, Capt. Bobby Cherry. Cherry Pit II, May 1.
Bigeye tuna, 189, Meg Stern, Capt. Tracy Epstein, Last Chance. Feb. 19.
Striped marlin (tie), 141.5, Capt. Rocky Guaron, Hooked Up, March 26 and 142, Jody Pintar, Capt Jeff Heintz, Linda Sue IV.  April 8.
Spearfish, 55.2, Heidi O'Grady, Capt. Andy Diehl, Bite Me 3
Sailfish, 101, Craig Cugnit, Capt. Shawn Rotella, Night Runner. Jan. 31
Mahimahi, 53, Ray Mohammed, Capt. Jim Wigzell, Go Get Em. March 15.
Ono (tie) 58.5, Asa Sugitan, Crazy Ann. Jan. 31,  58.2, Kawika Devine, Arnie Wolfe, Kiana Kai. Nov. 16.
Kaku, (barracuda), 49, Ben Bermoro, from shore. Aug. 14
Kahala, 124, Ernie Schroeder, Capt. Shawn Rotella, Night Runner. Dec.12.
Ulua (giant trevally), 104.5, Adam Hodgson, Kayak.  March 31.
Omilu (bluefin trevally), 13.5, Bruce Lentz, caught from shore.  April 2.
Otaru (skipjack tuna), 29, Unknown, Capt. Chad Contessa, Bite Me. June 2.
Broadbill swordfish, 50.5, Tony Clark, Capt. McGrew Rice, Ihu Nui. June 6.
 Ahipalaha (albacore), (vacant)
Kawakawa, 19.6, Dylan Santos, Capt. Kai Hoover, Waiopai  Dec. 23.
Kamanu (rainbow runner), 21, Adam Hodgson, kayak, May 28; and 21.5, Jim Demand, Capt. Greg Kaufmann, Reel Screamer, Sept. 8;  and 21.3, Doug Copeland, Capt. Shawn Rotella, Night Runner, December 21 (three-way tie because weights are closer than the range of scale error).
Opakapaka (pink snapper), 12, Flora and Milton Fukumitsu, Flora III. Dec 16.
Onaga (ulaula ko`aie), (21) Earl K. Hind, Kilohana. Sept. 11.
Uku (gray snapper), 16, Todd Shiraki, Treeny 2, June 20.
O`io (bonefish), 5.4, James Cintas (6 years old), Shoreline