How can you tell the ono are coming?  Some are already here.  Many boats caught at least one and some caught multiples.  On Saturday, Capt. Jim Wigzell sent in a photo of 4 ono on Hooked Up with the caption "Ono are snapping this morning."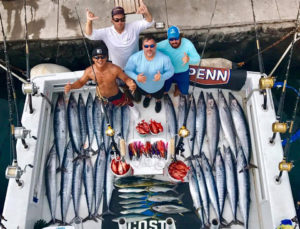 The same day, Capt. Brad Damasco and crew Andy Diehl hit an ono hole and boated 3 fish out of 4 or more strikes.  Their catch demonstrated the "Oh, no," aspect of ono fishing.  "We got dinner but donated $50 worth of skirts to sharp teeth," Brad said.  Ono tend to whack lures from the side and chop the skirts off in the process.  Good time to begin skirting your lures with remnants to stretch the budget.   More
HOT BAITS, HOT BOATS
Even when billfish action slows down here, some fishermen defy the odds with surprising results.
On Huntress, Capt. Steve Epstein started the week with a worthy 500-pound blue for Heather Warmus, the third largest reported for the week.  Heather's fish was released. Huntress got lucky again the next day with a 650-pound release for guest Jim Bowling.  The 650 was the largest blue reported for the week. We called it luck, but did so with the note that Huntress has a long and impressive record of big catches.  More
BIGGER O`IO ARE WAITING
If bonefish are your game, don't be discouraged by the 10.5-pound o`io atop the leader board for the year.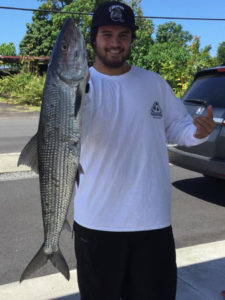 You still have a chance. O`io get much bigger here.  An 18.5-pounder from Hawaii once held the IGFA world record.  True, that was 60 years ago, but every year someone catches a 15- or 16-pounder somewhere. More
ODDER CATCH OF THE WEEK
Capt. Bill Murtagh asked us to ID a catch he had never seen before.  in fact, we had never seen it before a submission about 3 years ago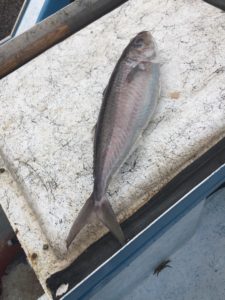 when Alton Oye showed us one from the farside of the island.  Since then, we have been getting a few pics a month.  Dr. Jack Randall identified it as a "shortfin ariomma." More
ODDEST CATCH OF THE WEEK
Call this a catch within a catch.  When Capt. Molly Palmer cleaned a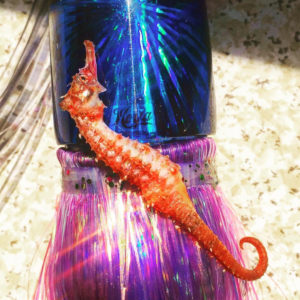 tuna, she found a bright red sea horse in the belly.  The 6-inch long creature is worth noting for several reasons. More
WEE GUYS TOURNAMENT FILLING UP FAST
Capt. John Bennett reminds us that entries for the 37th Annual Wee Guys Fishing Tournament are filling up fast even though the popular event is still about two months away (June 24, 25).  Space is limited to 130 teams but the event already has 70 teams signed up. If you want to get in on this historic small-boat competition, pick up your application at the Queen K Tesoro service station across from the entrance to Honokohau Harbor. Queen K is a major WGT sponsor.
Big-Fish List for 2017. The list recognizes the biggest fish caught on rod and reel (except opakapaka and onaga, for which we'll accept handline catches) in West Hawaii waters for 2017 in each of 22 categories. They are listed by species, weight, angler, skipper, boat, and date. The list is updated every Sunday throughout the year (copyright 2017 by Jim Rizzuto). If we have overlooked you, give us a call (885-4208) or send an e-mail ([email protected]).
Blue marlin, 925, Guy Terwilliger, Capt. Cindy Cary, Cindy Lu. Apr. 2
Black marlin, 357, Todd Nakatani, Keola Toriano, Breezin. Apr 6.
Ahi, 242, Shawn Takaki, Clarence Minamishin Jr., Malama Lama. Apr 13.
Bigeye tuna, 121.5, Kelsey Bestall, Capt. Jah Nogues, High Noon. Jan 14
Striped marlin, 107, David Benson, Capt. Kevin Hiney, Kuuipo. Mar 31
Spearfish, 56, Mac Jorgensen, Capt. Kenny Fogarty, Hula Girl. Mar 13.
Sailfish, 93, Justin Kaber, Capt. Shawn Rotella, Night Runner, Mar. 25.
Mahimahi, 46.5, Brita Campbell, Capt. Bob Beach, Reel Screamer. Mar 2.
Ono, 75.5, Jason Wong, Donny Kobayashi, No Name. Mar. 22.
Kaku, (barracuda), 39, Chad Culbertson, Capt. Jeff Rogers, Aloha Kai. Jan 23
Kahala, vacant
Ulua (giant trevally), vacant
Omilu (bluefin trevally), vacant
Otaru (skipjack tuna), 24, Marie Hulletel, Capt Kevin Hiney, Ku`uipo. Feb 10.
Broadbill swordfish, vacant
Ahipalaha (albacore), vacant
Kawakawa, 22.5, Britt McCurdy, Capt. Shawn Rotella, Night Runner. Jan 31
Kamanu (rainbow runner), 20.5, Britt McCurdy, Capt. Shawn Rotella, Night Runner. Jan 31
Opakapaka (pink snapper), 14.5, Greg Hong, Kevin Shiraki, Erin Kai. Jan 12.
Onaga (ulaula ko`aie), 21, Greg Hong and Kevin Shiraki, Erin Kai. Mar 6.
Uku (gray snapper), 37.8, Billy Wakefield, Kiakahi. Apr 4
O`io (bonefish), 10.5, Hansen Gardling, shoreline. Mar 30.
Beasts of the week (marlin weighing 500 pounds or more, including R for releases).
Apr 16: Blue marlin (500 R) Heather Warmus, Capt. Steve Epstein, Huntress [Released]
Apr 17: Blue marlin (650 R) Jim Bowling, Capt. Steve Epstein, Huntress [Released]
Apr 19: Blue marlin (615) Christian Pedersen, Capt. Shawn Palmer, El Jobean
Released:
Apr 16: Blue marlin (250), spearfish (25), Vicki Picking, Capt. Chuck Wigzell, EZ Pickens
Apr 17: Blue marlin (350), spearfish (30 and 45) Russel Frank, Capt. Joe Schumaker, Fire Hatt
Apr 18: Blue marlin (175) unknown, Capt. Chuck Wigzell, Hooked Up
Apr 18: Blue marlin (400) Mark Rauske, Capt. Russ Nitta, Lepika
Apr 20: Spearfish (30) Heather North, Capt. Chris Choy, Sapo
Apr 22: Striped marlin (100) unknown, Capt. John Bagwell, Silky
Apr 22: Blue marlin (325) Jim Ott, Capt. Larry Peardon, El Jobean
Boated:
Apr 17: Ahi (90 and 110), spearfish (30) Laura Kingsbury, Capt. Chuck Wigzell, Hooked Up
Apr 17: Ahi (173), ono (24), mahimahi (37) Wayne Peardon, Capt. Larry Peardon, El Jobean
Apr 17: Ono (20) Russell Frank, Capt. Joe Schumaker, Fire Hatt
Apr 17: Spearfish (25 and 37) Tucker Tooley, Capt. Marlin Parker, Marlin Magic II
Apr 17: Spearfish (25) unknown, Capt. Kent Mongreig, Sea Wife II
Apr 18: Spearfish (31) Iris Rasanen, mahimahi (18) Kayla Jones, Capt. Kent Mongreig, Sea Wife II
Apr 18: Spearfish (35) unknown, Capt. Jeff Heintz, Linda Sue IV
Apr 19: Ono (30) Mary, Capt. Rich Young, Au Struck
Apr 19: Blue marlin (90) Mike While, Capt. Reuben Rubio, Sundownder
Apr 19: Spearfish (51) Larry Stevenson, Capt. Jeff Heintz, Linda Sue IV
Apr 19: Spearfish (30 and 32) Tucker Tooley, Capt. Marlin Parker, Marlin Magic II
Apr 21: Ono (three fish from 13 to 20) Arthur & Kirsten, Capt. Molly Palmer, Camelot
Apr 21: Ono (18 and 20) Brad, Capt. Rich Young, Au Struck
Apr 22: Ono (35), spearfish (35) Peter, Capt. McGrew Rice, Ihu Nui
Apr 22: Ahi (100) Ken Visocky, Capt. Neal Isaacs, Anxious