The 2017 Big-Fish List competition is off to a flying start.  Ten of the 22 slots already have worthy entries. Last week's hottest skipper, Capt.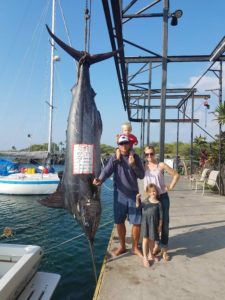 Bobby Cherry, fished alone on Wednesday and took both the blue marlin and shortbill spearfish leads in a single trip.
The day did not start off well for Bobby. His charter had cancelled and he had found no replacement.  Rather than waste the day, he set out solo in hopes of catching an ahi to capitalize on a good tuna market. After checking likely tuna spots with no tuna action, however, he switched from baits to lures and began trolling further offshore.
FISH LIGHT IF YOU DARE
Topshape is targetting light-tackle world records for shortbill spearfish this week. At this writing, the Ladies' 16-pound-class record is 48.5 pounds, which makes it vulnerable to attack by the present run of shortbills in Kona waters.  The 16-pound class record is special because breaking it would bring the record to Kona, which already holds the 6-, 8-, and 12-pound class Ladies' records.
PANGA MYSTERY
Six years after the Japan tsunami of March 2011, the flotsam from the catstrophe continues to drift into Hawaii waters, bringing surprises with it.  For the third time on record,  the surprise was an overturned skiff surrounded by schools of fish. Robert Ventura found the third skiff last week and set off a search of a different kind because this boat may not have come from Japan.
ODDEST CATCH OF THE WEEK
There is no Hawaii state record for Spanish mackerel for the best of all reasons.  No one has ever reported a "Spanish" from Hawaii waters.  Not until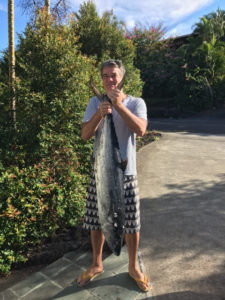 last week.  Kayaker Rich Potter sent me a photo of a fish with the claim that he had caught a "dogtooth tuna."  We often get claims of a dogtooth tuna catch but the fish has always turned out to be an oriental bonito. "Doggies" aren't found here.
LOVE 2 FISH TOURNAMENT COMING UP
Have a great day of fishing and help out Kona Hospice at the same time.  Sign up for the 11th Annual Hospice of Kona "Love 2 Fish" Tournament, scheduled for February 11th in the waters off the Kona Coast.  You can win monetary prizes for marlin, ahi, mahimahi and ono.  In keeping with the "Love" theme, there is a special division for couples who fish as a team. Sign up directly at the Charter Desk in Honokohau Harbor or by calling 808-329-5735.  To donate prizes for the silent auction, contact Hospice of Kona at 808-324-7700.
First Big-Fish List for 2017. The list recognizes the biggest fish caught on rod and reel (except opakapaka and onaga, for which we'll accept hand line catches) in West Hawaii waters for 2017 in each of 22 categories. They are listed by species, weight, angler, skipper, boat, and date. The list is updated every Sunday throughout the year (copyright 2017 by Jim Rizzuto). If we have overlooked you, give us a call (885-4208) or send an e-mail ([email protected]).
Blue marlin, 557.5, Bobby Cherry, Capt. Bobby Cherry, Cherry Pit. Jan 4
Black marlin, vacant
Ahi, 141, Lucas Ruiz, Capt. Molly Palmer, Camelot. Jan 2.
Bigeye tuna, 18.5, Jadelynn Carvalho, Robert Ventura, Lil Allexii. Jan 1.
Striped marlin, 81, Luke Mcallum, Capt. Tim Hicks, Illusion. Jan. 3
Spearfish, 40, Capt. Bobby Cherry, Cherry Pit. Jan 4.
Sailfish, vacant
Mahimahi, 42, Nick Docken, Capt. Kenny Fogarty, Hula Girl. Jan 6.
Ono, 31, Jack Mccall, Capt. Chip Fisher, Hanamana. Jan 7.
Kaku, (barracuda), vacant
Kahala, vacant
Ulua (giant trevally), vacant
Omilu (bluefin trevally), vacant
Otaru (skipjack tuna), 18, Larry Chu, Capt. Kent Mongreig, Seawife II. Jan 5.
Broadbill swordfish, vacant
Ahipalaha (albacore), vacant
Kawakawa, 16.5, Dave Remillad, Miles Nakahara, Pumana II. Jan 7.
Kamanu (rainbow runner), vacant
Opakapaka (pink snapper), vacant
Onaga (ulaula ko`aie), vacant
Uku (gray snapper), 24.5, Brent Masunaga, Holly Ann 3. Jan 3.
O`io (bonefish), (vacant)
Beasts of the week (marlin weighing 500 pounds or more, including R for releases).
Jan 04: Blue marlin (557.5) Capt. Bobby Cherry, Cherry Pit II
Released
Jan 05: Blue marlin (100) Larry Chu, Capt. Kent Mongrieg, Seawife II
Weighed Fish:
Jan 01: Blue marlin (87) Ryan Scales, Lawai'a
Jan 01: Mahimahi (36) Capt. Jim Wigzell, Go Get Em
Jan 01: Ahi (71.5 and 56) Talexi Ross, bigeye tuna (18.5) Jadelynn Carvalho, Robert Ventura, Lil Allexii
Jan 01: Striped marlin (74.5) Jack O'Brien, Capt. John Bagwell, Silky
Jan 01: Spearfish (30.5) Marlon Galigo, Capt. Tony Clark, Ihu Nui II
Jan 01: Ono (32) Jeanie and Larry Peardon, El Jobean
Jan 02: Ahi (141) Lucas Ruiz, Capt. Molly Palmer, Camelot
Jan 02: Ahi (105 and 68) James Herregsell, mahimahi (38) Hannah Herregsell, Capt. Jah Nogues, High Noon
Jan 03: Ono (15) Jack Becooman, Capt. John Bagwell, Silky
Jan 03: Blue marlin (139) Matt Filbern, Capt. Chad Contessa, Bite Me 4
Jan 03: Uku (24.5) Brent Masunaga, Holly Ann 3
Jan 03: Spearfish (27) Yngavar Halvorsen, Mike Hamilton, Invader
Jan 03: Striped marlin (81) Luke Mcallum, Capt. Tim Hicks, Illusion
Jan 03: Spearfish (30), ahi (120 and 60) Marlan Nelson, Capt. Marlin Parker, Marlin Magic II
Jan 04: Spearfish (40), Capt. Bobby Cherry, Cherry Pit
Jan 04: Spearfish (26.5) Bob Smickland, Capt. Kent Mongreig, Seawife II
Jan 05: Aku (18) Larry Chu, Capt. Kent Mongreig, Seawife II
Jan 05: Ahi (110.5) Capt. Chad Contessa, Bite Me 4
Jan 05: Mahimahi (40.5) Jerry Case, Capt. Kama Desliva, Foxy Lady
Jan 05: Ono (15 and 18) Marlin Nelson, Capt. Marlin Parker, Marlin Magic II
Jan 05: Ahi (107) Bobby Winderman, Capt. Bobby Cherry, Cherry Pit
Jan 06: Striped marlin (75.5) Kaito ito, Capt. Steve Tarbill, Miss Mojo
Jan 06: Blue marlin (126) Nancy Zagorski, Capt. Kent Mongrieg, SeawifeII
Jan 06: Mahimahi (42) Nick Docken, Capt. Kenny Fogarty, Hula Girl
Jan 07: Blue marlin (470) Pauline Mitchell, Capt. Shawn Palmer, Camelot
Jan 07: Kawakawa (16.5) Dave Remillad, Miles Nakahara, Pumana II
Jan 07: Ono (31) Jack McCall, Capt. Chip Fisher, Hanamana