In an exciting final week of the year, three lucky anglers took over top spots on our Big-Fish List for 2016. The year ended with new leaders for shortbill spearfish (58.5-pounds), striped marlin (151), and opakapaka (13.5).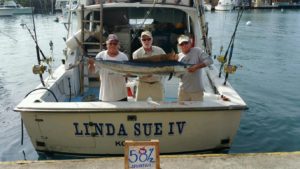 Capt. Jeff Heintz got the big shortbill on Linda Sue IV for visitors John and Nancy Zagorski of Blackhawk, South Dakota.  The Zagorskis have fished with Jeff for 22 years, and it is Jeff's biggest spearfish since he started chartering in Hawaii 41 years ago.
FAT LADY ON HANAMANA
Even in the great offshore opera of big-game fishing "it isn't over until the fat lady sings."  In the final week of 2016, many hopefuls hit the water looking for one more fat lady to end the year with the right music.  (The largest marlin are, as you well know, females.)  Only Hanamana (the name means "working force") found her. The classic vessel ended the 50th stanza of its half century of plying Kona waters with its biggest fish of the year.
HOT BITES, HOT BAITS, HOT BOATS
In winter, Kona's striped marlin and shortbill spearfish are usually joined by packs of small blue marlin of about the same size.  The day after Christmas, Humdinger trolled over a pack of 70-pound blues.  After getting three to hit at once, Capt. Jeff Fay's anglers got two to the boat.  Together, the two blues were very exciting sport but together they did not weigh as much as the 177-pound ahi his party caught on the same trip.
NEW YEAR'S DAY TOURNAMENT
If the 20-team New Year's Day Tournament is any measure, 2017 is starting off slowly.  Team Silky called in the first marlin of the year just 13 minutes after start fishing. Capt. John Bagwell later weighed a 74.5-pound striped marlin.  Silky's fish finished second in the tournament after Team Lawaia weighed an 87-pound blue marlin.  Nalu Kea boated the year's first ahi, Easy Pickens the first ono, and Anxious the first mahimahi.  On L'il Lexii, angler Talexii Ancheta-Ross brought in a 71-pound ahi to take third place for biggest fish, behind the 87-pound blue and the 74.5-pound stripey.
Final Big-Fish List for 2016. The list recognizes the biggest fish caught on rod and reel (except opakapaka and onaga, for which we'll accept hand line catches) in West Hawaii waters for 2016 in each of 22 categories. They are listed by species, weight, angler, skipper, boat, and date. The list is updated every Sunday throughout the year (copyright 2016 by Jim Rizzuto). If we have overlooked you, give us a call (885-4208) or send an e-mail ([email protected]).
Blue marlin, 898, Carol Lynne, Capt. Marlin Parker. Nov. 20.
Black marlin, 310, Tim Flint, Capt. Butch Chee, Duck Soup, June 21
Ahi, 233, David Diaz, Capt. Bobby Cherry, Cherry Pit II, June 5
Bigeye tuna, 173, Dave Remillard, Miles Nakahara, Puamana II. Jan. 11.
Striped marlin, 151, Sherif Agaiby, Capt. David Unger, Nasty Habit.
Spearfish, 58.5, John and Nancy Zogorski, Capt. Jeff Heinz, Linda Sue. Dec. 26
Sailfish, 95.5, Josh Fulton, Kayak, Nov 13
Mahimahi, 53, Nainoa Murtagh, Aulani. Feb. 10.
Ono, 62, Charlie Ford, Capt. Shawn Rotella, Night Runner. Mar. 18.
Kaku, (barracuda), 49.5, Koi Lorance and Tyson Fukuyama, Miki.  May 7.
Kahala, 70, Jessica Yell, Capt. Shawn Rotella, Night Runner. Jan 22.
Ulua (giant trevally), 74, Bochan Johnson, from shore. Apr 3.
Omilu (bluefin trevally), 18.5, Mikey McCrum, Shoreline. May 13
Otaru (skipjack tuna), 28.5, Ray Mohammond, Capt. Jim Wigzell, Go Get Em
Broadbill swordfish, 224, Matthew Bolton, Kahele, June 14
Ahipalaha (albacore), 52.5, Devin Hallingstad, kayak, Aug 13
Kawakawa, 23, Tom Schachet, Capt. Shawn Rotella, Night Runner. July 1
Kamanu (rainbow runner), 18. Don Ferreira, Tyson Fukuyama, Miki Nov. 14.
Opakapaka (pink snapper), 13.5. Wesley Mattos, Mana Maru, Dec 21.
Onaga (ulaula ko`aie), 19.5, Greg Hong, Kevin Shiraki, Erin Kai. Feb 25.
Uku (gray snapper), 31, Josh Fulton, kayak. July 31.
O`io (bonefish), (vacant)
Beasts of the week (marlin weighing 500 pounds or more, including R for releases).
December 28: Blue marlin (701) Hannabeth Magnussen, Capt. Chip Fisher, Hanamana
Tag and Released
December 26: Blue marlin (70 and 70) Kevin Procida, Capt. Jeff Fay, Humdinger
December 26: Spearfish (25) Elfriede Crawford, Capt. Al Gustavson, Topshape
December 27: Blue marlin (275) Tanner Bramlaye, Capt. John Bagwell, Silky
December 27: Blue marlin (175) Nolan Seenberg, Capt. James Dean, Blue Hawaii
December 27: Blue marlin (150) Ed, Capt. Rich Young, A'U Struck
December 27: Spearfish (30) Andrew Clement, Capt. Al Gustavson, Topshape
December 28: Spearfish (30) Petri Parvinen, Capt. Al Gustavson, Topshape
December 29: Spearfish (35) Tony Benesito, Capt. Steve Epstein, Huntress
December 29: Blue marlin (135) Jonathan Gregg, Capt. Chuck Haupert, Catchem
December 31: Spearfish (25 and 45) Dave Setnicker, Capt. James Bach, Maverick
Notable
December 26: Striped marlin (86.5) Wil Salomon, Capt. Kai Hoover, Waiopai
December 26: Spearfish (58.5) John Zogorski, Capt. Jeff Heintz, Linda Sue IV
December 26: Ahi (177) Kevin Procida, Capt. Jeff Fay, Humdinger
December 27: Ahi (110) Victor Ramirez, Capt. Bobby Cherry, Cherry Pit
December 28: Spearfish (38) McKenzie Oviatt, Capt. Bruce Herren, Raptor
December 28: Striped marlin (151) Sherif Agaiby, Capt. David Unger, Nasty Habit
December 28: Sailfish (62) Ilsa West, Capt. Jah Nogues, High Noon
December 28: Spearfish (45) Ashlyn Seenberg, Capt. Joe Schumaker, Fire Hatt
December 28: Ahi (167) Kurt Naxer, Capt. Shawn Rotella, Night Runner
December 30: Striped marlin (75) Mark Clienhart, Capt. Jeff Heintz, Linda Sue IV
December 31: Ahi (112.5) Dana Davis, Capt. Kent Mongreig, Sea Wife II