KONA FISHING'S ODD CAST OF CHARACTERS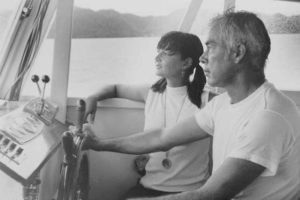 Kona has always attracted celebrities, including many who visit here to fish for blue marlin.  One in particular came to mind this week as I was watching a war movie on late-night TV.  Seeing the face of Lee Marvin reminded me of a fierce battle between Lee and another legendary Kona fisherman, Capt. Rope Nelson.
In the 1960s Lee owned a luxurious fishing boat here, the Blue Hawaii, and fished it in partnership with Rope.  The two men suited each other well because both were tough, stubborn, and opinionated.  Both, for example, preferred to fish with heavy tackle.  In a short action film made during the Hawaiian International Billfish Tournament, a marlin hit, ran out light line, and then quickly shook free of the hook.  Lee went into a rage about the foolishness of using light tackle.  "A fish doesn't have hands to put the hook in its mouth," Lee bellowed — copying a line I had heard Rope say many times.
As they say in courtroom dramas, things were going well until all of a sudden they weren't. The two ended their friendship in a lawsuit over the ownership of the boat.  That might have been the end of it until a landmark case pitted them against each other in a different legal battle with far-reaching consequences.
If you have heard the word "palimony," you know that Lee was sued by his girlfriend Michelle Triola, for half of the $3.6 million he earned during the seven years they lived together.  Rope showed up in the Los Angeles courtroom as a surprise witness to testify on Michelle's behalf.  In dialogue that might have been written for a Lee Marvin movie, Rope accused Lee of "stupidity and lies," and told him to "grow up."
Michelle got nothing, Rope went back to fishing, and Lee went on to make "The Big Red One" after the trial.
It was 30 years ago this month that Kona fisherman Lee Marvin was diagnosed with the lung infection that killed him.
Great Expectations.
With less than two weeks to go in 2016, your best chance to take over a top spot on our annual Big-Fish List is to grab one of the big shortbill spearfish invading local waters now.  Your target, the biggest shortbill of the year to date, is the 54-pounder boated by Night Runner last February.  In the past week, several boats scored worthy challengers that just fell short.
On Wednesday, Jeff Photoscnak of Chicago celebrated his birthday by boating a 50-pounder on Topshape with Capt. Al Gustavson.  Jeff endured some bumpy seas, uncommon for "Lake Kona," to secure his catch.  But compared to the below-freezing "lake effect" snowstorm happening back home in the Great Lakes, conditions here were almost balmy.
Ron Freitas and Robert Millhouse endured the snotty conditions with trips on Huntress and came up with a 50.5-pound shortbill and a 52-pound ono.  Ron sent me photos of the spearfish when freshly caught and it looked like it just might make it.  Capt. Steve Epstein and crew Kevin Hibbard packed it carefully on ice to preserve every ounce of weight and every scintilla of flavor.  Spearfish meat makes excellent sashimi and sauteed filets.
The charterboat Maverick also released a 50-pounder to top spearfish releases for the present run.  Many boats reported releasing spearfish in the more common 30- to 40-pound size range.
For most of the last decade, Kona's annual spearfish leader topped 60 pounds.  Check out this list of years and sizes: 2006, 63 pounds; 2007, 65; 2008, 62; 2009, 58; 2010, 62; 2011, 61; 2012, 51.5; 2013, 62.5; 2014, 50; and 2015, 55.2.  These may be just swings of the pendulum in a natural cycle.  We'll know when and if the next 60-pounder shows up.
The Hawaii state record, 76.8-pound shortbill, was caught off Maui in 2011 but did not meet the IGFA standard for tackle and technique. The Hawaii record is actually a few pounds bigger than the IGFA world records for the heaviest acceptable line classes.  Most of the IGFA light tackle records for both men and women were caught here in Kona.  So, too, the men's fly fishing records.  As the record lists suggest, shortbills are found only in the Pacific and only in a few other places besides Hawaii.
Those dedicated billfishermen who want to add shortbill spearfish to their list of billfish catches know that their best chance is here and the best time to fill the shortbill slot is the weeks and months ahead.
ODDEST CATCH OF THE WEEK
Josh Fulton has once again earned the top spot on our oddest catches of the week list.  On Tuesday, Josh paddled his tiny kayak back to shore loaded down with the kind of big fish you normally associate with large, expensive, sportfishing yachts.  Among his four fish catch was a 110-pound black marlin.  Though black marlin are rare here, kayakers seem to catch far more than you would expect.  But kayakers seem to have the advantage over big, noisy, offshore boats. The formula for their success is location (inshore near the opelu schools), method (live or fresh bait) and stealth (kayaks are sneaky).  To get a sense of how unusual it is to catch a black marlin here, just ask some of the old time veterans of Kona fishing how many they have caught in Kona waters.  Don't be surprised to hear answers like "none," or "one."
Big-Fish List for 2016. The list recognizes the biggest fish caught on rod and reel (except opakapaka and onaga, for which we'll accept hand line catches) in West Hawaii waters for 2016 in each of 22 categories. They are listed by species, weight, angler, skipper, boat, and date. The list is updated every Sunday throughout the year (copyright 2016 by Jim Rizzuto). If we have overlooked you, give us a call (885-4208) or send an e-mail ([email protected]).
Blue marlin, 898, Carol Lynne, Capt. Marlin Parker. Nov. 20.
Black marlin, 310, Tim Flint, Capt. Butch Chee, Duck Soup, June 21
Ahi, 233, David Diaz, Capt. Bobby Cherry, Cherry Pit II, June 5
Bigeye tuna, 173, Dave Remillard, Miles Nakahara, Puamana II. Jan. 11.
Striped marlin, 136.5, Mitchell Romero, Capt. Guy Terwilliger, High Flier. Jan 22.
Spearfish, 54, Nick Humpries, Capt. Shawn Rotella, Night Runner, Feb. 26
Sailfish, 95.5, Josh Fulton, Kayak, Nov 13
Mahimahi, 53, Nainoa Murtagh, Aulani. Feb. 10.
Ono, 62, Charlie Ford, Capt. Shawn Rotella, Night Runner. Mar. 18.
Kaku, (barracuda), 49.5, Koi Lorance and Tyson Fukuyama, Miki.  May 7.
Kahala, 70, Jessica Yell, Capt. Shawn Rotella, Night Runner. Jan 22.
Ulua (giant trevally), 74, Bochan Johnson, from shore. Apr 3.
Omilu (bluefin trevally), 18.5, Mikey McCrum, Shoreline. May 13
Otaru (skipjack tuna), 28. 5, Ray Mohammond, Capt. Jim Wigzell, Go Get Em
Broadbill swordfish, 224, Matthew Bolton, Kahele, June 14
Ahipalaha (albacore), 52.5, Devin Hallingstad, kayak, Aug 13
Kawakawa, 23, Tom Schachet, Capt. Shawn Rotella, Night Runner. July 1
Kamanu (rainbow runner), 18. Don Ferreira, Tyson Fukuyama, Miki Nov. 14.
Opakapaka (pink snapper), 11.5. Dustin Clark, Ilander, Nov 13
Onaga (ulaula ko`aie), 19.5, Greg Hong, Kevin Shiraki, Erin Kai. Feb 25.
Uku (gray snapper), 31, Josh Fulton, kayak. July 31.
O`io (bonefish), (vacant)
Beasts of the week (marlin weighing 500 pounds or more, including R for releases).  None
Released:
Dec 14: Blue marlin (125) Capt. Neal Isaacs, Anxious
Dec 16: Spearfish (50) Cole Setnicker, Capt. Trevor Child, Maverick
Dec 17: Spearfish (35) Capt. Neal Isaacs, Anxious
Boated/ Weighed Fish:
Dec 13: Black marlin (110), ahi (50.5 and 45) Josh Fulton, Kayak
Dec 13: Spearfish (50.5) Ron Freitas, Capt. Steve Epstein, Huntress
Dec 14: Ono (52) Robert Milhouse, Capt. Steve Epstein, Huntress.
Dec 14: Uku (22) Capt. Jah Nogues, High Noon
Dec 14: Spearfish (30) Kevin Jent, Capt. Kenny Fogarty, Makana Lani
Dec 14: Spearfish (50) Jeff Photoscnak, Capt. Al Gustavson, Topshape
Dec 15: Spearfish (30) Tammy Mastor, Capt. Kent Mongrieg, Sea Wife II
Dec 16: Mahimahi (15) Holden Setnicker, Capt. Trevor Child, Maverick
Dec 16: Blue marlin (202) Tyler Aldous, Capt. Chad Contessa, Bite Me 4
Dec 17: Blue marlin (145.5) Dillion Stumpf, Capt. Shawn Palmer, Camelot
Dec 17: Spearfish (35) Capt. Neal Isaacs, Anxious