Who had the best fishing trip of the week?  That depends on your favorite gamefish.  This week, the battle for the mythical title involves bigeye tuna, blue marlin, striped marlin, shortbill spearfish, and ono.  And there is no doubt that the best fishing day was Saturday, two days after the full moon with a big high tide at 5:30 am and a deep low at  noon.
OF STRIPES AND SPEARS
As Kona's waters continue to cool, we should see more and bigger striped marlin.  Right now, the biggest ones are clustered around the 80-pound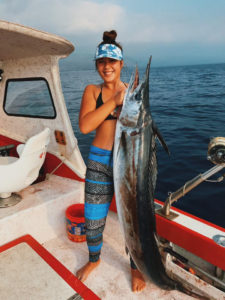 mark, which, for the moment, makes the race for biggest a matter of ounces.  The title of the 81-pound leader caught on Jan 3 by Illusions looked shaky when two fish on Sea Wife II and Silky looked a bit bigger.  Silky's stripe fell short by 2.5 pounds and Sea Wife's by a scant half-pound.
ON THE SUBJECT OF SPEARFISH RECORDS
Fiona Beck and her Husband Dean Rea chased spearfish light-tackle world records with Capt. Al Gustavson on Topshape last week.  They've been trolling a five-lure pattern with three 16-pound-class outfits and two of 30-pound-class.  Both classes have attainable records based on the size of the shortbills now here.
BIG ONO, MANY ONO
On Monday, Devin Hallingstad was quietly towing a bait behind his kayak when the year's biggest (to date) ono latched on.  He battled the 47-pounder to the slim craft and boated it while being very careful to avoid its slashing teeth in close quarters.  Then he took it to a certified market scale to have the weight verified.  Devin has filled slots on the Big-Fish List on many occasions and knows the procedure.  If you can't bring a fish to the Charter Desk for weighing and photographing, find a certified scale at a commercial establishment that buys fish.  Photograph the fish on the scale with the digital readout.  Get the weigh-person to verify the weight with a signature and email us the details.
ODDEST CATCH OF THE WEEK
Captains Carlton Arai and Chris Choy are known for the glamorous game of chasing splendid offshore gamefish from luxurious vessels with polished teak and brilliantly shined flanks.  Last week, Carlton and Chris set aside their Captain's credentials and returned to their roots as "Squid Eye" Arai and Chris "The Spear" Choy.  Donning masks  and flippers, they carefully perused the bottom in search of the sullen critter known here by many names — tako, squid, and octopus.
Big-Fish List for 2017. The list recognizes the biggest fish caught on rod and reel (except opakapaka and onaga, for which we'll accept hand line catches) in West Hawaii waters for 2017 in each of 22 categories. They are listed by species, weight, angler, skipper, boat, and date. The list is updated every Sunday throughout the year (copyright 2017 by Jim Rizzuto). If we have overlooked you, give us a call (885-4208) or send an e-mail ([email protected]).
Blue marlin, 557.5, Bobby Cherry, Capt. Bobby Cherry, Cherry Pit. Jan 4
Black marlin, vacant
Ahi, 141, Lucas Ruiz, Capt. Molly Palmer, Camelot. Jan 2.
Bigeye tuna, 121.5, Kelsey Bestall, Capt. Jah Nogues, High Noon. Jan 14
Striped marlin, 81, Luke McCallum, Capt. Tim Hicks, Illusion. Jan. 3
Spearfish, 49, Paul Marks, Capt. Robert Hudson, Camelot. Jan 14
Sailfish, vacant
Mahimahi, 42, Nick Docken, Capt. Kenny Fogarty, Hula Girl. Jan 6.
Ono, 47, Devin Hallingstad, Kayak. Jan 10
Kaku, (barracuda), vacant
Kahala, vacant
Ulua (giant trevally), vacant
Omilu (bluefin trevally), vacant
Otaru (skipjack tuna), 18, Larry Chu, Capt. Kent Mongreig, Seawife II. Jan 5.
Broadbill swordfish, vacant
Ahipalaha (albacore), vacant
Kawakawa, 16.5, Dave Remillad, Miles Nakahara, Pumana II. Jan 7.
Kamanu (rainbow runner), vacant
Opakapaka (pink snapper), 14.5, Greg Hong, Kevin Shiraki, Erin Kai. Jan 12.
Onaga (ulaula ko`aie), vacant
Uku (gray snapper), 24.5, Brent Masunaga, Holly Ann 3. Jan 3.
O`io (bonefish), (vacant)
Beasts of the week (marlin weighing 500 pounds or more, including R for releases).
Jan 09: Blue marlin (500R) Jordan Viduna, Capt. Neil Isaacs, Anxious
Jan 14: Blue marlin (650R) Vicki Picking, Capt. Chuck Wigzell, Ez Pickens
Released:
Jan 09: Blue marlin (200) Derek Decker, Capt. Kent Mongrieg, Sea Wife II
Jan 09: Blue marlin (400) William Kaenel, Capt. Kenny Fogarty, Makana Lani
Jan 09: Blue marlin (450) Kipp Slackman, Capt. Neil Isaacs, Anxious
Jan 10: Spearfish (32) Fiona Beck, Capt. Al Gustavson, Topshape
Jan 11: Blue marlin (65) Brian Harstad, Capt. Brett Fay, Humdinger
Jan 11: Blue marlin (275) Lacey Harstad, Capt. Brett Fay, Humdinger
Jan 11: Spearfish (35) Kipp Slackman, Capt. Neal Isaacs, Anxious
Jan 12: Spearfish (15) Ed Haas, Capt. Kenny Fogarty, Hula Girl
Jan 13: Spearfish (34) Greg Allen, Capt. Chuck Wigzell, Hooked Up
Weighed:
Jan 08: Spearfish (32) Karlene Calle, Capt. Kenny Fogarty, Hula Girl
Jan 08: Mahimahi (15) Capt. Neil Isaacs, Anxious
Jan 09: Ono (11 fish to 40 pounds), ahi (10 fish to 40 pounds) Ed Mueller, Capt. McGrew Rice, Ihu Nui
Jan 09: Spearfish (42) Nick Nutter, Capt. Robert McGuckin, Integrity
Jan 10: Blue marlin (315) Frank Lee, Capt. Howard Whitecomb, Go Get Um
Jan 10: Ono (18) Tom Allison, Capt. Jeff Heintz, Linda Sue IV
Jan 10: Spearfish (35) Lee Heist, Capt. Guy Terwilliger, High Flier
Jan 10: Ahi (60) Fiona Beck, Capt. Al Gustavson, Topshape
Jan 11: Tako (11) Chris Choy, Speared
Jan 11: Ono (36) Mike Brandt, Capt. Jah Nogues, High Noon
Jan 11: Spearfish (41.5) Ernie and Paulette Clayton, Hana Hou II
Jan 11: Ahi (130) Roy Hendericks, Capt. Bobby Cherry, Cherry Pit
Jan 12: Striped marlin (80.5) Andrew Lininger, Capt. Kent Mongrieg, Sea Wife II
Jan 12: Blue marlin (223.5) Matt Sears, spearfish (35) Michael Trent, Capt. Jeff Heintz, Linda Sue IV
Jan 12: Spearfish (43) Dean Beck, Capt. Al Gustavson, Topshape
Jan 12: Ono (15), spearfish (40) Talexii Ross, Robert Ventura, Lil Allexii
Jan 12: Ono (45), Shawn Ross, Brandi
Jan 13: Spearfish (43.5) Daniel Bakken, Capt. Tracy Epstein, Last Chance
Jan 13: Spearfish (31) Hideyuki Nakajama, Capt. Kent Mongrieg, Seawife II
Jan 13: Ono (30), spearfish (35) Greg Allen, Capt. Chuck Wigzell, Hooked Up
Jan 14: Spearfish (28.5) Izabella Romero, Capt. Russ Nitta, Lepika
Jan 14: Bigeye tuna (121.5) Kelsey Bestall, Capt. Jah Nogues, High Noon
Jan 14: Spearfish (49) Paul Marks, Capt. Robert Hudson, Camelot
Jan 14: Striped marlin (78.5) Carol Williams, Capt. John Bagwell, Silky