Aptly named for a women's competition, team Foxy Lady won the 21st annual Huggo's Wahine Fishing Tournament with the largest blue marlin ever caught in the history of the popular benefit event.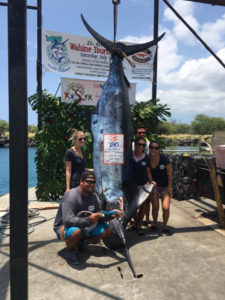 Anglers Nicolette Palacol, Saige Padilla and Gabby Lovell were startled into action by a double strike from a cruising pair of blues.  The smaller male shook free but the big mama held on as Nicolette strapped into the fighting chair to begin what would be a 46-minute fight with a 780-pound blue.  They realized what they were in for when the big fish cleared the water in its first series of jumps.  Nicolette stayed with the fight from beginning to end as Gabby steered the chair and Capt. Boyd DeCoito steered the 46-foot Hatteras.
The team called the strike in at 9:34 am, reported securing it at 10:20 am, and continued to fish for the rest of the morning rather than bringing it in for an immediate weight.
HIBT OPENS WITH GREAT OPTIMISM
The pre-tournament catch report gave a long list of reasons why teams in this week's Hawaiian International Billfish Tournament should be optimistic.
Big fish?  Anglers earn capture points for marlin weighing 300 pounds or more.  Scan the list and you would find seven marlin over 300 pounds among those weighed and released. Tops among those weighed were Saturday's 780-pounder on Foxy Lady in the Huggo's Wahine Tournament and Wednesday's 670-pounder on Waiopai.
A TOURNAMENT WITH CLASS — LINE CLASS
Unique among Hawaii tournaments, the HIBT is regulated by "line classes."
In nearly all other tournaments, competitors are allowed to use the heaviest sporting tackle, spooled with lines having a breaking strength up to 130 pounds.  In the HIBT, competitors are required to use lines that break at less than 80 pounds, for one point per pound, or less than 50 pounds, for bonus points per pound.
The two categories, called "line classes," require teams to use lines made to very specific tolerances.  The use of products sold as "pound test" lines are a sure-fire way to get a catch disqualified either for the HIBT or an International Game Fish Association world record. "Pound test" lines are made to break at a minimum strength that is more than the rated number, not less.
Big-Fish List for 2016. The list recognizes the biggest fish caught on rod and reel (except opakapaka and onaga, for which we'll accept hand line catches) in West Hawaii waters for 2016 in each of 22 categories. They are listed by species, weight, angler, skipper, boat, and date. The list is updated every Sunday throughout the year (copyright 2016 by Jim Rizzuto). If we have overlooked you, give us a call (885-4208) or send an e-mail ([email protected]).
Blue marlin, 865, Louis Paulo and grandson Kalamaokalani Kelekolio-Crivello, Anela okaikea. April 16.
Black marlin, 310, Tim Flint, Capt. Butch Chee, Duck Soup, June 21
Ahi, 233, David Diaz, Capt. Bobby Cherry, Cherry Pit II, June 5
Bigeye tuna, 173, Dave Remillard, Miles Nakahara, Puamana II. Jan. 11.
Striped marlin, 136.5, Mitchell Romero, Capt. Guy Terwilliger, High Flier. Jan 22.
Spearfish, 54, Nick Humpries, Capt. Shawn Rotella, Night Runner, Feb. 26
Sailfish, 91, Mike Foster, Capt. Shawn Rotella, Night Runner. Mar. 24.
Mahimahi, 53, Nainoa Murtagh, Aulani. Feb. 10.
Ono, 62, Charlie Ford, Capt. Shawn Rotella, Night Runner. Mar. 18.
Kaku, (barracuda), 49.5, Koi Lorance and Tyson Fukuyama, Miki.  May 7.
Kahala, 70, Jessica Yell, Capt. Shawn Rotella, Night Runner. Jan 22.
Ulua (giant trevally), 74, Bochan Johnson, from shore. Apr 3.
Omilu (bluefin trevally), 18.5, Mikey McCrum, Shoreline. May 13
Otaru (skipjack tuna), 28. 5, Ray Mohammond, Capt. Jim Wigzell, Go Get Em
Broadbill swordfish, 224, Matthew Bolton, Kahele, June 14
Ahipalaha (albacore), (vacant)
Kawakawa, 23, Tom Schachet, Capt. Shawn Rotella, Night Runner. July 1
Kamanu (rainbow runner), 12.5. Tom Britton, kayak. Apr. 13
Opakapaka (pink snapper), 9.5. Butch Chee, Sueto Matsumoto, Sandee. Mar. 12.
Onaga (ulaula ko`aie), 19.5, Greg Hong, Kevin Shiraki, Erin Kai.  Feb 25.
Uku (gray snapper), 17.5, Devin Hallingstad, kayak. Mar. 24.
O`io (bonefish), (vacant)
Beasts of the week (marlin weighing 500 pounds or more).  See also the 650- pound blue on the "Release" list.
Jul 27: Blue marlin (670) Claire Howbell, Capt. Kai Hoover, Waiopai
Jul 30: Blue marlin (780) Nicolette Palacol, Capt. Boyd DeCoito, Foxy Lady
Released
Jul 25: Blue marlin (200) Westly Gingrich, Capt. Brian Wargo, Bite Me 2
Jul 25: Blue marlin (150) Troy Sitterle, Capt. Teddy Hoogs, Bwana
Jul 26: Blue marlin (100) Christian Hart, Capt. Bill Murtagh, Hula Girl
Jul 26: Blue marlin (400) Monica Pezza, Capt. Chuck Haupert, Catchem 1
Jul 26: Blue marlin (150) Daren Pietra, Capt. Russ Nitta, Lepika
Jul 27: Blue marlin (125 and 125) Carol Herren, Capt. Bruce Herren, Raptor
Jul 27: Blue marlin (150) Dakota, Capt. John Bagwell, Silky
Jul 27: Blue marlin (350) Carl Pfiester, Capt. Trevor Child, Maverick
Jul 27: Blue marlin (450) Karen Bogard, Capt. Russ Nitta, Lepika
Jul 27: Spearfish (20) Justin Van Dyke, (25) Daren Van Dyke, Capt. Al Gustavson Topshape
Jul 27: Spearfish (25) Devon Fleck, Capt. Teddy Hoogs, Bwana
Jul 28: Blue marlin (150 and 550) Steve Harris, Capt. Joe Schumaker, Fire Hatt
Jul 28: Blue marlin (70 and 175) Carol Herren, Capt. Bruce Herren , Raptor
Jul 28: Blue marlin (150) Michael Mervyn, Capt. Marlin Parker, Marlin Magic II
Jul 28: Blue marlin (110) Rick Hunter , Capt. Steve Epstein, Huntress
Jul 28: Blue marlin (150) Unknown, Capt. Neal Isaacs, Anxious
Jul 28: Blue marlin (175), striped marlin (40) Mike Jacobsen, Capt. James Dean, Blue Hawaii
Jul 28: Blue marlin (175) Devon Fleck, Capt. Teddy Hoogs, Bwana
Jul 29: Blue marlin (100) Stull , Capt. Chad Contessa, Bite Me 1
Jul 29: Blue marlin (150) Josh Mor, Capt. Steve Epstein, Huntress
Jul 29: Blue marlin (160) Victor Lau, Capt. Teddy Hoogs, Bwana
Jul 29: Blue marlin (600) Bill Gassmann, (150) Marc Libscomb, Capt. Marlin Parker, Marlin Magic II
Jul 29: Blue marlin (30) Christopher Marlin David (150) Marc Libscomb, Capt. Kevin Nakamaru Northern Lights
Jul 30: Blue marlin (250) Laura Dowsett, Capt. Trevor Child, Maverick
Jul 30: Blue marlin (175) Julie Coburn, Capt. Teddy Hoogs, Bwana
Jul 30: Blue marlin (230) Jen Davis, Capt. McGrew Rice, Ihu Nui
Jul 30: Blue marlin (150) Cindy Griffy , Capt. Tracey Epstein, Last Chance
Jul 30: Blue marlin (100) Kelly McIntosh (200) Adelaide McIntosh, Capt. Tim Hicks, Illusions
Jul 30: Blue marlin (250) Lisa Jardine, , Capt. Jason Holtz, Pursuit
Jul 30: Blue marlin (150) Kelsy Makida, Capt. Kenny Fogarty, Hula Girl
Jul 30: Blue marlin (220) Makella McCormack, Capt. Chip Fisher, Hanamana
Jul 30: Blue marlin (200) Hana Gold, Capt. Jah Nogues, High Noon
Jul 30: Blue marlin (150) Jess, Capt. Neal Isaacs, Anxious
Jul 30: Blue marlin (175) Romy, Capt. Steve Epstein, Huntress
Jul 30: Blue marlin (135) Molly Jaedtke, Capt. Jim Wigzell, Go Get Em
Jul 30: Blue marlin (120) Tai Judd, Capt. Chad Contessa, Bite Me 1
Jul 30: Blue marlin (225) Trina Peterson, Capt. Nate Figuerora, Alibi
Jul 30: Blue marlin (225) Sophia, Capt. Kevin Nakamaru, Northern Lights
Jul 30: Blue marlin (160) Sophia Berger (200) Angela Butcaledo, Capt. Paul Cantor Silver Star
Jul 30: Blue marlin (130) Kater Hiney , Capt. Kevin Hiney, Ku'uipo
Jul 30: Blue marlin (150) Freitas, Mark Bartell, Spearfish
Jul 30: Blue marlin (150) Sierra Carporoz, Capt. Howard Whitcomb, Intrepid
Jul 30: Blue marlin (175) Ashley Kimbro, Capt. Kent Mongereig, Sea Wife II
Jul 30: Blue marlin (120) Jaimie King , JJ Backer, Reel Time
Boated
Jul 25: Ono (25), spearfish (25) Carol Herren, Capt. Bruce Herren, Raptor
Jul 25: Ahi (189) Andrew Breneman, ono (35) Brandon Breneman, Capt. Brian Wargo, Bite Me 2
Jul 25: Spearfish (40) Trey Sitterle, Capt. Teddy Hoogs, Bwana
Jul 26: Blue marlin (490) Matt Brown, Capt. Steve Tarbill, Kona Concept
Jul 27: Spearfish (30) Carol Herren, Capt. Bruce Herren, Raptor
Jul 27: Blue marlin (126) Gary, Capt. Deneen Wargo, Bite Me 6
Jul 27: Spearfish (30) Devin, Capt. John Bagwell, Silky
Jul 27: Blue marlin (148) Caleb, Capt. Dale Leverone, Sea Strike
Jul 27: Blue marlin (124) Mitchell, Capt. McGrew Rice, Ihu Nui
Jul 27: Blue marlin (122) John and Rolan, Ewalu
Jul 27: Ahi (85) Jim Dageorge, Capt. Steve Epstein, Huntress
Jul 27: Ahi (141.5) Zach Salzman, Capt. Chuck Wigzell, EZ Pickens
Jul 27: Blue marlin (163.5) Scott Kim , Capt. Kent Mongreig , Sea Wife II
Jul 27: Ahi (115) JorjeI Herzowit, Capt. Marlin Parker, Marlin Magic II
Jul 27: Blue marlin (130) Karen Bogard, Capt. Russ Nitta, Lepika
Jul 27: Ono (20) Justin Van Dyke, ahi (75) Daren Van Dyke, Capt. Al Gustavson, Topshape
Jul 28: Spearfish (28)Will Gosnell, Capt. Steve Sahines, Medusa
Jul 28: Ahi (150) Mike Harris, Capt. Joe Schumaker, Fire Hatt
Jul 28: Blue marlin (138) Adam Bletcher, Capt. Howard Whitcomb, Intrepid
Jul 28: Ahi (147) Harry Stephens, Capt. McGrew Rice, Ihu Nui
Jul 28: Spearfish (40) Courtney Willis, Capt. Steve Epstein, Huntress
Jul 28: Blue marlin (123) Jake Burnworth, Capt. Bomboy Llanes, Bomboy's Toy
Jul 29: Ahi (107.5) Mike Elviena, Wendell Kualaau, Kamalia'oha
Jul 29: Blue marlin (120) Stull , Capt. Chad Contessa, Bite Me 1
Jul 30: Spearfish (30) Kanoe Nitta, Capt. Trevor Child, Maverick
Jul 30: Blue marlin (208) Randy/Vicky Major, Don Fujimoto, Koa
Jul 30: Ono (22.5) Carol Holmboe, JJ Backer, Reel Time
Jul 30: Blue marlin (225) Kim Leuenberger, Capt. Kenny Llanes, Vixen
Notables
Jul 25: Kawakawa (17) Hansen Gardling, shoreline
Jul 28: Ahi (213) Kevin Gallagher, Miss Mila