PIER PRESSURE – Insider's look at the HIBT
During the Hawaiian International Billfish Tournament (HIBT) last week, I was on the pier every afternoon holding a microphone.  My job was to explain the strangest tournament in history to the assembled throng of puzzled specators in the grandstand.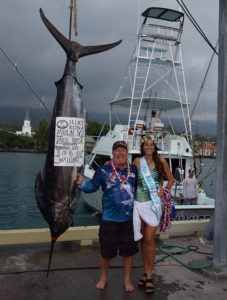 What made it so strange?  It began with a gutsy first-day gamble and ended with the high drama of the last catch of the week.  It went through lots of twists along the way, so let me count the oddities.
On Day One, David Trask of Australia's Redcliffe Penninsula Game Fishing Club brought in a marlin with a dilemma — should they weigh it or release it?  If it weighed more than 300 pounds, they would get some valuable extra points by bringing it in to weigh.  If it weighed less,  they would only get points if they tagged and released it. Tournament scoring rewards the release of fish under 300 pounds and the weighing of fish over 300.
This one looked right on the line so the safest strategy was to go for the certain 300 points and release it.  Instead, they gambled and pulled the fish aboard.  Photos went out immediately on Facebook. Naysayers popped up everywhere.  The decision looked even worse when they measured the length from the tip of the lower jaw to the fork of the tail (the "short" length) and got less than the 99 inches fishermen use as a guidline for 300 pounds.
KAYAK FISHING/NO LIMITS
Kayaks are the smallest, most fragile and least stable craft of the "offshore fleet," but kayak fishermen seem to have few limits. In this weekly column you have read about amazing kayak catches of marlin, sailfish, spearfish, yellowfin tuna, ono, mahimahi, ulua, and amberjack.  Just when I think I have heard it all, along comes Josh Fulton with a 50.5-pound albacore.
What's so difficult about catching an albacore? They migrate through Hawaii waters at great depth, down in the cool mid-60s water.  They are seldom, if ever, caught here near the surface during the daytime.
TOURNEYS CONTINUE WITH KONA SHOOTOUT AND BIMT
With the HIBT now history, Kona's packed summer tournament schedule continues with the  Kona Shootout of the Hawaiian Billfish Series.  Three days of fishing kick off today, and the event ends with an awards gala on Wednesday evening.  As the teams fish for monetary prizes, they are also eligible to win merchandise from daily raffles conducted throughout the fishing day and at the awards banquet.
Big-Fish List for 2016. The list recognizes the biggest fish caught on rod and reel (except opakapaka and onaga, for which we'll accept hand line catches) in West Hawaii waters for 2016 in each of 22 categories. They are listed by species, weight, angler, skipper, boat, and date. The list is updated every Sunday throughout the year (copyright 2016 by Jim Rizzuto). If we have overlooked you, give us a call (885-4208) or send an e-mail ([email protected]).
Blue marlin, 865, Louis Paulo and grandson Kalamaokalani Kelekolio-Crivello, Anela okaikea. April 16.
Black marlin, 310, Tim Flint, Capt. Butch Chee, Duck Soup, June 21
Ahi, 233, David Diaz, Capt. Bobby Cherry, Cherry Pit II, June 5
Bigeye tuna, 173, Dave Remillard, Miles Nakahara, Puamana II. Jan. 11.
Striped marlin, 136.5, Mitchell Romero, Capt. Guy Terwilliger, High Flier. Jan 22.
Spearfish, 54, Nick Humpries, Capt. Shawn Rotella, Night Runner, Feb. 26
Sailfish, 91, Mike Foster, Capt. Shawn Rotella, Night Runner. Mar. 24.
Mahimahi, 53, Nainoa Murtagh, Aulani. Feb. 10.
Ono, 62, Charlie Ford, Capt. Shawn Rotella, Night Runner. Mar. 18.
Kaku, (barracuda), 49.5, Koi Lorance and Tyson Fukuyama, Miki.  May 7.
Kahala, 70, Jessica Yell, Capt. Shawn Rotella, Night Runner. Jan 22.
Ulua (giant trevally), 74, Bochan Johnson, from shore. Apr 3.
Omilu (bluefin trevally), 18.5, Mikey McCrum, Shoreline. May 13
Otaru (skipjack tuna), 28. 5, Ray Mohammond, Capt. Jim Wigzell, Go Get Em
Broadbill swordfish, 224, Matthew Bolton, Kahele, June 14
Ahipalaha (albacore), 50.5, Josh Fulton, kayak. Aug. 5.
Kawakawa, 23, Tom Schachet, Capt. Shawn Rotella, Night Runner. July 1
Kamanu (rainbow runner), 12.5. Tom Britton, kayak. Apr. 13
Opakapaka (pink snapper), 9.5. Butch Chee, Sueto Matsumoto, Sandee. Mar. 12.
Onaga (ulaula ko`aie), 19.5, Greg Hong, Kevin Shiraki, Erin Kai.  Feb 25.
Uku (gray snapper), 31, Josh Fulton, kayak. July 31.
O`io (bonefish), (vacant)
Beasts of the week (marlin weighing 500 pounds or more).
None
Releases
Jul 31: Spearfish (35) Blake Sturm, Capt. Kent Mongreig, Sea Wife II
Jul 31: Blue marlin (100) Paul Dolinoy, Capt. Chris Choy, Sapo
Jul 31: Blue marlin (110) Jenny Mueller, Capt. McGrew Rice, Ihu Nui
Jul 31: Blue marlin (200) Jim Murphy , Capt. Marlin Parker, Marlin Magic II
Aug 3: Blue marlin (250) David Stoner, Capt. Russ Nitta, Lepika
Aug 5: Blue marlin (180) Pat Tooley, Capt. Marlin Parker, Marlin Magic II
Aug 5: Blue marlin (200) Hank Saueser, Capt. Al Gustavson, Topshape
Aug 6: Blue marlin (250) Lexie Davis , Capt. McGrew Rice, Ihu Nui
Aug 6: Blue marlin (120) Tim McBride, Capt. Reuben Rubio, Sundowner
Boated
Jul 31: Uku (17) Josh Fulton, kayak
Aug 1: Spearfish (28) Tucker Tooley, Capt. Marlin Parker, Marlin Magic II
Aug 2: Ahi (120) Carol Herren, Capt. Bruce Herren, Raptor
Aug 2: Ahi (138.5) Steve Mast, Capt. Tracy Epstein, Last Chance
Aug 2: Ahi (85) Jeff Dickmann, Capt. Robert Hudson, Camelot
Aug 2: Spearfish (30) Tucker Tooley,  ono (25) Jim Murthy, Capt. Marlin Parker, Marlin Magic II
Aug 3: Ahi (81) Ryan Ayala, (134) Adam Ayala, Capt. Tracy Epstein, Last Chance
Aug 3: Ahi (103) Mark Jardin, Capt. James Dean, Blue Hawaii
Aug 4: Blue marlin (164) Walter Nelson, Capt. Dale Leverone, Sea Strike
Aug 4: Ono (30) Feren Bowen, Capt. Kenny Fogarty, Hula Girl
Aug 5: Ahi (165.5) Lindy Davis, Capt. Tony Clark, Ihu Nui II
Aug 6: Ahi (181) Ipo, Byrd, Unko Byrd
Aug 6: Spearfish (35) Tim McBride, Capt. Reuben Rubio, Sundowner
Notables
Jul 31: Uku (31) Josh Fulton, kayak
Aug 5: Ahi (190) Kevin Gallagher, Miss Mila
Aug 5: Tombo (50.5) Josh Fulton, kayak