What's the difference between a "lure" and a "bait"?  Well, a lure is an artificial bait and a bait is a natural lure.  But you can lure a fish with a bait and bait a fish with a lure.  Confused?  So were the fish in the recent Lure-Maker's Challenge Tournament.  The winning team used a live bait to catch the biggest fish of the competition.  Team Rod Bender's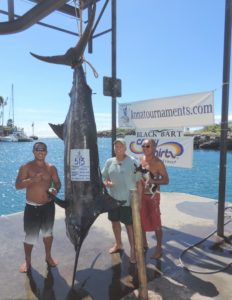 513-pound blue marlin was lured to the hook by a very lively skipjack tuna bait.
Of the 15 participating boats, 10 were sponsored by lure makers.  So the lure-makers division operated separately from the main event under whatever arrangement each team reached with its sponsor.  Kerwin Masunaga of team Rod Bender makes his own, very successful, line of lures, but he switched to a live bait when circumstances dictated and it paid off with a catch worth $76,419.  Rod Bender also tagged a blue on a Masanaga lure for an additional 200 points, which were not needed in their win.
AS DARBY BORE DOWN ON KONA
Fish get just as wet on a sunny day as they do when it is raining so they aren't afraid of storms.  Darby offerred another example.  As the tropical storm targetted the Big Island on Saturday it left a morning window of opportunity for a few Kona boats eager for one more shot before the weather shut down the fishing.  With a watchful eye on the weather, Capt. Chip Van Mols found sunny skies and three blue marlin (all released) within a safe run from Honokohau.
WHEN THE OUTRIGGER TIPS TAP THE WAVE TOPS
Years ago, Capt. Kent Mongreig heard that the best time to fish the Kona Grounds off Keahole Point was when sea conditions were roughest.  Capt. Freddy Rice once told him that the bite was best when the boat rolled way past the comfort zone.  If the outrigger tips tap the wave tops from one side to the other on either side of the trough, get ready for the reels to go off.
THE LONGEST LONG SHOT
The weekly tag report is full of hopeful long shots.  Return data for tagged marlin tell the tale.  The reality is that most of our local fleet has never had a tagged fish recaptured or recovered a tag.  The chances of a tag recovery are between 1 in 100 and 1 in 1,000, which makes the odds against a very special tag recovery from last week astronomical.  Indeed, what happened may never have been done before.
AROUND THE GROUNDS
Black marlin know the difference between artificial lures and live bait.  Kona fishermen take the majority of blacks here on live baits.  That proved true again last Monday when Capt. Russ Nitta hooked the biggest black caught here this year.  Estimated at 400 pounds, the big black jumped on a live aku. Angler Edward Ngyuen fought the fish to the boat Lepika.  Russ was able to release it unharmed to return to whacking the aku schools.
Big-Fish List for 2016. The list recognizes the biggest fish caught on rod and reel (except opakapaka and onaga, for which we'll accept hand line catches) in West Hawaii waters for 2016 in each of 22 categories. They are listed by species, weight, angler, skipper, boat, and date. The list is updated every Sunday throughout the year (copyright 2016 by Jim Rizzuto). If we have overlooked you, give us a call (885-4208) or send an e-mail ([email protected]).
Blue marlin, 865, Louis Paulo and grandson Kalamaokalani Kelekolio-Crivello, Anela okaikea. April 16.
Black marlin, 310, Tim Flint, Capt. Butch Chee, Duck Soup, June 21
Ahi, 233, David Diaz, Capt. Bobby Cherry, Cherry Pit II, June 5
Bigeye tuna, 173, Dave Remillard, Miles Nakahara, Puamana II. Jan. 11.
Striped marlin, 136.5, Mitchell Romero, Capt. Guy Terwilliger, High Flier. Jan 22.
Spearfish, 54, Nick Humpries, Capt. Shawn Rotella, Night Runner, Feb. 26
Sailfish, 91, Mike Foster, Capt. Shawn Rotella, Night Runner. Mar. 24.
Mahimahi, 53, Nainoa Murtagh, Aulani. Feb. 10.
Ono, 62, Charlie Ford, Capt. Shawn Rotella, Night Runner. Mar. 18.
Kaku, (barracuda), 49.5, Koi Lorance and Tyson Fukuyama, Miki.  May 7.
Kahala, 70, Jessica Yell, Capt. Shawn Rotella, Night Runner. Jan 22.
Ulua (giant trevally), 74, Bochan Johnson, from shore. Apr 3.
Omilu (bluefin trevally), 18.5, Mikey McCrum, Shoreline. May 13
Otaru (skipjack tuna), 28. 5, Ray Mohammond, Capt. Jim Wigzell, Go Get Em
Broadbill swordfish, 224, Matthew Bolton, Kahele, June 14
Ahipalaha (albacore), (vacant)
Kawakawa, 23, Tom Schachet, Capt. Shawn Rotella, Night Runner. July 1
Kamanu (rainbow runner), 12.5. Tom Britton, kayak. Apr. 13
Opakapaka (pink snapper), 9.5. Butch Chee, Sueto Matsumoto, Sandee. Mar. 12.
Onaga (ulaula ko`aie), 19.5, Greg Hong, Kevin Shiraki, Erin Kai.  Feb 25.
Uku (gray snapper), 17.5, Devin Hallingstad, kayak. Mar. 24.
O`io (bonefish), (vacant)
Beasts of the week (marlin weighing 500 pounds or more).  See also the 650- pound blue on the "Release" list.
Jul 17: Blue marlin (513) Steve Spina, Capt. Kerwin Masunaga, Rod Bender
Released
Jul 17: Blue marlin (150) Teddy Hoogs, Capt. Rob Ellyn, Lightspeed
Jul 17: Blue marlin (125) Larry Peardon, Capt. Robby Brown, El Jobean
Jul 17: Blue marlin (150) Sean Weaver, Capt. John Bagwell, Silky
Jul 17: Blue marlin (170) Mark Heintz, Capt. Bomboy Llanes, Bomboy's Toy
Jul 17: Blue marlin (225) Brett Alty, Capt. Boyd DeCoito, Foxy Lady
Jul 17: Blue marlin (300 and 200) Nic Munaretto, (200) Evan Munaretto, Capt. Kent Mongreig Sea Wife II
Jul 17: Blue marlin (175) Tony Bender, Capt. Tim Hicks, Illusions
Jul 18: Blue marlin (125 and 150) Paul Dolinoy, Capt. Chris Choy, Sapo
Jul 18: Blue marlin (325) Byran Bernard, Capt. McGrew Rice, Ihu Nui
Jul 18: Blue marlin (150) Brett Alty, Capt. Boyd DeCoito, Foxy Lady
Jul 18: Blue marlin (100) Debbi David, Capt. Oskie Rice, Northern Lights
Jul 18: Black marlin (400) Edward Ngyuen, Capt. Russ Nitta, Lepika
Jul 19: Blue marlin (100) Paul Dolinoy, Capt. Chris Choy, Sapo
Jul 19: Blue marlin (150 and 250) Tony Layrock, Capt. Joe Schumaker, Fire Hatt
Jul 20: Blue marlin (650) Carol Herren, Capt. Bruce Herren, Raptor
Jul 20: Blue marlin (300) Jee Han Young, Capt. Steve Tarbill, Kona Concept
Jul 20: Blue marlin (125) Natile Coker, Capt. Lance Gelman, Medusa
Jul 20: Spearfish (20) Skylar Buehler , Capt. Kent Mongreig , Sea Wife II
Jul 21: Blue marlin (150) Sue Layrock, Capt. Joe Schumaker, Fire Hatt
Jul 21: Blue marlin (200) Grace Rothman, Capt. Kenny Fogarty, Hula Girl
Jul 21: Blue marlin (200) Alex Wen, Capt. Neal Isaacs, Anxious
Jul 21: Blue marlin (80) Bell James, Capt. Steve Epstein, Huntress
Jul 21: Blue marlin (200) Martha Shimek, Capt. Marlin Parker, Marlin Magic II
Jul 22: Blue marlin (200) Edward Wen, Capt. Neal Isaacs, Anxious
Jul 22: Blue marlin (110) Stone Mitchell, (170) Penelope Mitchell, Capt. Trevor Child, Maverick
Jul 22: Blue marlin (175), spearfish (30) Travis Brown, Capt. Steve Epstein, Huntress
Jul 22: Blue marlin (200) Martha Shimek, Capt. Marlin Parker, Marlin Magic II
Jul 22: Blue marlin (200) Dennis Rhoades, Capt. Russ Nitta, Lepika
Boated
Jul 17: Ono (37 and 40), Larry, Capt. Bill Casey, Marlin Grando
Jul 17: Ono (40), ahi (140) Brett Alty, Capt. Boyd DeCoito, Foxy Lady
Jul 18: Spearfish (35) Craig Carter, Capt. Kenny Fogarty, Makana Lani
Jul 19: Ono (16) Kelly Fleux, aku (10.5) Tyler Fleux, Capt. Kent Mongreig, Sea Wife II
Jul 19: Ahi (120) Jake Mohr, Capt. Marlin Parker, Marlin Magic II
Jul 20: Ahi (90) Jeff Heintz Jr. , Capt. Jeff Heintz, Linda Sue IV
Jul 20: Blue marlin (491.5) Mathew Jones, Capt. Steve Tarbill, Kona Concept
Jul 20: Ahi (183) Dante Daniells, blue marlin (128) Madison, Capt. Bobby Cherry, Cherry Pit II
Jul 20: Spearfish (25) Cliff Selwood, Capt. Marlin Parker, Marlin Magic II
Jul 21: Ahi (135.5) Lawrence Labounty, Alan Heap, Ikaika
Jul 22: Ahi (131) Kekoa, Byrd, Unko Byrd
Jul 22: Blue marlin (305) Lucas/Tristan, Capt. Bill Casey, Marlin Grando
Jul 22: Ahi (101.5) Elijah and Chip, Mama Jo
Jul 22: Ahi (86.5) Sean Hendricks, Capt. Ryan Lutes, Tropical Sun
Jul 22: Ono (4 fish from 20 to 30) Kaili Rice, Capt. McGrew Rice, Ihu Nui
Notables
Jul 17: Ulua (68.5) Jared Willeford, kayak
Jul 19: Ahi (190) Paul Dolinoy, Capt. Chris Choy, Sapo