Was last week the best blue marlin tagging week of the year?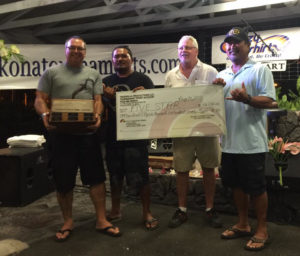 It was for Mike Shimamoto and Capt. Carlton Taniyama on Team Five Star.  Going into the final day of the 30th Annual Big Island Marlin Tournament, Five Star was one of twelve teams tied at 200 points, lagging behind three teams tied at 400 points.
Early on Day Three, teams Bwana and  Anxious tagged fish to move up to 400 points with Foxy Lady, Marlin Magic, and Rod Bender.  Then Five Star made its move.
MORE GREAT TAGGING RESULTS
Five Star was not the only boat to tag three or more blues in a single trip last week.  On Wednesday, Eric Schneider tagged three blues on Huntress with Capt. Steve Epstein.  The same day, Mathew Clifton tagged three blues out of five strikes on Luna with Capt. Chip Van Mols. Chip says they also "jumped off a big one" that day, before the bait and blues scattered for points unknown.
It was also a big tagging week for Pat Brian and Mike Holtz.
TOMBO TIME
Albacore trickle through Hawaii waters throughout the year, always staying deep down in the cold (0 to 64 degree Fahrenheit) waters 100 or so fathoms below.  The trickle becomes a flood of fish during the summer months with a peak in August and September.  The stream is usually back to a trickle by November when albacore begin to spawn.
So it is not surprising to see albacore catches in this week's dock report.  The surprise is who is catching them and when.
Big-Fish List for 2016. The list recognizes the biggest fish caught on rod and reel (except opakapaka and onaga, for which we'll accept hand line catches) in West Hawaii waters for 2016 in each of 22 categories. They are listed by species, weight, angler, skipper, boat, and date. The list is updated every Sunday throughout the year (copyright 2016 by Jim Rizzuto). If we have overlooked you, give us a call (885-4208) or send an e-mail ([email protected]).
Blue marlin, 865, Louis Paulo and grandson Kalamaokalani Kelekolio-Crivello, Anela okaikea. April 16.
Black marlin, 310, Tim Flint, Capt. Butch Chee, Duck Soup, June 21
Ahi, 233, David Diaz, Capt. Bobby Cherry, Cherry Pit II, June 5
Bigeye tuna, 173, Dave Remillard, Miles Nakahara, Puamana II. Jan. 11.
Striped marlin, 136.5, Mitchell Romero, Capt. Guy Terwilliger, High Flier. Jan 22.
Spearfish, 54, Nick Humpries, Capt. Shawn Rotella, Night Runner, Feb. 26
Sailfish, 91, Mike Foster, Capt. Shawn Rotella, Night Runner. Mar. 24.
Mahimahi, 53, Nainoa Murtagh, Aulani. Feb. 10.
Ono, 62, Charlie Ford, Capt. Shawn Rotella, Night Runner. Mar. 18.
Kaku, (barracuda), 49.5, Koi Lorance and Tyson Fukuyama, Miki.  May 7.
Kahala, 70, Jessica Yell, Capt. Shawn Rotella, Night Runner. Jan 22.
Ulua (giant trevally), 74, Bochan Johnson, from shore. Apr 3.
Omilu (bluefin trevally), 18.5, Mikey McCrum, Shoreline. May 13
Otaru (skipjack tuna), 28. 5, Ray Mohammond, Capt. Jim Wigzell, Go Get Em
Broadbill swordfish, 224, Matthew Bolton, Kahele, June 14
Ahipalaha (albacore), 52.5, Devin Hallingstad, kayak, Aug 13
Kawakawa, 23, Tom Schachet, Capt. Shawn Rotella, Night Runner. July 1
Kamanu (rainbow runner), 12.5. Tom Britton, kayak. Apr. 13
Opakapaka (pink snapper), 9.5. Butch Chee, Sueto Matsumoto, Sandee. Mar. 12.
Onaga (ulaula ko`aie), 19.5, Greg Hong, Kevin Shiraki, Erin Kai. Feb 25.
Uku (gray snapper), 31, Josh Fulton, kayak. July 31.
O`io (bonefish), (vacant)
Beasts of the week (marlin weighing 500 pounds or more).
Aug 8: Blue marlin (671.5) Brett Hoddle, Capt. Simon Brown, Hooked Up
Tagged
Aug 7: Blue marlin (175) Brian Wheatley, Capt. Neal Isaacs, Anxious
Aug 8: Blue marlin (150) David, Capt. Oskie Rice, Northern Lights
Aug 8: Blue marlin (150) Rich , Capt. Kevin Nakamaru, Northern Lights II
Aug 9: Blue marlin (120) unknown, Capt. Shane O'Brien, Strong Persuader
Aug 9: Blue marlin (400) Joe Schwad, Capt. Chip Fisher, Hanamana
Aug 9: Blue marlin (375) Sam, Shawn Palmer, Miss Molly
Aug 10: Blue marlin (200) Philips Perez, Capt. Jeff Heintz, Linda Sue IV
Aug 10: Blue marlin (150, 150, and 175) Eric Schneider, Capt. Steve Epstein, Huntress
Aug 10: Blue marlin (150) Ramon Diaz, (220) Cheryl Montour, Capt. James Dean, Blue Hawaii
Aug 11: Blue marlin (120) Steve Spina, Capt. Kerwin Masunaga, Rod Bender
Aug 11: Blue marlin (150) Cory Elzer, Capt. Teddy Hoogs, Bwana
Aug 11: Blue marlin (120) Scott Kincaid, Capt. Tim Hicks, Illusions
Aug 11: Blue marlin (150) Mike Shimamoto, Capt. Carlton Taniyama, Five Star
Aug 11: Blue marlin (110) Hayden Nunes, Capt. Kevin Nakamaru, Northern Lights II
Aug 11: Blue marlin (120) Fred Johnson, Capt. Jason Holtz , Pursuit
Aug 11: Blue marlin (140) Tom Becker, Capt. Kent Mongreig, Sea Wife II
Aug 11: Blue marlin (175 and 150) Gregg Lowman, Capt. Boyd DeCoito, Foxy Lady
Aug 11: Blue marlin (160) Eric Schneider, Capt. Steve Epstein, Huntress
Aug 12: Blue marlin (200) Paul McPhee, Capt. Bryan Toney, Marlin Magic
Aug 12: Blue marlin (125) Rob McCarthy, Capt. Rob Ellyn, Lightspeed
Aug 12: Blue marlin (150) Kathy Montoya, Capt. Kenny Fogarty, Hula Girl
Aug 12: Blue marlin (200) Taj Mahal, Capt. Shane O'Brien, Strong Persuader
Aug 12: Blue marlin (210) Steve Spina, Capt. Kerwin Masunaga, Rod Bender
Aug 12: Blue marlin (175) Bruce Neely, Capt. Tracy Epstein, Last Chance
Aug 13: Blue marlin (180) Mike Kehoe, Capt. Gene Vanderhoek, Sea Genie II
Aug 13: Blue marlin (175) Shawn Palmer, Capt. Neal Isaacs, Anxious
Aug 13: Blue marlin (130) John, Capt. Kai Hoover, Waiopai
Aug 13: Blue marlin (150) Cory Elzer , Capt. Teddy Hoogs, Bwana
Aug 13: Blue marlin (100 and 125) Rob McCarthy, Capt. Rob Ellyn , Lightspeed
Aug 13: Blue marlin (175) Cheryl Montour, Capt. James Dean, Blue Hawaii
Aug 13: Blue marlin (150, 150, 140, and 125) Mike Shimamoto, Capt. Carlton Taniyama, Five Star
Aug 13: Blue marlin (200) Carol Herren, Capt. Bruce Herren, Raptor
Aug 13: Blue marlin (100) Ramon Diaz, Greg, Northern Lights
Aug 13: Blue marlin (220) Mike Biehl , Capt. Trevor Child, Maverick
Aug 13: Blue marlin (120) Tim Wurster, Capt. Marlin Parker , Marlin  Magic II
Aug 13: Blue marlin (150) Bruce Neely, Capt. Tracy Epstein, Last Chance
Aug 13: Blue marlin (175) Steve Spina, Capt. Kerwin Masunaga, Rod Bender
Aug 13: Blue marlin (700) Pat Brian, Capt. Mike Holtz, Jun Ken Po
Boated
Aug 7: Blue marlin (123.5) Henrique Del Papa, Kit Harver, Alhule'a
Aug 7: Blue marlin (295) Brian Cian, Capt. Steve Tarbill, Miss Mojo
Aug 8: Mahimahi (18) Sharon Moore, Capt. Jeff Heintz, Linda Sue IV
Aug 8: Blue marlin (157) Gary Branam, Capt. Kevin Hiney, Ku'uipo
Aug 9: Blue marlin (145) Micah Goldstine, Capt. Jeff Heintz , Linda Sue IV
Aug 9: Ahi (112.5) Suzanne Gustavson, Capt. Al Gustavson, Topshape
Aug 9: Blue marlin (140) Sam, Shawn Palmer, Miss Molly
Aug 11: Ahi (178.5) Steve Spina, Capt. Kerwin Masunaga, Rod Bender
Aug 11: Tombo (48.5) Devin Hallingstad, kayak
Aug 11: Spearfish (35), mahimahi (16) Joel Raciti, Capt. Jeff Heintz, Linda Sue IV
Aug 11: Blue marlin (339.5) Anton, Capt. Kenny Llanes, Vixen
Aug 11: Tombo (four to 50 pounds) Tyler Hams, Ai'ia
Aug 11: Blue marlin, 157.5, Ernie Duckworth, Capt. Butch Chee, Duck Soup
Aug 12: Blue marlin, 117.5, Kevin Rencher, Capt. Kenny Llanes, Vixen
Aug 12: Ono (37) Tim Wurster, Capt. Marlin Parker, Marlin Magic II
Aug 12: Tombo (49, 50, and 50.5), Josh Fulton, kayak
Aug 13: Blue marlin (144.5), Mindy/Mikey/Melody Silva, Mikey Boy
Aug 13: Blue marlin (198) Steve Fassbender, Teresa
Aug 13: Ono (three from 14 to 24) Lorelei Grace/Staci Yates, Nalani Kai II
Notables
Aug 11: Ahi (204.5) Tyler Hams, Ai'ia
Aug 13: Tombo (three from 42.5 to 52.5) Devin Hallingstad, kayak