BLACK MARLIN OFF COURSE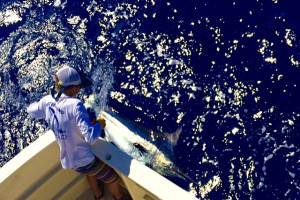 Once in a while, a confused black marlin wanders off course from its traditional migration route and ends up in the Kona lee.  As it ponders what to do next, it seeks out the comfort of the welcoming waters inside the 80-fathom line until it finds an opelu school full of foot-long snacks.  Then it stays there until a fisherman discovers it by accident.  Any black marlin hookup in Hawaii is definitely a suprise.
One day a week or so ago, Capt. Mark Schubert was returning to Keauhou Bay from a day-long charter.  As he crossed the 60-fathom koa where the opelu live, he got a marlin bite on a purple Koya Poi Dog lure.  That was a surprise because blue marlin seldom come in this close to shore.  FOR THE REST OF THE STORY
BIG FISH ARE HERE
Bwana and Aukalani proved it last week when each caught (and released) a 700-pound blue marlin.
Bwana's big one came up during an action-packed Wednesday.  Capt. Teddy Hoogs' 46-foot Gamefisherman was working the productive waters outside Keahole Light and started off by tagging a spearfish and a striped marlin.  They would need a blue marlin for a three-billfish sweep.
After marking several blues down deep on his fishfinder, Teddy circled back to see if he could bring one up to his lures.  When Teddy saw something jump further offshore, he headed toward the splash to check it out.
The long rigger line came down with a strike but no hookup.  Another spearfish?  Many shortbills were caught last week.  Then the stinger line came down.  The fish had grabbed a 7-3/4 inch plunger style Hanapa'a lure that resembles a flyingfish, Teddy said.
MORE THAN THE BLUES
But if marlin aren't your game, we also saw the year's biggest shortbill spearfish, ulua, onaga, otaru and kahala.
Nick Humphries took over the spearfish lead with a 54-pounder he caught on Night Runner with Capt. Shawn Rotella and crew Brittany McCurdy.  The Night Runner gang had been bottomfishing in 100 fathoms on the Middle Grounds and it was time to pull up the lines and head home. Brittany had tossed out the last bait and was pulling up the lines when they got a surprise visitor.  A 400-pound blue marlin swam up to the stern and flashed them with its bright, blue sides.
Kevin Shiraki and Greg Hong filled the vacant onaga spot with a 19.5-pounder they caught while fishing the great depths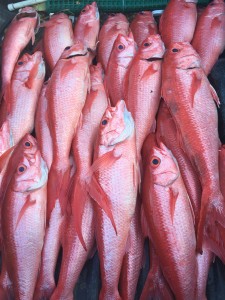 on the boat Erin Kai.  The expert pair of bottom-fishermen found a rich patch of red fish and caught a dozen or more including several others that might have taken the lead.
Big-Fish List for 2016. The list recognizes the biggest fish caught on rod and reel (except opakapaka and onaga, for which we'll accept hand line catches) in West Hawaii waters for 2016 in each of 22 categories. They are listed by species, weight, angler, skipper, boat, and date. The list is updated every Sunday throughout the year (copyright 2016 by Jim Rizzuto). If we have overlooked you, give us a call (885-4208) or send an e-mail ([email protected]).
Blue marlin, 642, Tyrell Foreman, Capt. Jah Nogues, High Noon. Feb. 9.
Black marlin, (vacant)
Ahi, 227, Capt. Russ Nitta, Lepika. Jan 6.
Bigeye tuna, 173, Dave Remillard, Miles Nakahara, Puamana II. Jan. 11.
Striped marlin, 136.5, Mitchell Romero, Capt. Guy Terwilliger, High Flier. Jan 22.
Spearfish, 54, Nick Humpries, Capt. Shawn Rotella, Night Runner, Feb. 26
Sailfish, 81, Teresa and Jim Thomas, Freedom. Feb. 20
Mahimahi, 53, Nainoa Murtagh, Aulani. Feb. 10.
Ono, 57, Monty Brown, Capt. Robbie Brown, El JoBean.  Jan 23.
Kaku, (barracuda), (vacant)
Kahala, 70, Jessica Yell, Capt. Shawn Rotella, Night Runner. Jan 22.
Ulua (giant trevally), 69, Sawyer Slattery, Capt. Kenny Llanes, Lehuanani. Feb 22.
Omilu (bluefin trevally), (vacant)
Otaru (skipjack tuna), 25, Capt. Brad Damasco, Bite Me 4, Feb 25.
Broadbill swordfish, (vacant)
Ahipalaha (albacore), (vacant)
Kawakawa, (vacant)
Kamanu (rainbow runner), (vacant)
Opakapaka (pink snapper), (vacant)
Onaga (ulaula ko`aie), 19.5, Greg Hong, Kevin Shiraki, Erin Kai.  Feb 25.
Uku (gray snapper), (vacant)
O`io (bonefish), (vacant)