NEW ULUA LEADER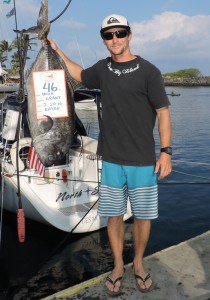 While Devin Hallingstad was fishing from his kayak on Saturday, kayak buddy Grant Decker was towing a live bait nearby.  By keeping an eye on each other, Devin and Grant help reduce the dangers of going to sea in a light-, human-powered craft.
While Devin was watching, Grant hooked and fought an ulua that had come up out of the depths.
MAHIMAHI LEAD NOW 53 POUNDS
Nainoa Murtagh grew up fishing with his dad, Capt. Bill Murtagh, on Bill's charter boat Nainoa.  Now that the lad is old enough to go out on his own, he's fishing on the family boat Aulani, an 18-foot outboard skiff and doing very well at it.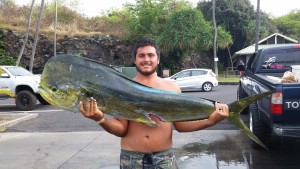 A few weeks back, Nainoa was live-baiting near the fish farm outside Keauhou in hopes of catching a mahimahi or two.  Indeed, the 53-pound mahimahi that took his live opelu was big enough to be two or three of the others hanging out with it.
Big-Fish List for 2016. The list recognizes the biggest fish caught on rod and reel (except opakapaka and onaga, for which we'll accept hand line catches) in West Hawaii waters for 2016 in each of 22 categories. They are listed by species, weight, angler, skipper, boat, and date. The list is updated every Sunday throughout the year (copyright 2016 by Jim Rizzuto). If we have overlooked you, give us a call (885-4208) or send an e-mail ([email protected]).
Blue marlin, 642, Tyrell Foreman, Capt. Jah Nogues, High Noon. Feb. 9.
Black marlin, (vacant)
Ahi, 227, Capt. Russ Nitta, Lepika. Jan 6.
Bigeye tuna, 173, Dave Remillard, Miles Nakahara, Puamana II. Jan. 11.
Striped marlin, 136.5, Mitchell Romero, Capt. Guy Terwilliger, High Flier. Jan 22.
Spearfish, 50, Ret Topping, Capt. John Bagwell, Silky, Jan 14
Sailfish, 81, Teresa and Jim Thomas, Freedom. Feb. 20
Mahimahi, 38, Leighton Kelekoma, Craig Ashihara, No Name (Caught on 25-pound-test) Jan. 31
Ono, 57, Monty Brown, Capt. Robbie Brown, El JoBean.  Jan 23.
Kaku, (barracuda), (vacant)
Kahala, 70, Jessica Yell, Capt. Shawn Rotella, Night Runner. Jan 22.
Ulua (giant trevally), 47, Grant Decker, Kayak. Feb 20.
Omilu (bluefin trevally), (vacant)
Otaru (skipjack tuna), tie at 14 pounds: Karey George, Capt. Kent Mongreig, Sea Wife II, Jan 21, and Jake Icenhower, Tyson Fukuyama, Miki, Jan. 28
Broadbill swordfish, (vacant)
Ahipalaha (albacore), (vacant)
Kawakawa, (vacant)
Kamanu (rainbow runner), (vacant)
Opakapaka (pink snapper), (vacant)
Onaga (ulaula ko`aie), 14.5, Sueto Matsumura, Sandee. Feb 2.
Uku (gray snapper), (vacant)
O`io (bonefish), (vacant)
Beasts of the week (marlin weighing 500 pounds or more).
None weighed
Releases
February 15: Sailfish (80), Meredith White, Capt. John Bagwell, Silky
February 15: Spearfish (25 and 30) Chai Giang, Capt. Kenny Fogarty, Makana Lani
February 17: Blue marlin (350) Allyson Foulkes Capt. Steve Tarbill, Kona Concept
February 20: Spearfish (25 and 30) Gabriel Ceresko, (30) Richard Ceresko, Capt. Kenny Fogarty, Hula Girl
February 20: Striped marlin (50) Jim Archer, Capt. Neal Isaacs
Notables:
February 17: Ahi (174) Jeff Cleveland, Capt. Bobby Cherry, Cherry Pit II
February 17: Spearfish (47) Kurt Jones, Capt. Kent Mongreig, Sea Wife II
February 18: Mahimahi (44) Jeff, Capt. Bill Murtagh, Nainoa
February 20: Sailfish (76) Devin Hallingstad, Kayak
February 20: Ulua (47) Grant Decker, Kayak
February 20: Sailfish (81) Teresa and Jim Thomas, Freedom