BIGGEST MARLIN TO DATE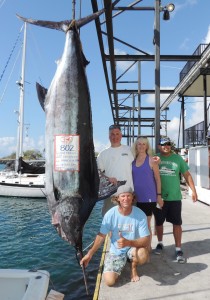 Every married angler's first rule of fishing: Listen to your spouse.  On Tuesday, Lou Groebner did, and with the advice of his wife, Terri, Lou caught Kona's biggest marlin to date in 2016. FOR THE REST OF THE STORY
GOOD DAY FOR BIRTHDAY BOY
On Tuesday, Jack O'Brien celebrated his 60th birthday by catching the biggest marlin on last week's release list.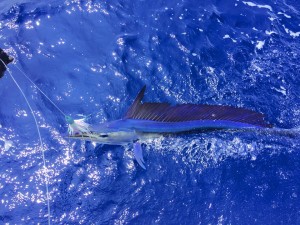 Jack hails from Montana, but he has been a regular guest on Silky with Capt. John "J. B." Bagwell.  Jack earns special honors not only for releasing the 650-pounder but also for catching it on 50-pound-class gear.
J. B. was running the lighter tackle on his stinger line because of the large number of shortbill spearfish and striped marlin in Kona waters these days.  "Shorts" average 30- to 50-pounds and "stripes" 60- to 100-pounds. Those ranges are just right for stand-up 30s and 50s.
THE "SAILFISH RUN" GOES ON
Two weeks back we joked about a "sailfish run" based on 3 sailfish caught on 3 boats (1 each).  That's more than many of Kona's veteran charterboat captains see in a lifetime.  "Burr" Shumaker is one of the pros who got a big chuckle out of the joke because he had only caught one sailfish here, and that was 7 years ago.
On Saturday, Burr was aboard Anxious on a holoholo trip with Capt. Neal Isaacs.  Burr's friends from Michigan, Lee Labanowski and Samantha Lacey, were guests who were primarily interested in watching whales.
ACTION DOWN SOUTH
Last week's high surf had little negative effect on offshore fishing for boats who could safely negotiate the turmoil rushing through harbor entrances.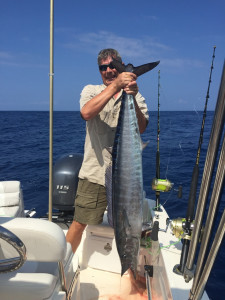 Ihu Nui II took advantage of the opportunity to head down along the coast to fish off South Point for a few days. But the surge made it too tough to anchor overnight  on Thursday so they headed back to Honokohau and went down again Friday, Capt. McGrew Rice said.  Their net total while trolling was 12 ono, 3 spearfish, and a mahimahi plus a cooler full of mempachi caught on flies at night.  McGrew said most of the ono weighed over 40 pounds and one topped 50.
BIG FISH LIST ADDITIONS
On Thursday, Capt. Chip Fischer filled the vacant kawakawa spot with a 16.5-pounder his clients caught on Hanamana.  Chip says he was trolling for small kawakawa to use as live bait when he got a double strike from two larger fish at the same time.  One turned out to be a 20-pound ahi and the other the 16.5-pound kawakawa.
On Friday, Capt. Mike Dakil brought in what might have been the biggest skipjack tuna we have seen in a while.  On a handscale, it weighed 26 pounds after being prepped to be iced to preserve its highest quality.  (Otaru meat is outstanding when bled, gilled, gutted and brined immediately.)  Whole, it might have weighed over 30 pounds, a weight we have not seen in years.  To get the top slot on our Big-Fish List, the fish has to be weighed on a certified scale, and we take the actual weight presented and not some number adjusted for missing parts.
Mike was running Kona Blue last week and had an extremely happy 3/4 day charter on Thursday.  His clients tagged and released striped marlin and spearfish and boated a 130 pound-yellowfin.
Big-Fish List for 2016. The list recognizes the biggest fish caught on rod and reel (except opakapaka and onaga, for which we'll accept hand line catches) in West Hawaii waters for 2016 in each of 22 categories. They are listed by species, weight, angler, skipper, boat, and date. The list is updated every Sunday throughout the year (copyright 2016 by Jim Rizzuto). If we have overlooked you, give us a call (885-4208) or send an e-mail ([email protected]).
Blue marlin, 802, Lou Groebner, Capt. Rocky Gauron, Go Get Em. Mar. 1.
Black marlin, (vacant)
Ahi, 227, Capt. Russ Nitta, Lepika. Jan 6.
Bigeye tuna, 173, Dave Remillard, Miles Nakahara, Puamana II. Jan. 11.
Striped marlin, 136.5, Mitchell Romero, Capt. Guy Terwilliger, High Flier. Jan 22.
Spearfish, 54, Nick Humpries, Capt. Shawn Rotella, Night Runner, Feb. 26
Sailfish, 81, Teresa and Jim Thomas, Freedom. Feb. 20
Mahimahi, 53, Nainoa Murtagh, Aulani. Feb. 10.
Ono, 57, Monty Brown, Capt. Robbie Brown, El JoBean.  Jan 23.
Kaku, (barracuda), (vacant)
Kahala, 70, Jessica Yell, Capt. Shawn Rotella, Night Runner. Jan 22.
Ulua (giant trevally), 69, Sawyer Slattery, Capt. Kenny Llanes, Lehuanani. Feb 22.
Omilu (bluefin trevally), (vacant)
Otaru (skipjack tuna), 25, Capt. Brad Damasco, Bite Me 4, Feb 25.
Broadbill swordfish, (vacant)
Ahipalaha (albacore), (vacant)
Kawakawa, 16.5, Capt. Chip Fischer, Hanamana. Mar. 3.
Kamanu (rainbow runner), (vacant)
Opakapaka (pink snapper), (vacant)
Onaga (ulaula ko`aie), 19.5, Greg Hong, Kevin Shiraki, Erin Kai.  Feb 25.
Uku (gray snapper), (vacant)
O`io (bonefish), (vacant)
Beasts of the week (marlin weighing 500 pounds or more).
February 28: Blue marlin (628.5) Jennifer Schramm, Capt. Jody Wolf, Plan B
March 1: Blue marlin (802) Lou Groebner, Capt. Rocky Gauron, Go Get Em
Releases
February 29: Striped marlin (35) Bryce Poyer, Capt. Marlin Parker, Marlin Magic II
March 1: Spearfish (40 and 45) Leo Johnston, Capt. Neal Isaacs, Anxious
March 1: Spearfish (30 and 30), blue marlin (650) Jack O'Brien, Capt. John Bagwell, Silky
March 1: Spearfish (40) Johnny Collen, Capt. Al Gustavson, Topshape
March 2: Spearfish (20), striped marlin (90) Carol Herren, Capt. Bruce Herren, Raptor
March 2: Spearfish (30) Christine Bolan, Capt. Kenny Fogarty, Makana Lani
March 2: Spearfish (35) Unknown, Capt. Neal Isaacs, Anxious
March 3: Blue marlin (400) Martin Romero, Capt. Russ Nitta, Lepika
March 3: Spearfish (30) Tom Blaine, Capt. Al Gustavson, Topshape
March 4: Striped marlin (60) Carol Herren, Capt. Bruce Herren, Raptor
March 4: Striped marlin (30) Jose Estrada, Capt. Kenny Fogarty, Hula Girl
March 4: Spearfish (25), striped marlin (50) Virginia Moser, Capt. Al Gustavson, Topshape
March 5: Sailfish (90) Lee Labanowski, (100) Sam Lacey, Capt. Neal Isaacs, Anxious
March 5: Striped marlin (50) Unknown, Capt. Joe Schumaker, Fire Hatt
March 5: Spearfish (30) Steve Epstein, Capt. Kenny Fogarty, Hula Girl
Notables:
February 28: Ahi (172) Pat, Courtney, and Donny, No Name
March 1: Spearfish (42) Smokey, Capt. Bill Murtagh, Nainoa
March 3: Kawakawa (16.5), Bob Anson, Capt. Chip Fischer, Hanamana