This time last year we were wondering what happened to the annual Kona run of shortbill spearfish.  Hawaii is one of the few places in the world where anglers catch these, the rarest of billfish, so they were sorely missed when they didn't show up here in 2015.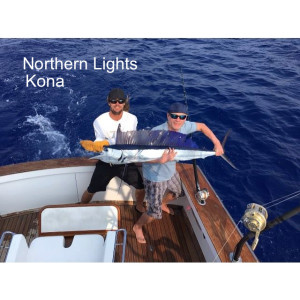 Fishing philosophers did their best to come up with an answer, and some whispered their greatest fear.  Could it be that they had all been caught?  Then again, sea temperatures had remained higher than normal for most of last year.  Maybe the shortbills had stayed away because Kona's coastline currents just weren't cold enough.
Bet on the latter. FOR THE REST OF THE STORY
SKIPJACK LEAD INCHING UP
What's the most important fish in the Kona fishery?  You could make a good case for skipjack tuna.  If  "you are what you eat" is true, then all of Hawaii's glamourous big-game fish are skipjack tuna.  In fact, blue marlin, striped marlin, and yellowfin tuna come here to fatten up on the vast schools of skipjacks that come here first.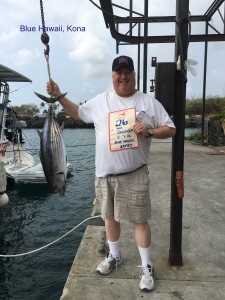 Fishermen use the Hawaiian name "aku" for the run-of-the-mill, school-size aku in the 3- to 6-pound range.  There appears to be a jump in size to 15 or more pounds for the skipjacks we see here. (The gap-size, 7-to 14-pounders seem to go elsewere).
Big-Fish List for 2016. The list recognizes the biggest fish caught on rod and reel (except opakapaka and onaga, for which we'll accept hand line catches) in West Hawaii waters for 2016 in each of 22 categories. They are listed by species, weight, angler, skipper, boat, and date. The list is updated every Sunday throughout the year (copyright 2016 by Jim Rizzuto). If we have overlooked you, give us a call (885-4208) or send an e-mail ([email protected]).
Blue marlin, 802, Lou Groebner, Capt. Rocky Gauron, Go Get Em. Mar. 1.
Black marlin, (vacant)
Ahi, 227, Capt. Russ Nitta, Lepika. Jan 6.
Bigeye tuna, 173, Dave Remillard, Miles Nakahara, Puamana II. Jan. 11.
Striped marlin, 136.5, Mitchell Romero, Capt. Guy Terwilliger, High Flier. Jan 22.
Spearfish, 54, Nick Humpries, Capt. Shawn Rotella, Night Runner, Feb. 26
Sailfish, 81, Teresa and Jim Thomas, Freedom. Feb. 20
Mahimahi, 53, Nainoa Murtagh, Aulani. Feb. 10.
Ono, 57, Monty Brown, Capt. Robbie Brown, El JoBean.  Jan 23.
Kaku, (barracuda), (vacant)
Kahala, 70, Jessica Yell, Capt. Shawn Rotella, Night Runner. Jan 22.
Ulua (giant trevally), 69, Sawyer Slattery, Capt. Kenny Llanes, Lehuanani. Feb 22.
Omilu (bluefin trevally), (vacant)
Otaru (skipjack tuna), 26, Randolph Fort, Capt. James Dean, Blue Hawaii. Marc 7.
Broadbill swordfish, (vacant)
Ahipalaha (albacore), (vacant)
Kawakawa, 16.5, Capt. Chip Fischer, Hanamana. Mar. 3.
Kamanu (rainbow runner), (vacant)
Opakapaka (pink snapper), 9.5. Butch Chee, Sueto Matsumoto, Sandee. Mar. 12.
Onaga (ulaula ko`aie), 19.5, Greg Hong, Kevin Shiraki, Erin Kai.  Feb 25.
Uku (gray snapper), (vacant)
O`io (bonefish), (vacant)