Rizzuto 12  03/21/16
When you see something unusual on the horizon at sea, it usually pays to investigate.  On Wednesday, Capt. Al Gustafson and his party on Topshape, investigated what looked like an overturned boat and found a fishing bonanza.
Footage of the whale and fish shows up at 3:19.
BIG ONO BATTLE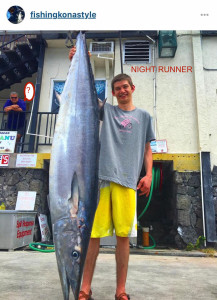 At the start of the week, the ono lead on our Big-Fish List had been stuck at 57 pounds since Jan 23.  That changed on Wednesday, when Chris Eicher and Wendell Kualaau hauled a 59-pounder aboard their boat Kamalia Oha.  Chris and Wendell were able to enjoy their lead for only two days, however.  On Friday, a party of visitors from Colorado fished with Capt. Shawn Rotella on Night Runner and pulled in an ono big enough to grab the lead.
ANOTHER WEEK, ANOTHER SAILFISH
We can go half a year without seeing a sailfish in the catch report, but this year it seems to be one a week.  Last week's sailfish turned up off Kawaihae.  Just as it has been for most of our sailfish surprises, this one was a first for the folks involved.
ULTIMATE OFFSHORE FLY-FISHING CHALLENGE
For some devotees, the greatest offshore challenge is to catch one of every kind of billfish anywhere in the world during your lifetime.  It's often called "filling your billfish list." A much greater challenge is to do it on fly-fishing tackle.  But the ultimate fly-fishing challenge is to do it all within the limits of one-year.
Angler Rufus Wakeman is the fly-fisherman who came here to scratch his spearfish itch.  They got together last week on Kev's boat Northern Lights  and filled Rufus' spearfish slot on Tuesday.
ANOTHER SURPRISE BLACK MARLIN
Capt. Jeff Fay can tell you how rare it is to catch a black marlin here.  It had been 5 years since he caught his last black in Kona.  That long stretch ended on Wednesday when he hooked a 250-pound black marlin.  His angler brought it successfully to the boat and his crew released it to swim away and find another angler to surprise.
Big-Fish List for 2016. The list recognizes the biggest fish caught on rod and reel (except opakapaka and onaga, for which we'll accept hand line catches) in West Hawaii waters for 2016 in each of 22 categories. They are listed by species, weight, angler, skipper, boat, and date. The list is updated every Sunday throughout the year (copyright 2016 by Jim Rizzuto). If we have overlooked you, give us a call (885-4208) or send an e-mail ([email protected]).
Blue marlin, 802, Lou Groebner, Capt. Rocky Gauron, Go Get Em. Mar. 1.
Black marlin, (vacant)
Ahi, 227, Capt. Russ Nitta, Lepika. Jan 6.
Bigeye tuna, 173, Dave Remillard, Miles Nakahara, Puamana II. Jan. 11.
Striped marlin, 136.5, Mitchell Romero, Capt. Guy Terwilliger, High Flier. Jan 22.
Spearfish, 54, Nick Humpries, Capt. Shawn Rotella, Night Runner, Feb. 26
Sailfish, 81, Teresa and Jim Thomas, Freedom. Feb. 20
Mahimahi, 53, Nainoa Murtagh, Aulani. Feb. 10.
Ono, 62, Charlie Ford, Capt. Shawn Rotella, Night Runner. Mar. 18.
Kaku, (barracuda), (vacant)
Kahala, 70, Jessica Yell, Capt. Shawn Rotella, Night Runner. Jan 22.
Ulua (giant trevally), 69, Sawyer Slattery, Capt. Kenny Llanes, Lehuanani. Feb 22.
Omilu (bluefin trevally), (vacant)
Otaru (skipjack tuna), 26, Randolph Fort, Capt. James Dean, Blue Hawaii. Marc 7.
Broadbill swordfish, (vacant)
Ahipalaha (albacore), (vacant)
Kawakawa, 16.5, Capt. Chip Fischer, Hanamana. Mar. 3.
Kamanu (rainbow runner), (vacant)
Opakapaka (pink snapper), 9.5. Butch Chee, Sueto Matsumoto, Sandee. Mar. 12.
Onaga (ulaula ko`aie), 19.5, Greg Hong, Kevin Shiraki, Erin Kai.  Feb 25.
Uku (gray snapper), (vacant)
O`io (bonefish), (vacant)
Beasts of the week (marlin weighing 500 pounds or more).
March 15: Blue marlin (523) Ronnie Hopson, Capt. Al Gustavson, Topshape
Released
March 14: Striped marlin (50) Young Stallworth, Capt. David Crawford, Kona Blue
March 18: Blue marlin (250) AJ Kline, Capt. Chuck Wilson, Fire Hatt
March 18: Spearfish (30) Donna McCord, Capt. Kenny Fogarty, Makana Lani
March 19: Blue marlin (180) Christine Johns, Capt.McGrew Rice, Ihu Nui
March 19: Spearfish (35) Scott Hayward, Capt. Neal Isaacs, Anxious
March 19: Blue marlin (275) Christine, Capt. Shawn Palmer, Camelot
Notable
March 14: Striped marlin (45) Travis Sagedahl, Capt. Guy Terwilliger, High Flier
March 15: Ahi (176) Joseph Kacsh, Capt. John Wilson, Lawaia
March 16: Ono (59) Chris Eicher, Wendell Kualaau, Kamalia Oha
March 17: Spearfish (46 and 50) Jill Larson-Ball, Capt. Marlin Parker, Marlin Magic II
March 18: Ono (62) Charlie Ford, Capt. Shawn Rotella, Night Runner
March 18: Striped marlin (100) Jill Larson-Ball, Capt. Marlin Parker, Marlin Magic II
March 18: Ahi (100,105 and 140) Dwayne Miller, Capt. Bobby Cherry, Cherry Pit II
March 18: Aku (21.5) Rudy Kahn, Capt. Will Lazenby, Linda Sue IV
March 19: Striped marlin (98) Brett Johns, Capt. McGrew Rice, Ihu Nui