An excited group of five friends on the Hilo boat Liberty Dream made history on Monday when they boated a 1,010-pound Pacific blue marlin.  The "grander" was only the fourth Hilo marlin weighing over 1,000 pounds on the official list kept by Hawaii Fishing News.  Hilo fishermen had weighed a 1,212-pounder in 1995, a 1,000 in 1998, and a 1,190 in 2001.  For 2015, this is the third blue for the Big Island, fourth for Hawaii, and sixth in the entire world.
The Liberty Dream is a 25-foot trailer boat made in Hilo by Force Marine.  When the big fish hit, owner Paul Andrade was glad to have four experienced anglers aboard to help out during the 3 and 1/2 hour fight. After the fish struck a 9-inch lure and raced off with a quarter mile of line, anglers Damien Ching, Chante Ching, Gilbert Abalos and Levi Boteilho took turns working it back to the boat.  The fish stayed on the surface throughout the grueling battle. Because it never dove more than 20 or 30 fathoms down, they never had to risk breaking the 130-pound test line by winching the half-ton fish up out of the depths.
After they were finally able to secure the grander with gaffs, the fishermen were unable to muscle its 13-foot-long bulk aboard.  Instead, they tied it off to the swim step and towed it 30-miles back from their offshore fishing spot.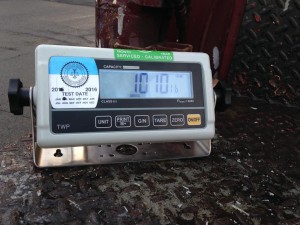 The Suisan market was closed so it looked like they might never be able to get an official weight.  Luckily, a friend had a boom truck and another had a certified digital scale. Without a true weight, they would have guessed it at about 800 pounds and never known the reality of their amazing catch, according to Damien Ching.
Jim Rizzuto's Kona Fishing Chronicles column appears in West Hawaii Today every Monday.