The latest Kona report by Jim Rizzuto features intense tournament action, some odd catches (a 213.5-pound broadbill and 50.5-pound mahimahi), and the longest tag report of the year.  Connect with Fishtrack.com to see the action.
Kona Fishing offshore update July 6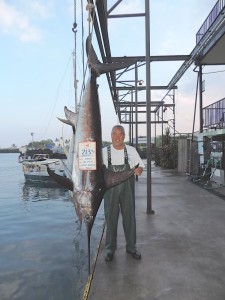 For the Big-Fish List and entire catch list, here we go:
Big-Fish List for 2015. The list recognizes the biggest fish caught on rod and reel (except opakapaka and onaga, for which we'll accept hand line catches) in West Hawaii waters for 2015 in each of 22 categories. They are listed by species, weight, angler, skipper, boat, and date. The list is updated every Sunday throughout the year (copyright 2015 by Jim Rizzuto). If we have overlooked you, give us a call (885-4208) or send an e-mail ([email protected]).
* Blue marlin, 1,226.5, Dean Lemman, Capt. Chip Van Mols, Luna. May 27.
* Black marlin, (vacant)
* Ahi, 233, Ken Smith, Capt. Bobby Cherry. Cherry Pit II, May 1.
* Bigeye tuna, 189, Meg Stern, Capt. Tracy Epstein, Last Chance. Feb. 19.
* Striped marlin (tie), 141.5, Capt. Rocky Guaron, Hooked Up, March 26 and 142, Jody Pintar, Capt Jeff Heintz, Linda Sue IV.  April 8.
* Spearfish, (tie) 52.9, Floyd Pansano, Capt. Dale Leverone, Sea Strike, March 10; and 52.7, Kasey Buising, Capt. Mark Schubert, Captain Jack, March 6.
* Sailfish, 101, Craig Cugnit, Capt. Shawn Rotella, Night Runner. Jan. 31
* Mahimahi, 53, Ray Mohammed, Capt. Jim Wigzell, Go Get Em. March 15.
* Ono, 58.5, Asa Sugitan, Crazy Ann. Jan. 31
* Kaku, 19, Bruce Lentz, Shoreline. Apr 27.
* Kahala (vacant)
* Ulua (giant trevally), 104.5, Adam Hodgson, Kayak.  March 31.
* Omilu (bluefin trevally), 13.5, Bruce Lentz, caught from shore.  April 2.
* Otaru (skipjack tuna), 29, Unknown, Capt. Chad Contessa, Bite Me. June 2.
* Broadbill swordfish, 50.5, Tony Clark, Capt. McGrew Rice, Ihu Nui. June 6.
* Ahipalaha (albacore), (vacant)
* Kawakawa, 17.5, Todd Shiraki, Treeny 2, June 20.
* Kamanu (rainbow runner), 21, Adam Hodgson, kayak.  May 28.
* Opakapaka (pink snapper),  (vacant)
* Onaga (ulaula ko`aie), (vacant)
* Uku (gray snapper), 16, Todd Shiraki, Treeny 2, June 20.
* O`io (bonefish), 5.4, James Cintas (6 years old), Shoreline.
Beasts of the week (marlin weighing 500 pounds or more):
July 1: Blue marlin (501.5) Ted Kogugi, Capt. Butch Losasso, Sea Dancer Sportfishing
July 1: Blue marlin (664) Darren Boldshort, Capt. Rich Young,  A`u Struck fishingcharterskona.com
Tag and Release
June 28: Blue marlin (150) JJ Humphries, Capt. Gene Vanderhoek, Sea Genie Sportfishing
June 28: Blue marlin (200) Unknown, Capt. Bryan Toney, Marlin Magic
June 28: Blue marlin (150 and 200) Zach Wigzell, Capt. Chuck Wigzell, EZ Pickens
June 28: Blue marlin (150, 250, and 380) Heather Masunaga, Capt. Kerwin Masunaga, Rod Bender
June 28: Blue marlin (250) Gordon Spencer, Capt. Tony Clark, Ihu Nui II
June 28: Blue marlin (250) Brenden Dreyer, spearfish (30) Craig Dreyer, Capt. Robert Hudson, Camelot
June 28: Blue marlin (90), spearfish (25) Carol Herren, Capt. Bruce Herren, Raptor
June 28: Blue marlin (200) Derek Shindler, Capt. James Dean, Blue Hawaii
June 28: Blue marlin (200 and 225) Nic Corbat, Capt. Kai Hoover, Game Plan
June 28: Blue marlin (150) Bruce Barnes, Capt. Jim Wigzell, Go Get Em
June 28: Blue marlin (150) Chad Bonito, Capt. Trevor Child, Maverick
June 28: Blue marlin (300) Tyler Peterson, Capt. Andrew Peterson, High Noon
June 29: Blue marlin (150) Connor Tiedt, and (150) John Tiedt, Capt. Steve Epstein, Huntress
June 29: Spearfish (25) and striped marlin (45) John Bryant, Capt. Kenny Fogarty, Makana Lani
June 29: Blue marlin (225) Zack Carges, Capt. Joe Schumaker, Fire Hatt
June 29: Blue marlin (100 and 100) Dick Boranian, and (110) Dave Hurst, Capt. Marlin Parker, Marlin Magic II
June 29: Blue marlin (100) Dave Henry, and (125) Dana Marus, and (450) Jim Marus, Capt. Bobby Cherry, Cherry Pit II
June 29: Blue marlin (250) Michi Porter, Capt. McGrew Rice, Ihu Nui
June 29: Blue marlin (150) Craig Lindner, Capt. Teddy Hoogs, Bwana
June 29: Blue marlin (225) Kevin Pathraff, (140), and (130) Connor Pathraff, Capt. Al Gustavson, Topshape
June 30: Blue marlin (150) Deena Yai, and (175) Chris Yamamoto, Capt. Chris Cawthon, Ohana
June 30: Blue marlin (250) Kepo o'kalani Katz, Capt. Tony Clark, Ihu Nui II
June 30: Blue marlin (200) Kris Estes, Capt. Kent Mongreig, Sea Wife II
June 30: Blue marlin (130) Stewart Alsop, Capt. Joe Schumaker, Fire Hatt
July 1: Blue marlin (200) Carol Herren, and (150) KJ Robinson, Capt. Bruce Herren, Raptor
July 1: Blue marlin (100) Chappy Chapman, Capt. Al Gustavson, Topshape
July 1: Blue marlin (180) Craig Chambers, Capt. McGrew Rice, Ihu Nui
July 1: Blue marlin (150 and 200) JJ Humphries, Capt. Gene Vanderhoek, Sea Genie II
July 1: Blue marlin (150) Bob Strewe, and (390) Steve Keinath, Capt. Tracy Epstein, Last Chance
July 1: Blue marlin (150 and 180) Russ Nitta, and (110) Bryan Lindgren, Capt. Boyd DeCoito, Foxy Lady
July 1: Blue marlin (175) Jake Newton, Capt. Brian Wargo, Bite Me 2
July 1: Blue marlin (120, 150, and 250) Jason Long, Capt. Rob Ellyn, Lightspeed
July 1: Blue Marlin (175) Bob Russell, Capt. Jason Holtz, Pursuit
July 1: Blue Marlin (120) Paul Douglas, Capt. Marlin Parker, Marlin Magic II
July 1: Blue Marlin (180) James Bach, Capt. Trevor Child, Maverick
July 1: Blue Marlin (250) Bill Ingram, and (150) Steve Fassbender, Capt. Neal Isaacs, Anxious
July 1: Blue marlin (325) Suzanne Gustavson, Capt. Al Gustavson, Topshape
July 1: Blue marlin (200) Henry O'Connell, Capt. Bryan Toney, Marlin Magic
July 2: Blue marlin (200) Carol Herren, Capt. Bruce Herren, Raptor
July 2: Blue marlin (120) Mike Allen, and (180) Richard Williams, Capt. Kenny Fogarty, Hula Girl
July 2: Blue marlin (175) Bill Aight, Capt. Rich Young, Au' Struck
July 2: Blue marlin (175) JJ Humphries, Capt. Gene Vanderhoek, Sea Genie II
July 2: Blue marlin (200) Bill Ingram, (120) Steve Fassbender, Capt. Neal Isaacs, Anxious
July 2: Blue marlin (150) Bob Strewe, (150) Steve Keinath, Capt. Tracy Epstein, Last Chance
July 2: Blue marlin (175) Keith Chapman, Capt. Al Gustavson, Topshape
July 2: Blue marlin (175) Paul Douglas, Capt. Marlin Parker, Marlin Magic II
July 3: Blue marlin (175) Justin Collins, (175) Madelyn Collins, Capt. Al Gustavson, Topshape
July 3: Blue marlin (250, and 150) Carol Herren, Capt. Bruce Herren, Raptor
July 4: Blue marlin (240) Dave Parreira, Capt. Rob McGuckin, Integrity
July 4: Blue marlin (125) Warren Keinath, Capt. Carlton Taniyama, Five Star
July 4: Blue marlin (125 and 200) Lance Pattillo, Capt. Jason Holtz, Pursuit
July 4: Blue marlin (180) Larry Peardon, Capt. Molly Palmer, Pamela
July 4: Blue marlin (120) Rob McCarthy, Capt. Rob Ellyn, Lightspeed
July 4: Blue marlin (200) Eric Schneider, Capt. Steve Tarbill, Kona Concept
July 4: Blue marlin (120, 125, and 180) Tyler Peterson, Capt. Andrew Peterson, High Noon
July 4: Blue marlin (150) Kalina Unger, and (370) Drew Carlton, Capt. Paul Carlton, Go Big
July 4: Blue marlin (150) Donald Decoffe, Capt. Bill Casey, Marlin Grando
July 4: Blue marlin (150) Brandon Lum Won, Capt. Jim Wigzell, Go Get Em
July 4: Blue marlin (150 and 200) Steve Keinath, Capt. Tracy Epstein, Last Chance
July 4: Blue marlin (200) Greg Aquilera, Capt. Kevin Nakamaru, Northern Lights
July 4: Blue marlin (180) Mike Corbino, Capt. Boyd DeCoito, Foxy Lady
July 4: Blue marlin (140) Jack Lorsam, Capt. Paul Cantor, SIlver Star
July 4: Blue marlin (180) John Bennett, Capt. Al Gustavson, Topshape
July 4: Blue marlin (150) Brad Pickens, Capt. Chuck Wigzell, EZ Pickens
July 4: Blue marlin (180) Dean Jacobs, Capt. Scott Crampton, Au' Kalani
July 4: Blue marlin (120) Vixen, Kemp Murakani, Capt. Kenny Llanes, Vixen
July 4: Blue marlin (200) Peter Blake, Capt. Russ Nitta, Lepika
July 4: Blue marlin (160) Kurt Fujimoto, Capt. Gene Vanderhoek, Sea Genie II
Notable
June 28: Ahi (165) Gordon Finlay, Capt. David Crawford, Kona Blue
June 28: Blue marlin (491) Paulette Pama, Capt. Steve Fassbender, Teresa
June 28: Ahi (163) Rick Spachler, Evan Spachler, I Forget
June 28: Ahi (153) Ben McMurray, Capt. Shane O'Brien, Strong Persuader
June 29: Swordfish (213.5) David Nahuina, Keiki Auana
June 29: Ahi (171) Chris Nasin, Capt. Joe Schumaker, Fire Hatt
June 30: Blue marlin (205.5), ono (43.5) Ikaika Germano, Capt. Henry Chee, Duck Soup
June 30: Blue marlin (405.5) Jason O'Neal, Capt. Andrew Peterson, High Noon
June 30: Ahi (184.5) Jada Holt, Capt. Chip Van Mols, Luna
July 1: Mahimahi (50.5) Max Hall, Capt. Jeff Heintz, LInda Sue IV
July 1: Ahi (213) Maile Brown, Kona Ho, Kalae
July 2: Blue marlin (365) James Costello, Capt. Tony Clark, Ihu Nui II
July 2: Ahi (163.5) Ashley and Malone Desilva, Kolina
July 2: Blue marlin (314) Tyson Bailey, Jimmy Hamora, Leimana
July 2: Blue marlin (327) Bob Russell, Capt. Jason Holtz, Pursuit
July 2: Ahi (152.5) Jason Long, Capt. Rob Ellyn, Lightspeed
July 2: Ahi (196) Tom Goodman, Capt. Carlton Taniyama, Five Star
July 3: Ahi (171.5) Ted Kosugi, Capt. Brian, Sea Dancer
July 3: Ahi (174) Mike Kirkland, Capt. Kevin Nakamaru, Northern Lights
July 3: Ahi (175) Grant Collins, Capt. Al Gustavson, Topshape
July 4: Ahi (166) Gina Low, Capt. Clint Lewi, Waleakai
July 4: Ahi (221) Kemp Murakami, Capt. Kenny Llanes, Vixen
July 4: Ahi (189.5) Len Nakano and Darrell Omori, Dayna