Even if you could predict the weather, you can't predict the fishing.  We are into the second year of a major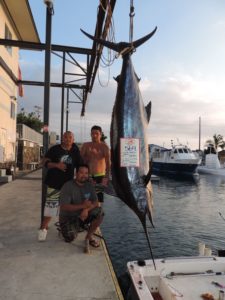 El Nino warming event and yet the offshore fishing of 2015 is markedly different from 2016.  Last year, 2015, was one of Hawaii's best ever for big fish with at least seven granders caught here.  This year, 2016, has turned up no granders so far, but we've seen steady fishing throughout the year for mid-size blue marlin even up until last week.
RMG ROI ROUNDUP
Many local fishermen think of the roi (bluespotted grouper) as an undesirable thug.  An alien species introduced here in the mid-1950s, the roi is now the dominant reef predator.  It preys on the prized reef fish that were already established here when Hawaiians first discovered the islands thousands of years before.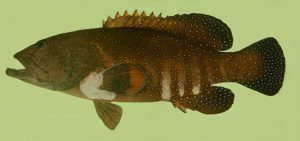 Along with ta`ape (blue-lined snapper) and to`au (black-tailed snapper), roi were intentionally brought here by Hawaii's natural resource officials to fill a perceived gap in reef species. All three flourished at the expense of native species.  A 2007 study reported that the biomass of roi is greater than all other reef fish combined.  UH scientists estimated that the roi population on a three-square mile reef section of the Kona Coast can eat over 8 million fish of many kinds in a year's time even though individual roi rarely grow to more than 20 inches.
Big-Fish List for 2016. The list recognizes the biggest fish caught on rod and reel (except opakapaka and onaga, for which we'll accept hand line catches) in West Hawaii waters for 2016 in each of 22 categories. They are listed by species, weight, angler, skipper, boat, and date. The list is updated every Sunday throughout the year (copyright 2016 by Jim Rizzuto). If we have overlooked you, give us a call (885-4208) or send an e-mail ([email protected]).
Blue marlin, 865, Louis Paulo and grandson Kalamaokalani Kelekolio-Crivello, Anela okaikea. April 16.
Black marlin, 310, Tim Flint, Capt. Butch Chee, Duck Soup, June 21
Ahi, 233, David Diaz, Capt. Bobby Cherry, Cherry Pit II, June 5
Bigeye tuna, 173, Dave Remillard, Miles Nakahara, Puamana II. Jan. 11.
Striped marlin, 136.5, Mitchell Romero, Capt. Guy Terwilliger, High Flier. Jan 22.
Spearfish, 54, Nick Humpries, Capt. Shawn Rotella, Night Runner, Feb. 26
Sailfish, 91, Mike Foster, Capt. Shawn Rotella, Night Runner. Mar. 24.
Mahimahi, 53, Nainoa Murtagh, Aulani. Feb. 10.
Ono, 62, Charlie Ford, Capt. Shawn Rotella, Night Runner. Mar. 18.
Kaku, (barracuda), 49.5, Koi Lorance and Tyson Fukuyama, Miki.  May 7.
Kahala, 70, Jessica Yell, Capt. Shawn Rotella, Night Runner. Jan 22.
Ulua (giant trevally), 74, Bochan Johnson, from shore. Apr 3.
Omilu (bluefin trevally), 18.5, Mikey McCrum, Shoreline. May 13
Otaru (skipjack tuna), 28. 5, Ray Mohammond, Capt. Jim Wigzell, Go Get Em
Broadbill swordfish, 224, Matthew Bolton, Kahele, June 14
Ahipalaha (albacore), 52.5, Devin Hallingstad, kayak, Aug 13
Kawakawa, 23, Tom Schachet, Capt. Shawn Rotella, Night Runner. July 1
Kamanu (rainbow runner), 12.5. Tom Britton, kayak. Apr. 13
Opakapaka (pink snapper), 9.5. Butch Chee, Sueto Matsumoto, Sandee. Mar. 12.
Onaga (ulaula ko`aie), 19.5, Greg Hong, Kevin Shiraki, Erin Kai. Feb 25.
Uku (gray snapper), 31, Josh Fulton, kayak. July 31.
O`io (bonefish), (vacant)
Beasts of the week (marlin weighing 500 pounds or more, including R for releases).
Oct 23: Blue marlin (600R) Joel Clemons, Capt. Carl Shephard, Hula Girl
Oct 25: Blue marlin (569) Mark Jordan, Fathom Hawaii
Releases:
Oct 23: Blue marlin (150) Capt. Chris Choy, Sapo
Oct 25: Blue marlin (225) Jameson Hertel, Capt. Fran O'Brien, Marlin Grando
Oct 28: Blue marlin (275 and 175) Andy Hill, Capt. James Dean, Blue Hawaii
Oct 29: Blue marlin (150) Paul Mooradian, Capt. Chuck Wigzell, Hooked Up
Boated Fish:
Oct 23: Blue marlin (138) Charlie Skaggs, Capt. Will Lazenby, Linda Sue IV
Oct 23: Ahi (126) David Nail, Capt. Bobby Cherry, Cherry Pit II
Oct 24: Ahi (175) PJ Smyth, Capt. Bobby Cherry, Cherry Pit II
Oct 25: Blue marlin (217.5) Bill Wilkinson, Japheth Perez, Any Kine
Oct 26: Ahi (160) Tom Wilson, Capt. Bobby Cherry, Cherry Pit II
Oct 27: Omilu (17) Tevin Tolentino, Shoreline
Oct 27: Ono (37.5) Josh Fulton, Kayak
Oct 27: Blue marlin (246) Mike Hamilton, Capt. Kevin Hiney, Ku'uipo
Oct 29: Blue marlin (459.5) Peter Maral, Scott Mezera, Malia Anne
Oct 29: Blue marlin (98.5) Tracy Leverone, (112) Jack Leverone, Capt. Dale Leverone, Sea Strike