With Halloween just ahead, the fish are in trick-or-treat mode.  These days, you have to be especially tricky to get a treat and your treat is likely to be a surprise in disguise.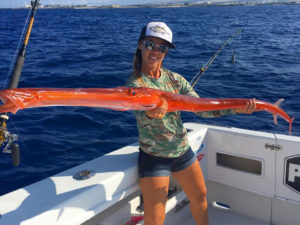 On Blue Hawaii, Capt. James Dean and crew Scott "Scooter" Fuller were hosting their boss, Mike Jacobson, and were surprised by a pack of unknown billfish.  They saw their first one jump and thought it might be a small blue marlin or stripe. They got it to the boat as more billfish were playing tricks with their other lures.  A second fish hooked-up and raced off just as Scooter pulled the first one alongside. It threw off its cape-like disguise and opened up a huge sail along its back.  James realized he was looking at the first sailfish he has caught here in 30 years.
James' second Kona sailfish of all time followed a few minutes later.  The trio kept one as a trophy and released the other.  These were Mike's second and third sails here and the fifth and sixth for Scooter.
ODD NUNU LEGEND
Islanders here and elsewhere say the timid-looking trumpetfish preys on the ferocious moray eel.  That is not quite as crazy as it sounds if you know the cornetfish has a long, bony snout with razor-edge ridges.   Lest you think I am making this up, I am giving you an account by marine biologist R. E. Johannes from the book "Words of the Lagoon."
ANXIOUS SCORES BIG FOR TUBBS
Earlier in this column, you read about an overnight trip on Anxious with Capts. Bryan Schumaker and Shawn Palmer.  In addition to their two striped bonito, they tagged a blue on the way to their overnight spot, caught a shark (released) overnight and then tagged a 200-pound blue on the way back to port.
Overnighters are not on Capt. Neal Isaacs' schedule these days but he was happy to resume the helm on Friday and pick up where the action left off.  While Neal, Brian and David trolled south from Pebble Beach to Milolii and back, they boated two ono and a mahimahi and hooked a blue estimated at 650 pounds or more.  Though it was the biggest fish of last week, they got it to the boat in about 15 minutes with a lot of determined boat action.  Getting a fish to the release point rapidly spares the fish and the angler, with both in better, happier shape afterwards.
Big-Fish List for 2016. The list recognizes the biggest fish caught on rod and reel (except opakapaka and onaga, for which we'll accept hand line catches) in West Hawaii waters for 2016 in each of 22 categories. They are listed by species, weight, angler, skipper, boat, and date. The list is updated every Sunday throughout the year (copyright 2016 by Jim Rizzuto). If we have overlooked you, give us a call (885-4208) or send an e-mail ([email protected]).
Blue marlin, 865, Louis Paulo and grandson Kalamaokalani Kelekolio-Crivello, Anela okaikea. April 16.
Black marlin, 310, Tim Flint, Capt. Butch Chee, Duck Soup, June 21
Ahi, 233, David Diaz, Capt. Bobby Cherry, Cherry Pit II, June 5
Bigeye tuna, 173, Dave Remillard, Miles Nakahara, Puamana II. Jan. 11.
Striped marlin, 136.5, Mitchell Romero, Capt. Guy Terwilliger, High Flier. Jan 22.
Spearfish, 54, Nick Humpries, Capt. Shawn Rotella, Night Runner, Feb. 26
Sailfish, 91, Mike Foster, Capt. Shawn Rotella, Night Runner. Mar. 24.
Mahimahi, 53, Nainoa Murtagh, Aulani. Feb. 10.
Ono, 62, Charlie Ford, Capt. Shawn Rotella, Night Runner. Mar. 18.
Kaku, (barracuda), 49.5, Koi Lorance and Tyson Fukuyama, Miki.  May 7.
Kahala, 70, Jessica Yell, Capt. Shawn Rotella, Night Runner. Jan 22.
Ulua (giant trevally), 74, Bochan Johnson, from shore. Apr 3.
Omilu (bluefin trevally), 18.5, Mikey McCrum, Shoreline. May 13
Otaru (skipjack tuna), 28. 5, Ray Mohammond, Capt. Jim Wigzell, Go Get Em
Broadbill swordfish, 224, Matthew Bolton, Kahele, June 14
Ahipalaha (albacore), 52.5, Devin Hallingstad, kayak, Aug 13
Kawakawa, 23, Tom Schachet, Capt. Shawn Rotella, Night Runner. July 1
Kamanu (rainbow runner), 12.5. Tom Britton, kayak. Apr. 13
Opakapaka (pink snapper), 9.5. Butch Chee, Sueto Matsumoto, Sandee. Mar. 12.
Onaga (ulaula ko`aie), 19.5, Greg Hong, Kevin Shiraki, Erin Kai. Feb 25.
Uku (gray snapper), 31, Josh Fulton, kayak. July 31.
O`io (bonefish), (vacant)
Beasts of the week (marlin weighing 500 pounds or more, including R for releases).
Oct 16: Blue marlin (506) Porsha Kanuha, Cody Esprago, Lil Blue Guppy
Oct 21: Blue marlin (650R) David Tubbs, Capt. Neil Isaacs, Anxious
Weighed
Oct 16: Sailfish (75) Mike Jacobson, Capt. James Dean, Blue Hawaii
Oct 18: Mahimahi (34.5) Kirk James, Don Gilles, Sun Runner
Oct 19: Mahimahi (43) Ryan Carvalho, Alan Heap, Ikaika
Oct 20: Red Cornetfish (9) Barbara Parkhurst, Capt. Shawn Rotella, Night Runner
Oct 21: Mahimahi (25), ono (40 and 35) David Tubbs, Capt. Neil Isaacs, Anxious
Oct 22: Omilu (15.5) Jared Ombao, Shoreline
Oct 22: Blue marlin (363) Steve Peak, Capt. Oskie Rice, Kaulana
Tag And Released:
Oct 16: Sailfish (70) Mike Jacobson, Capt. James Dean, Blue Hawaii
Oct 16: Blue marlin (175) Carol Herren, Capt. Bruce Herren, Raptor
Oct 20: Blue marlin (280) Chuck O'Dunnell, Capt. Ruebin Rubio, Ichiban
Oct 20: Blue marlin (100) Josh Marinucci, Capt. John Bagwell, Silky
Oct 20: Blue marlin (120, 250) David Tubbs, Capt. Neil Isaacs, Anxious
Oct 21: Blue marlin (200) Stan Minnick, Capt. Steve Tarbill, Miss Mojo
Oct 21: Blue marlin (200) Dave Nevenschwander, Capt. Steve Tarbill, Miss Mojo
Oct 22: Blue Marlin (150) Buyung Zhang, Capt. Chris Choy, Sapo