File this one under "Good deed, good karma, great catch."   On Friday, Tyler Hams responded to a call for assistance from another fisherman, which would later put him in the right place to catch the biggest marlin of the week.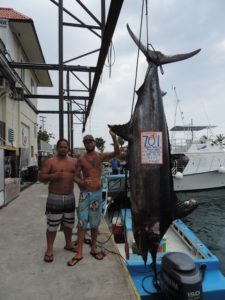 Tyler was fishing alone on his boat Ai`ia when he saw Sueto Matsumura waving to him off for help.  Sueto's boat Sandee was dead in the water, so Tyler thought the veteran old-timer had engine problems and needed help getting back to Honokohau Harbor.  Without hesitation, Tyler pulled in his trolling lines and headed over to set up a tow.
To Tyler's surprise, Sueto's problem was much more interesting.  He had caught a tuna too big for him to get aboard his little boat.
ON BECOMING A FISHERMAN
Tyler Yams, now 25, has been fishing his whole life and recalls hanging around the harbor as a kid, fishing from shore for whatever would bite on his "small" tackle.  One of his first paying jobs was washing charterboats at the end of fishing trips.  For a lad of 10, earning $5 a boat wash was a thriving business.
Main thing, it led to bigger things.  He got to know the boats and crews and gradually moved into apprenticing on charterboats.
OLD WAYS AT WORK
On Friday, while young Tyler Hams was fighting his big one, David Magallanes, 75, was busy with four marlin.  The first one hit while David was just starting out from Honokohau on his venerable boat Kona Pearl II, but it shook free.
Later, two marlin hit at once and both stayed hooked.  Imagine a solo fisherman running back and forth accross the deck from reel to reel and stopping at the helm to guide the boat.  If that's your picture, you have it all wrong.
WHAT'S IN THE DNA?
From now until the end of the year, we should be seeing more striped marlin and shortbill spearfish.  Their presence in Kona waters at the same time begs for a DNA study suggested by some unusual results from the Atlantic.   When researchers from the Virginia Institute of Marine Science conducted DNA studies on white marlin and longbill spearfish, they discovered a small but definite number of fish that showed DNA from both the white and the longbill.  In other words, when the two species spawn at the same time, they occassionally produce hybrids.
White marlin are very close to striped marlin genetically.  Shortbills are close to longbills, too.  Some billfish scientists think that our striped marlin might be crossbreeding with our shortbills.  This might be a good project for a budding scientist looking to build a reputation.
Beasts of the week (marlin weighing 500 pounds or more).
Aug 26: Blue marlin (701) Tyler Hams, Ai'ia
Release:
Aug 21: Blue marlin (200) Carol Herren, Capt. Bruce Herren, Raptor
Aug 21: Blue marlin (150) Jeff Husketh, Capt. James Dean, Blue Hawaii
Aug 21: Blue marlin (140 and 160) Leo Suszko, Capt. Teddy Hoogs, Bwana
Aug 22: Blue marlin (150) Carol Herren, Capt. Bruce Herren, Raptor
Aug 22: Blue marlin (250) Unknown, Capt. Bill Casey, Marlin Grando
Aug 22: Blue marlin (200) Vlad Brynikhin, Capt. Marlin Parker, Marlin Magic II
Aug 22: Spearfish (35) Will Mackenzie, Capt. Al Gustawson, Topshape
Aug 23: Blue marlin (150) Will, Capt. Chris Cawthon, Ohana
Aug 23: Blue marlin (150) Jessica Phitts, Capt. (220) Shannon Phitts, Capt. Trevor Child, Maverick
Aug 23: Blue marlin (150) Jada Brown, Capt. McGrew Rice, Ihu Nui
Aug 23: Blue marlin (110) Michael Kirby, Capt. Marlin Parker, Marlin Magic II
Aug 23: Blue marlin (175) Ryan Turton, Capt. Al Gustavson, TopShape
Aug 23: Blue marlin (150 and 300) Taylor Robinson, Capt. Scott Fuller, JR's Hooker
Aug 24: Blue marlin (102) Jim Griffith, Capt. Chad Contessa, Bite Me
Aug 24: Blue marlin (150 and 150) Unknown, Capt. Joe Schumaker, Fire Hatt
Aug 24: Blue marlin (250) David Oryall, Capt. Mcgrew Rice, Ihu Nui
Aug 24: Blue marlin (140) Dale Morman, Capt. Mcgrew Rice, Ihu Nui
Aug 25: Blue marlin (160) Max Sehwenne, Capt. Mcgrew Rice, Ihu Nui
Aug 25: Spearfish (40) Rudy Wankaw, Capt. Ruben Rubio, Sundowner
Aug 25: Blue marlin (150) Rich Hills, Capt. Marlin Parker, Marlin Magic II
Aug 25: Blue marlin (150) Mike Robinson, Capt. Scott Fuller, JR's Hooker
Aug 25: Blue marlin (150) Britt Broadhurst. Capt. Kenny Fogarty, Makana Lani
Aug 26: Blue marlin (175) Jon Houde, Capt. Robert Hudson, Camelot
Aug 26: Blue marlin (150 and 180) Travis Yearly, Capt. Trevor Child, Maverick
Aug 26: Blue marlin (150) Rudy Wankow, Capt. Ruben Rubio, Sundowner
Aug 27: Blue marlin (125) Jacke Kramer, (175) Ian Kramer, Capt. Steve Epstein, Huntress
August 27: Blue marlin (200) Trevor Thompson, Capt. James Dean, Blue Hawaii
Notable:
Aug 26: Ahi (197), Sueto Matsumura, Sandee