And the heat goes on.  Sea temperatures remain near mid-summer highs, which may explain why some Kona fishermen are seeing July/August action in September and October.  On Tuesday, Capt. Neal Isaacs weighed a 573-pound blue marlin as his sea-temp gauge read a balmy 82 degrees.  That same day, Capt. Marlin Parker on Marlin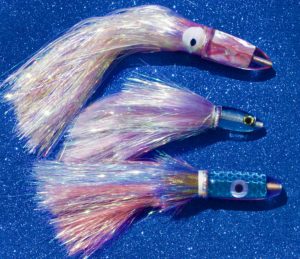 Magic II released blues estimated at 400 and 150 pounds and Capt. Kenny Fogarty let go a blue estimated at 325.  The previous day, Ihu Nui II released two blues and a shortbill spearfish.  And that's just a fraction of the hot fishing report.
MERCY BITE
Neal's 573-pound blue marlin hit just as Anxious was getting ready to pull in lines outside the harbor and "surrender" for the morning.   Add "mercy bite" to your glossary of fishing terms.  For another example, note that Paul Dolinoy was doing a Friday birthday run on his boat Sapo with Capt. Chris Choy.  He was hoping for a blue marlin, but the fish gods seemed determined to ignore his birthday wish right to the very end.  At 3:00 pm, a 100-pound blue hit to add a little joy to the day.  This one turned out to be a "mercy bite" of the second order.  Chris and Paul were able to release it to ensure many more Happy Birthdays.
TACKLE TALK
On Anxious, as well as many other successful boats, the lure for the season seems to be a big blue bullet head with a pink and silver "flashaboo" skirt.  That's the trade name for a shiny, filamentous material that billows out behind the lure to give the lure the full look of a healthy baitfish.
"Ninety percent of our bites have been on the flashaboo bullet," Neal said. "The secret is in the shine."
Big-Fish List for 2016. The list recognizes the biggest fish caught on rod and reel (except opakapaka and onaga, for which we'll accept hand line catches) in West Hawaii waters for 2016 in each of 22 categories. They are listed by species, weight, angler, skipper, boat, and date. The list is updated every Sunday throughout the year (copyright 2016 by Jim Rizzuto). If we have overlooked you, give us a call (885-4208) or send an e-mail ([email protected]).
Blue marlin, 865, Louis Paulo and grandson Kalamaokalani Kelekolio-Crivello, Anela okaikea. April 16.
Black marlin, 310, Tim Flint, Capt. Butch Chee, Duck Soup, June 21
Ahi, 233, David Diaz, Capt. Bobby Cherry, Cherry Pit II, June 5
Bigeye tuna, 173, Dave Remillard, Miles Nakahara, Puamana II. Jan. 11.
Striped marlin, 136.5, Mitchell Romero, Capt. Guy Terwilliger, High Flier. Jan 22.
Spearfish, 54, Nick Humpries, Capt. Shawn Rotella, Night Runner, Feb. 26
Sailfish, 91, Mike Foster, Capt. Shawn Rotella, Night Runner. Mar. 24.
Mahimahi, 53, Nainoa Murtagh, Aulani. Feb. 10.
Ono, 62, Charlie Ford, Capt. Shawn Rotella, Night Runner. Mar. 18.
Kaku, (barracuda), 49.5, Koi Lorance and Tyson Fukuyama, Miki.  May 7.
Kahala, 70, Jessica Yell, Capt. Shawn Rotella, Night Runner. Jan 22.
Ulua (giant trevally), 74, Bochan Johnson, from shore. Apr 3.
Omilu (bluefin trevally), 18.5, Mikey McCrum, Shoreline. May 13
Otaru (skipjack tuna), 28. 5, Ray Mohammond, Capt. Jim Wigzell, Go Get Em
Broadbill swordfish, 224, Matthew Bolton, Kahele, June 14
Ahipalaha (albacore), 52.5, Devin Hallingstad, kayak, Aug 13
Kawakawa, 23, Tom Schachet, Capt. Shawn Rotella, Night Runner. July 1
Kamanu (rainbow runner), 12.5. Tom Britton, kayak. Apr. 13
Opakapaka (pink snapper), 9.5. Butch Chee, Sueto Matsumoto, Sandee. Mar. 12.
Onaga (ulaula ko`aie), 19.5, Greg Hong, Kevin Shiraki, Erin Kai. Feb 25.
Uku (gray snapper), 31, Josh Fulton, kayak. July 31.
O`io (bonefish), (vacant)
Beasts of the week (marlin weighing 500 pounds or more, including releases).
Oct 4: Blue marlin (573) Tim Davidson, Capt. Neal Isaacs, Anxious
Releases:
Oct 3: Blue marlin (160) Tom Trevarthen, Capt. Kenny Fogarty, Hula Girl
Oct 3: Blue marlin (200, and 150), spearfish (40) Tony Clark, Capt. Ed Mueller, Ihu Nui II
Oct 3: Blue marlin (150) Paul Dolinoy, Capt. Chris Choy, Sapo
Oct 4: Blue marlin (325) Yong Chen, Capt. Kenny Fogarty, Makana Lani
Oct 4: Blue marlin (400) Kyle Mosley, and (150) Steve Mosley, Capt. Marlin Parker, Marlin Magic II
Oct 7: Blue marlin (100) Paul Dolinoy, Capt. Chris Choy, Sapo
Oct 7: Blue marlin (120) Greg Stuonedock, Capt. Marlin Parker, Marlin Magic II
Weighed:
Oct 3: Mahimahi (45) Paul Dolinoy, Capt. Chris Choy, Sapo
Oct 3: Bigeye tuna (120) Kevin Gallagher, Miss Mila
Oct 4: Blue marlin (108) Dan Beckwith, 8Te Enuff
Oct 4: Blue marlin (155) Brett Callaway, Capt. Will Lazenby, Linda Sue IV
Oct 5: Blue marlin (124.5) Michael Matlock, Capt. Kevin Hiney, Ku'uipo
Oct 6: Blue marlin (161) Michael Chow, Capt. Howard Whitcomb, Intrepid