The 2016 World Cup Blue Marlin Championship, along with the Big Blue Challenge and the Kona Cup, may become known as "the ones that got away" from Kona. Why? We'll look at what happened and then at what might have happened.
THE ONES THAT GOT AWAY FROM THE WORLD CUP FLEET
Was there a grander in Kona waters on July 4?  The best answer may be in the story of what happened on Night Runner the very next day.  Capt. Shawn Rotella says it may have been the most exciting fishing day of his life.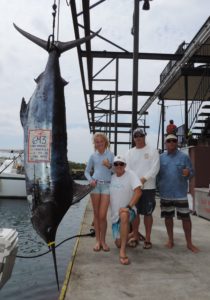 A "crazy big fish" swam up behind the bullet lure on his outrigger and, without popping the line out of the clip, continued to swim up the spread to look for something else to eat, Shawn said.
After hooking the big blue, they fought it hard until they were finally able to get hold of the 530-pound-test leader.  Though they did their best to hang on, the marlin popped the leader, but not before they got a good look at its immense size.
Now is the height of ahi season, which means the yellowfins can be anywhere at any time.
The 19-foot family boat Crazy Ann caught one of the biggest tuna of the week (225 pounds before gutting, 209 at the scale) after giving up looking for one.
As his crew, Asa Suigitan had his daughter Moorea, 11, and a visiting friend from Vermont, Jesse Gay aboard for an exploratory trip out of Honokohau.  They left the harbor just after 6:00 am, set out the lines and immediately had a 200-pound marlin on.  After fighting it for 15 minutes, the marlin jumped off so they kept on trolling down the coastline toward C-buoy.
They boated an 18-pound skipjack tuna and headed on toward the "Third Flow."   On the 500-fathom edge, the long corner line started screaming with what Asa thought was a big ahi.  As he cleared lines, Asa looked up and saw a 600-pound marlin jump.
ODDEST CATCH OF THE WEEK
Summertime and the ika-shibi fishing is easy, or maybe not.  The name says you are fishing for ika (squid) to attract shibi (bigeye, yellowfin and albacore).  The fact that it happens at night is unstated but real.  For Jesse Rogers, an overnight ika-shibi trip got very real when he hooked one of the strangest creatures you might never want to pull up out of the inky blackness of a dark night.