Blue Hawaii battles 800 pound blue marlin
Rick Fair and his family joined Capt. James Dean and crew Tobin Hudgins on Blue Hawaii and got a shot at one of Kona's biggest blue marlin of the year.  Daughter Stephanie, 13, kicked off the action with a shortbill spearfish, which cranked up the excitement and gave the family a chance to see a fish-fighting drill in action.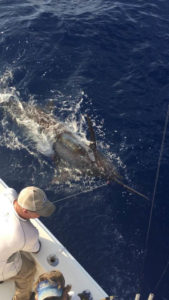 Their rehearsal got them ready when a much bigger fish hit a 25-year-old Black Bart lure on the long corner line.  Unfortunately, the fish got off after ripping out 40 yards of line, but Tobin had seen the bite and knew it was a marlin without doubt.
Tobin reeled the lure back to the boat for inspection and realigning the hook set.  James said the leader was "brutally chafed" and the new vinyl skirt "had literally gotten destroyed by the attack."
In just a few minutes, James turned back for another try at the big fish and the long rigger came down hard in the middle of the turn.  This time, the fish had taken a blue Koya bullet lure and hooked up solidly.  Bullets have a high-percentage hook-up rate because they track straight and are easier for fish to catch.  This one had been 5 for 5 over the last three Blue Hawaii charters and had accounted for 3 blue marlin and 2 spearfish in the trio of trips.
GOING FOR A JUNIOR ANGLER RECORD
Laurel David of Hollywood, Florida, is no stranger to big fish and world records both here and back home.  Her dad runs a charter boat in Florida, and the family makes regular trips to Kona for a change of scenery and new adventures.
The Davids fished here last week on Night Runner.  Laurel was hoping to break the junior women's world record for amberjack, currently 54 pounds.  So Capt. Shawn Rotella headed south to fish overnight at South Point.
CHARTERBOATS AREN'T JUST FOR VISITORS
An overnight fishing trip to South Point was on the bucket list for a quartet of local professionals from Clark Realty.  The four realtors joined Capt. McGrew Rice and his crew on Ihu Nui II for a local-style overnighter.
ODDEST CATCH OF THE WEEK
Take your pick from among three nearly unbelievable tuna catches.
BIG FISH LIST AND CATCH REPORT