ROCK 'N REEL TOURNEY PUTS $77,000 ON THE LINE
Team Rod Bender boated the largest marlin in the Rock 'N Reel Tournament to take the top billfish prize and win the most money.  Kerwin and Brent Masunaga's 391-pound blue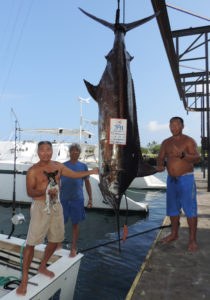 earned them 91 points (a point per pound over the minimum qualifying weight of 300 pounds).  Their blue was the only qualifying marlin of the event so they took all of the marlin points across the board.  Rod Bender had two bites, caught one fish and won a $29,000  and a Penn International 130 rod and reel,  according to tournament director Capt. Neal Isaacs.
HAND-TO-HAND WITH A POWERFUL SWORD
Matt Bolton was enjoying a quiet night at sea when a 224-pound broadbill swordfish ripped into his sleepy thoughts.  It was 2:30 am when most fishermen are in bed and most swordfish are on the prowl for squid.
A swordie's giant eyes are adapted for hunting in the dark, and clever fishermen use light sticks to add to the attraction of their baits.  Matt had baited his handline with a "stinky" opelu.  He and his swordfishing friends have learned that broadbills are often more attracted to dead baits that have been ripening for a few days.  The odor spreads wider down current and helps swordfish home in on their target in the black surroundings down 40 fathoms or so.
247-POUND AHI AMAZES HANDLINER
Keliinohopono Hill sent us a photo of one of the heaviest ahi we've seen in four years.  According to the certified scales at the Kona Fish Company, Kelii's yellowfin tuna weighed 247 pounds.
WEE GUYS ADDS WEE WEE GUYS ENTRIES
Now in its 36th year, The Wee Guys Fishing Tournament is offering a special category to encourage family fishing with young folks.  The annual event is already the largest small-boat-big-fish tournament in the world.  It attracts well over 100 trailer boats annually to compete for the the largest blue marlin, ahi, ono and mahimahi the Kona Coast affords.
Big-Fish List for 2016. The list recognizes the biggest fish caught on rod and reel (except opakapaka and onaga, for which we'll accept hand line catches) in West Hawaii waters for 2016 in each of 22 categories. They are listed by species, weight, angler, skipper, boat, and date. The list is updated every Sunday throughout the year (copyright 2016 by Jim Rizzuto). If we have overlooked you, give us a call (885-4208) or send an e-mail ([email protected]).
Blue marlin, 865, Louis Paulo and grandson Kalamaokalani Kelekolio-Crivello, Anela okaikea. April 16.
Black marlin, 241.5, Rod Schill, Capt. Butch Chee, Duck Soup, May 14.
Ahi, 233, David Diaz, Capt. Bobby Cherry, Cherry Pit II, June 5
Bigeye tuna, 173, Dave Remillard, Miles Nakahara, Puamana II. Jan. 11.
Striped marlin, 136.5, Mitchell Romero, Capt. Guy Terwilliger, High Flier. Jan 22.
Spearfish, 54, Nick Humpries, Capt. Shawn Rotella, Night Runner, Feb. 26
Sailfish, 91, Mike Foster, Capt. Shawn Rotella, Night Runner. Mar. 24.
Mahimahi, 53, Nainoa Murtagh, Aulani. Feb. 10.
Ono, 62, Charlie Ford, Capt. Shawn Rotella, Night Runner. Mar. 18.
Kaku, (barracuda), 49.5, Koi Lorance and Tyson Fukuyama, Miki.  May 7.
Kahala, 70, Jessica Yell, Capt. Shawn Rotella, Night Runner. Jan 22.
Ulua (giant trevally), 74, Bochan Johnson, from shore. Apr 3.
Omilu (bluefin trevally), 18.5, Mikey McCrum, Shoreline. May 13
Otaru (skipjack tuna), 28, Rannie Beaver, Capt. McGrew Rice, Ihu Nui, June 1.
Broadbill swordfish, 224, Matthew Bolton, Kahele, June 14
Ahipalaha (albacore), (vacant)
Kawakawa, 18, Capt. Shawn Rotella, Night Runner. Apr. 2.
Kamanu (rainbow runner), 12.5. Tom Britton, kayak. Apr. 13
Opakapaka (pink snapper), 9.5. Butch Chee, Sueto Matsumoto, Sandee. Mar. 12.
Onaga (ulaula ko`aie), 19.5, Greg Hong, Kevin Shiraki, Erin Kai.  Feb 25.
Uku (gray snapper), 17.5, Devin Hallingstad, kayak. Mar. 24.
O`io (bonefish), (vacant)
Beasts of the week (marlin weighing 500 pounds or more).
June 13: Blue marlin (763) Pat and Bob Walls, Sea Baby III
Releases
June 12: Spearfish (35) Windi Griffin, Capt. Scott Fuller, JR's Hooker
June 12: Blue marlin (150 and 175) Bubby Reutner, Capt. Jeff Fay, Humdinger
June 12: Blue marlin (150) Billy Kimi, Capt. Bomboy Llanes, Bomboy's Toy
June 12: Blue marlin (150) Craig Chambers, Capt. McGrew Rice, Ihu Nui
June 12: Spearfish (25) Suzanne Gustavson, blue marlin (100) Keith Chapman, Capt. Al Gustavson, Topshape
June 12: Blue marlin (100 and 175) Larry Peardon, Capt. Rob Ellyn, Lightspeed
June 12: Blue marlin (260) Nate Figueroa, Capt. Bradley Damasco, Bite Me 6
June 12: Blue marlin (175) Bruce Barnes, Capt. Jim Wigzell, Go Get Em
June 13: Blue marlin (250) Unknown, Capt. Neal Isaacs, Anxious
June 13: Blue marlin (350) Carol Herren, Capt. Bruce Herren, Raptor
June 14: Blue marlin (275) Unknown, Capt. Shawn Palmer, Miss Molly
June 14: Blue marlin (450) Wes Dolan, Capt. Marlin Parker, Marlin Magic II
June 14: Blue marlin (150) Sasha Andres, Capt. McGrew Rice, Ihu Nui
June 14: Blue marlin (150 and 175) Travis Schnider, Capt. Neal Isaacs, Anxious
June 15: Blue marlin (300) C.T. Carley, Capt. Chuck Wilson, Catchem I
June 15: Blue marlin (175) Ed Jackson, Capt. Steve Epstein, Huntress
June 16: Blue marlin (160) Mike Fenners, (150) Scott Haitruv, Capt. McGrew Rice, Ihu Nui
June 16: Blue marlin (150, 150) Robbie Robinson, Capt. Tony Clark, Ihu Nui II
June 16: Blue marlin (125) Jonathan Hall, Capt. Chuck Wigzell, Hooked Up
June 16: Blue marlin (150) Chase Dolan, Capt. Marlin Parker, Marlin Magic II
June 17: Blue marlin (165) Aaron Smith, Capt. Boyd DeCoito, Foxy Lady
June 17: Blue marlin (150) Robert Kaneo, Capt. David Crawford, Kona Blue
June 17: Blue marlin (175) Bernd Von Wahlert, Capt. Kent Mongreig, Sea Wife II
June 18: Blue marlin (200) Unknown, Capt. Neal Isaacs, Anxious
Notables:
June 12: Blue marlin (391) Brent Masunaga, Capt. Kerwin Masunaga, Rod Bender
June 14: Swordfish (224) Matthew Bolton, Kahele
June 15: Ahi (182.5) Joey Collins, Capt. Jah Nogues, High Noon
June 17: Ahi (207.5) Sandy Coons, Capt. Kenny Fogarty, Hula Girl