Kona Kickoff, Wee Guys, and Wee Wee Guys
With 126 teams in the Wee Guys Tournament and another 31 battling it out in the Kona Kickoff, the Kona Coast swarmed with boats of all sizes this weekend.  Well-equipped fishing boats as small as 13 feet trolled next to spectacular fishing vessels costing a thousand times as much.  But the only thing that mattered was the effectiveness of the lure or bait each was towing.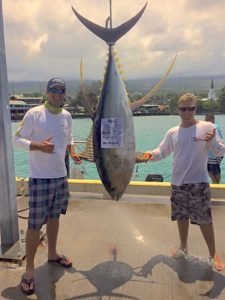 Both events went off with great expectations based on the catches reported from the weeks leading up to the Saturday morning kickoffs.
Sea Baby III had topped the previous week's catches with a 763-pound blue marlin.  On Wednesday, Capt. Chip Fischer had delighted his guests on Hanamana with a 619.5-pound blue.  On Thursday, Capt. Bryan Toney hooked and released an estimated 800-pound blue for angler Dave Noling on Marlin Magic. The same day, Capt. Oskie Rice released an estimated 650-pounder for Joseph Lauro on Northern Lights. On Friday, the charterboat Maverick lost a fish estimated at over 500 pounds.
So weekend tournament fishermen were stoked at the possibility of hooking big fish.
FIRST WEE WEE GUYS COMPETITION A SUCCESS
The Wee Guys Fishing Tournament opened a keiki category this year with amazing results.  Zesden Tolentino, 9, took the Keiki "Grand Champion" honors with a double catch that made his elders envious.  Zesden boated a 144-pound blue marlin and a 96-pound ahi.
NEW BLACK MARLIN LEADER
Angler Tim Flint of Seattle, Washington, boated Kona's largest black marlin of 2015 to top our Big Fish List last year. The battle for biggest-black marlin has been much more competitive this year with more blacks caught than we've seen in a long-time.
From across the Eastern Pacific, Tim has been chomping at the bit to get back here to see if he could repeat as the black marlin champ for 2016.  On Tuesday, he got his chance.  He fished on Duck Soup with his old buddy Capt. Butch Chee to see whether the dynamic duo could top the 241.5-pound black in the lead for 2016.  That would automatically best Tim's 209-pound champ of 2015, as well.
ODDEST CATCH OF THE WEEK
On our list of notable catches, you'll see a yellowfin tuna with two different weights separated by the letters "gg."  How can a fish have two different weights?
Big-Fish List for 2016. The list recognizes the biggest fish caught on rod and reel (except opakapaka and onaga, for which we'll accept hand line catches) in West Hawaii waters for 2016 in each of 22 categories. They are listed by species, weight, angler, skipper, boat, and date. The list is updated every Sunday throughout the year (copyright 2016 by Jim Rizzuto). If we have overlooked you, give us a call (885-4208) or send an e-mail ([email protected]).
Blue marlin, 865, Louis Paulo and grandson Kalamaokalani Kelekolio-Crivello, Anela okaikea. April 16.
Black marlin, 310, Tim Flint, Capt. Butch Chee, Duck Soup, June 21
Ahi, 233, David Diaz, Capt. Bobby Cherry, Cherry Pit II, June 5
Bigeye tuna, 173, Dave Remillard, Miles Nakahara, Puamana II. Jan. 11.
Striped marlin, 136.5, Mitchell Romero, Capt. Guy Terwilliger, High Flier. Jan 22.
Spearfish, 54, Nick Humpries, Capt. Shawn Rotella, Night Runner, Feb. 26
Sailfish, 91, Mike Foster, Capt. Shawn Rotella, Night Runner. Mar. 24.
Mahimahi, 53, Nainoa Murtagh, Aulani. Feb. 10.
Ono, 62, Charlie Ford, Capt. Shawn Rotella, Night Runner. Mar. 18.
Kaku, (barracuda), 49.5, Koi Lorance and Tyson Fukuyama, Miki.  May 7.
Kahala, 70, Jessica Yell, Capt. Shawn Rotella, Night Runner. Jan 22.
Ulua (giant trevally), 74, Bochan Johnson, from shore. Apr 3.
Omilu (bluefin trevally), 18.5, Mikey McCrum, Shoreline. May 13
Otaru (skipjack tuna), 28, Rannie Beaver, Capt. McGrew Rice, Ihu Nui, June 1.
Broadbill swordfish, 224, Matthew Bolton, Kahele, June 14
Ahipalaha (albacore), (vacant)
Kawakawa, 18, Capt. Shawn Rotella, Night Runner. Apr. 2.
Kamanu (rainbow runner), 12.5. Tom Britton, kayak. Apr. 13
Opakapaka (pink snapper), 9.5. Butch Chee, Sueto Matsumoto, Sandee. Mar. 12.
Onaga (ulaula ko`aie), 19.5, Greg Hong, Kevin Shiraki, Erin Kai.  Feb 25.
Uku (gray snapper), 17.5, Devin Hallingstad, kayak. Mar. 24.
O`io (bonefish), (vacant)
Beasts of the week (marlin weighing 500 pounds or more).
June 22: Blue marlin (619.5) Carpenter Group, Capt. Chip Fischer, Hanamana
June 25: Blue marlin (613) Rodney Carroll, Capt. McGrew Rice, Ihu Nui
Releases
June 20: Blue marlin (200) Dylan Gejian, Capt. Neal Isaacs, Anxious
June 20: Blue marlin (150) Tom Hereford, Capt. Steve Epstein, Huntress
June 20: Blue marlin (180) Cole Relhing, Capt. Al Gustavson, Topshape
June 20: Blue marlin (150 and 450) Craig Lindner, Capt. Teddy Hoogs, Bwana
June 21: Blue marlin (150) Davin Teed, Capt. Shawn Palmer, Miss Molly
June 21: Blue marlin (150) Ron Kawaja, Capt. Marlin Parker, Marlin Magic II
June 21: Blue marlin (125 and 150) Huntress, Capt. Steve Epstein, Huntress
June 21: Blue marlin (200) Steve Messis, Capt. James Dean, Blue Hawaii
June 21: Blue marlin (225) Craig Lindner, Capt. Teddy Hoogs, Bwana
June 22: Blue marlin (150) Matt McGraw, Capt. Neal Isaacs, Anxious
June 22: Blue marlin (200) Mitchell Mirt, spearfish (25) Matthew Mirt, Capt. David Crawford, Kona Blue
June 22: Blue marlin (180) David Zabrinskie, Capt. Trevor Child, Maverick
June 22: Blue marlin (200) Dakota Dillarreal, Capt. McGrew Rice, Ihu Nui
June 22: Blue marlin (125) Jeff Krupnick, Capt. Chuck Wigzell, Hooked Up
June 22: Spearfish (25) Wes Keen, Capt. Al Gustavson, Topshape
June 23: Blue marlin (150) Doug Helman, Capt. Chuck Wigzell, Hooked Up
June 23: Blue marlin (150) Tim Silva, Capt. Tony Clark, Ihu Nui II
June 23: Blue marlin (150) Fritz Thompson, (150) Niko Hereford, (150) John Hereford, Capt. Steve Epstein, Huntress
June 23: Blue marlin (650) Joseph Lauro, Capt. Oskie Rice, Northern Lights
June 23: Blue marlin (200) Sean Jackson, Capt. James Dean, Blue Hawaii
June 24: Blue marlin (100) Eric Forish, Capt. Bobert Hudson, Camelot
June 24: Blue marlin (200) Ryan Nicolai, Capt. Chuck Wigzell, Hooked Up
June 24: Blue marlin (185) Josh Bailey, Capt. Kevin Hiney, Ku'uipo
June 24: Blue marlin (110) Ron Kawaja, Capt. Marlin Parker, Marlin Magic II
June 25: Blue marlin (150) Brad Pickings, Capt. Chuck Wigzell, EZ Pickens
June 25: Blue marlin (180) Rachel Carroll, Capt. McGrew Rice, Ihu Nui
June 25: Blue marlin (175) Keith Clevenger, Lucky Rose
June 25: Blue marlin (150 and 150) Boyd DeCoito, Capt. Kerwin Masunaga, Rod Bender
June 25: Blue marlin (150) Craig Chambers, Capt. Tony Clark, Ihu Nui II
June 25: Blue marlin (180) Danny Issacson, Capt. Peter Unger, Nasty Habit
June 25: Blue marlin (185) Brandon Wilder, Capt. Trevor Child, Maverick
June 25: Blue marlin (150) Jada Holt, Capt. Chip Van Mols, Luna
June 25: Blue marlin (150) James May, Capt. Jason Holtz, Pursuit
June 25: Blue marlin (170) Chris Howatt, Capt. Bryan Toney, Marlin Magic
Notables:
June 20: Swordfish (170) Mathieu Williams, David Nahuina, Keiki Auana
June 21: Black marlin (310) Tim Flint, Capt. Butch Chee, Duck Soup
June 22: Ono (57) Ron Kawaja, Capt. Marlin Parker, Marlin Magic II
June 24: Ahi (216 gg, approx 237) Rick Reger, Kenny B