Black marlin from where?
This week's most unusual catch qualifies for the title in a dozen different ways.  You count 'em as we recount the story.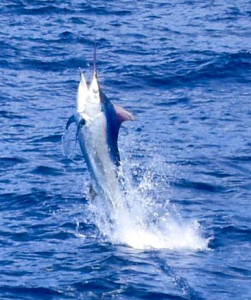 It happened on Wednesday (no need to check – it wasn't April Fool's Day) aboard Night Runner.  Capt. Shawn Rotella and crew Shawn McCurdy had Jim Ives aboard to celebrate his 60th birthday.
Shawn was fishing in a popular spot off Keahole Light.  Unlike most other boats who troll the area with lures, Shawn was towing several live baits.  These were opelu he caught earlier after negotiating a difficult passage out of Honokohau Harbor in the dark.  Heavy seas from the west were piling up in the usually calm entrance, making even daytime exits tricky.  Indeed, many boats decided to stay in port last week, a fact reflected in this week's low catch report.
With just the gleam of lights on white wave crests, Night Runner timed the incoming waves well enough to get out without too much slamming and banging and then headed northwest up along the coast.
Fishing got interesting later in the day when everyone aboard could see what happened.
AND THEN CAME NUMBER SIX
Kona is known as the place to go for big Pacific blue marlin in calm water (most days) close to port.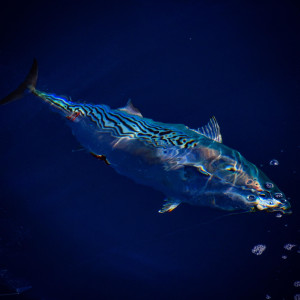 For elite big-game fishermen, the blue is the only fish worth fishing for.  And then there are the rest of us.
Big-Fish List for 2016. The list recognizes the biggest fish caught on rod and reel (except opakapaka and onaga, for which we'll accept hand line catches) in West Hawaii waters for 2016 in each of 22 categories. They are listed by species, weight, angler, skipper, boat, and date. The list is updated every Sunday throughout the year (copyright 2016 by Jim Rizzuto). If we have overlooked you, give us a call (885-4208) or send an e-mail ([email protected]).
Blue marlin, 802, Lou Groebner, Capt. Rocky Gauron, Go Get Em. Mar. 1.
Black marlin, 160.5, Jim Ives, Capt. Shawn Rotella, Night Runner. Mar. 30.
Ahi, 227, Capt. Russ Nitta, Lepika. Jan 6.
Bigeye tuna, 173, Dave Remillard, Miles Nakahara, Puamana II. Jan. 11.
Striped marlin, 136.5, Mitchell Romero, Capt. Guy Terwilliger, High Flier. Jan 22.
Spearfish, 54, Nick Humpries, Capt. Shawn Rotella, Night Runner, Feb. 26
Sailfish, 91, Mike Foster, Capt. Shawn Rotella, Night Runner. Mar. 24.
Mahimahi, 53, Nainoa Murtagh, Aulani. Feb. 10.
Ono, 62, Charlie Ford, Capt. Shawn Rotella, Night Runner. Mar. 18.
Kaku, (barracuda), (vacant)
Kahala, 70, Jessica Yell, Capt. Shawn Rotella, Night Runner. Jan 22.
Ulua (giant trevally), 69, Sawyer Slattery, Capt. Kenny Llanes, Lehuanani. Feb 22.
Omilu (bluefin trevally), (vacant)
Otaru (skipjack tuna), 26, Randolph Fort, Capt. James Dean, Blue Hawaii. Marc 7.
Broadbill swordfish, (vacant)
Ahipalaha (albacore), (vacant)
Kawakawa, 18, Capt. Shawn Rotella, Night Runner. Apr. 2.
Kamanu (rainbow runner), (vacant)
Opakapaka (pink snapper), 9.5. Butch Chee, Sueto Matsumoto, Sandee. Mar. 12.
Onaga (ulaula ko`aie), 19.5, Greg Hong, Kevin Shiraki, Erin Kai.  Feb 25.
Uku (gray snapper), 17.5, Devin Hallingstad, kayak. Mar. 24.
O`io (bonefish), (vacant)