Five years after the Japan tsunami of March 2011, the flotsam from the catstrophe continues to drift into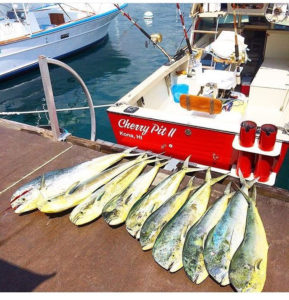 Hawaii waters, bringing surprises with it.  On Wednesday, the surprise was an overturned skiff surrounded by a huge school of mahimahi. Floating objects attract mahimahi and other fish for reasons even the fish don't know.  Big schools like this one are usually aggressively hungry because they have already eaten everything smaller that may have come within range of their greedy jaws.
SPEARFISH STRIPED MARLIN UP AND DOWN
On Sea Wife II, Capt. Kent Mongreig had been catching shortbill spearfish or striped marlin on nearly every trip.  Then the fishing seemed to shut off for both species as though nature had flipped a giant switch.  Kent is out there on the hunt every day so he's a good lad to talk with about what's going on.
NEW ULUA LEADER ON BFL
Shore casters fish for ulua (giant trevally) at night from the rocky cliffs along the Big Island's most inaccessible stretches of coastline.  They go through a lot to get to their spots, camp out overnight under difficult circumstances, and then battle the crags and snags as they fight to get their catch ashore.  Their distain for ulua fishermen who catch their giant trevally from the ease and comfort of boats is understandable.
ODDEST CATCH OF THE WEEK?
The oddest "catch" of the week is a "non-catch."  The omilu (bluefin trevally) spot on our Big-Fish List has now been vacant three and a half months into 2016.  That's a surprise.  Omilu are common and not very hard to catch.  They can be caught by casting with lures, dunking baits, and bottomfishing with bait or jigs from boats.  The vacancy is our "no-catch" mystery.
JADA'S IGFA RECORD OFFICIALLY APPROVED
The International Game Fish Association (IGFA) has finally approved Jada Holt's 1,305-pound Atlantic blue marlin catch as the women's Atlantic blue marlin record.  Jada boated the historic fish while fishing off Ascension Island with an all-most all Hawaii crew.  Capt. Bryan Toney was at the helm throughout the fight with Jada's dad, Capt. Chip Van Mols and husband Dan Holt set to handle the leader and gaff at the end.  Capt. Olaf Grimkowski was aboard to provide the local Ascension Island knowledge.
Big-Fish List for 2016. The list recognizes the biggest fish caught on rod and reel (except opakapaka and onaga, for which we'll accept hand line catches) in West Hawaii waters for 2016 in each of 22 categories. They are listed by species, weight, angler, skipper, boat, and date. The list is updated every Sunday throughout the year (copyright 2016 by Jim Rizzuto). If we have overlooked you, give us a call (885-4208) or send an e-mail ([email protected]).
Blue marlin, 802, Lou Groebner, Capt. Rocky Gauron, Go Get Em. Mar. 1.
Black marlin, 160.5, Jim Ives, Capt. Shawn Rotella, Night Runner. Mar. 30.
Ahi, 227, Capt. Russ Nitta, Lepika. Jan 6.
Bigeye tuna, 173, Dave Remillard, Miles Nakahara, Puamana II. Jan. 11.
Striped marlin, 136.5, Mitchell Romero, Capt. Guy Terwilliger, High Flier. Jan 22.
Spearfish, 54, Nick Humpries, Capt. Shawn Rotella, Night Runner, Feb. 26
Sailfish, 91, Mike Foster, Capt. Shawn Rotella, Night Runner. Mar. 24.
Mahimahi, 53, Nainoa Murtagh, Aulani. Feb. 10.
Ono, 62, Charlie Ford, Capt. Shawn Rotella, Night Runner. Mar. 18.
Kaku, (barracuda), (vacant)
Kahala, 70, Jessica Yell, Capt. Shawn Rotella, Night Runner. Jan 22.
Ulua (giant trevally), 74, Bochan Johnson, from shore. Apr 3
Omilu (bluefin trevally), (vacant)
Otaru (skipjack tuna), 26, Randolph Fort, Capt. James Dean, Blue Hawaii. Marc 7.
Broadbill swordfish, (vacant)
Ahipalaha (albacore), (vacant)
Kawakawa, 18, Capt. Shawn Rotella, Night Runner. Apr. 2.
Kamanu (rainbow runner), (vacant)
Opakapaka (pink snapper), 9.5. Butch Chee, Sueto Matsumoto, Sandee. Mar. 12.
Onaga (ulaula ko`aie), 19.5, Greg Hong, Kevin Shiraki, Erin Kai.  Feb 25.
Uku (gray snapper), 17.5, Devin Hallingstad, kayak. Mar. 24.
O`io (bonefish), (vacant)