By a great stroke of good luck, I was in Honolulu on June 10, 1970 when the biggest marlin ever caught on rod and reel came into Kewalo Basin.  The news reached me on the UH campus where I was doing graduate work in mathematics.  Indeed, the weight being tossed around

was a number far more exciting than anything in either a text book or any tome of fishing literature.  Since then, I've written about the catch many times from many angles.  Here's a story from March, 2000.  After interviewing Gail Kaleiki, crew on Capt. Cornelius Choy's boat Coreene C, I penned "The Toughest Deckhand of all Time." It appears in my book "The Kona Fishing Chronicles 2000."
3/18/2000
Who is the toughest deckhand of all time? Inch-for-inch and pound-for-pound, that would be Gail Kaleiki. The 5′ 2-1/2″, 130-pound tigress crewed for Capt. Cornelius Choy on the Coreene C when the legendary skipper boated the biggest marlin ever caught on rod and reel (a 1,805-pound blue back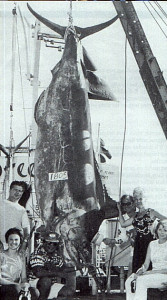 in June, 1970). That feat, alone, would make her the poster girl for any World Gamefish Wrestling Federation smackdown.
But here's the deed that will convince any skipper and make any deckhand give up the toughest-deckie title without a fight. When the Coreene C III went into dry-dock after Capt. Choy died, Gail single-handedly hand-sanded the entire 61-foot hull, primed it and applied two coats of bottom paint.
End of argument, but a talk with Gail kicks the door wide open for a discussion of two controversies surrounding one of marlin fishing's most extraordinary catches. What lure was it caught on? And what is the story of the huge tuna found in its belly?
There are more versions of the tale than there are people who tell it. That's partly because it changes with each retelling and partly because Capt. Choy, himself, gave misleading information at times (whether intentionally or not).
Gail, who now lives in Pleasant Hill, California, said she still has the lure the giant was caught on. She described it as a molded resin lure of the style made famous by lure-maker Johnny Abreu. Abreu, however, did not make this giant killer.
"It was made by a Mr. Lum who used to own an office supply company," Gail recalled. "He was a very quiet man who made a lot of lures for us. He made this lure for my mom to give my father as a present."
Lum personalized the lure by lettering "C. Choy" on the insert.  (Lure-maker George Lum is famous for many special catches and you can find out more about his lures in my book Lure-Making 201/202.)
Copying plastic lures made by others was already a cottage industry in Hawaii by 1970. All you need to make a mold is a can of liquid rubber available at most fishing tackle shops here. With a little skill, an experienced lure maker can pour copies the designer, himself, might mistake for his own. In fact, when I wrote about the catch in 1970, I can recall a half-dozen lure makers who took credit for the design of Choy's monster-catcher.
But did it catch the monster marlin or the tuna the marlin ate, as some have claimed?
Gail says the tuna was already completely swallowed by the marlin before it hit the lure. "The 'ahi was down in the stomach already," Gail said. That is consistent with the fact that the hook was not in the tuna.
And, for a time, it wasn't even in the marlin.
"When we were trying to bring it in, the lure came off," Gail said. "I was the gaffer and I lost the fish. But because it had choked on the tuna, it was still floating on the surface. We circled back around and I gaffed it again.
"We didn't know there was a tuna stuck in the marlin until we came home," Gail said. A marlin swallows a tuna headfirst, which forces the fins back flat against the body for easy passage down the throat. There is no way for the prey to back out without jamming. She theorized that the marlin had tried to evert its stomach to disgorge the tuna during the fight and the fins had stuck in the gill-rakers.
"That explains how we caught it so fast and why it died so quickly," she said. The monster was done in by gluttony and a big lunch – but how big?
Gail says the tuna weighed about 100 pounds. Others remembered hearing it was much bigger. Duane Gartner was in Honolulu at the time and wrote recently to Sport Fishing magazine to weigh in on the matter. In that letter, which appears in the current issue of Sport Fishing, Gartner says he was there and knows it was 200 pounds.
Gail says the tuna was never weighed and was partially digested when George Lee of Lee's Taxidermy finally removed it from the marlin. In other words, no one really knows how big it was.
Big or small, however, the tuna may have done more to bring the marlin to gaff than either the anglers (a group of visiting used car dealers from

California) or the crew of the Coreene C.
In contrast to the brief, hour-and-a-half "fight" with the choking marlin, Gail says they hooked a 711-pound blue a week later that took five-and-a-half hours.
I asked the diminutive lady how she summoned the strength to pull leader on fish as much as ten to fifteen times her body weight.
She replied simply, "Capt. Choy taught me that strength is mental, not physical."
After Capt. Choy, her stepfather, died, Gail continued to work for Coreene C and the MacDonald's Corporation for a while. She eventually retired and moved to Hilo in 1995. Getting restless, she moved to California. With her 57th birthday coming up this week, she now works for Border's Books and Music in the Bay area as the human resource manager. Undoubtedly, she is teaching them about mental strength.