In this week's report, look for a throwback to an odd giant marlin, some insights into the warmwater influence on mahimahi catches, where to view the excitement of kayak fishing for big game, and some links to tips that will improve your fishing.
There is a lot of competition among big-name, big-game fishing competitions for the title of the world's best.  Kona's major tournament season is just about over, which has turned attention to big-time fishing elsewhere.  Across the Pacific and as far as the Atlantic coast, billfishing events have piled up big-money prizes with a cast of characters including anglers who made names for themselves here.
Despite the fiercest hurricane in history raging to the south of it down the Mexican coast, the Bisbee's Black and Blue went off as scheduled and handed out millions of good old American dollars.  Bisbee's proclaims "Come for the fun and go home a millionaire."  That's just what happened to team Tranquilo, of Costa Rica, which worked its way 1900 miles up the coastline to Los Cabos through waters that were anything but tranquil. They saw enough of the edges of Huricane Patricia to make them wonder why they took such a huge risk.
Here's why. Team Tranquilo caught money-winning fish in both the Los Cabos Billfish Tournament and The Bisbee's Black and Blue and headed off to their next tournament with $2.4 million.
The crew on "Catchin A Buzz" boated a 500-pound blue to place first in the Black and Blue and pocket a lot of money.  That's a sum we couldn't dig up by press time but note the weight.  We'll come back to it.
The competing teams included many Kona pros who headed over to apply their skills.  As standard practice, we don't publicize names of those who are away until after they get back. No sense in assisting the sticky-fingered, iwa-kind.
Captains Kevin Nakamaru and Tracey Epstein are among the elite Kona skippers who stayed home and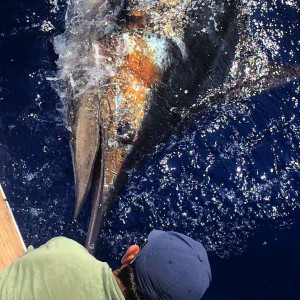 provided some interesting contrast between fishing here and there.  On Friday, they caught and released a marlin estimated at well over 500 pounds for a 76-year old visitor.  Their fish aboard Northern Lights was bigger than any caught in the recent Cabo tournaments.
The Northern Lights had two other shots that day, which is very active blue marlin fishing for October.  Kevin credits Kona's continuing blue marlin run with sea temps reaching as much as 85 degrees.  The same high sea temps off Mexico have been blamed for the fury of hurricane Patricia, the giant storm that raced eastward across Mexico and on into the Gulf.  With our high sea temps, maybe we are actually fishing Mexican waters right off our coast.
Last week, The Washington Times ran an article by Tim Rupli about what Tim called "The Number One Billfish Tournament in the World."  Tim is well known to those who follow Kona fishing because he is on our grander list with a 1,001-pound Pacific blue marlin.  Tim caught that one here in 2007 while fishing with Hector Ubaldo on Legend II.  Tim's grander made big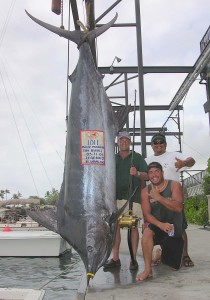 news then and continues as a strange curiosity.  The marlin had no bill — an absence that did not seem to have hampered it in any way and definitely didn't stunt its grand growth.
KAYAKERS GAIN WORLDWIDE ACCLAIM
Kona's kayak fishing opportunities kicked off to worldwide acclaim last week thanks to a fabulous new series on the Discovery Channel.  The show, Pacific Warriors, premiered here with an episode entitled "Open Season."  If you did not see it, you can get a glimpse by visiting http://www.discovery.com/tv-shows/.  Big Islanders Andy Cho and Rob Wong Yuen, among others, are now icons to kayak fishermen everywhere because of their stunning catches of marlin, tuna, mahimahi, and ono.
TIPS OF THE WEEK
If you want to improve your fish-handling skills, check out the youtube video-of-the-week https://www.youtube.com/watch?v=TbZFcWPsIOs and watch how they safely catch and release billfish and tuna aboard Marlin Magic II.
Second tip:  Regardless of whether you are handling a leader aboard a 13-foot kayak or a 53-foot sportfishing boat, put on a pair of gloves to make sure you don't lose a finger or two.
Third tip:  If you want to find out how to tickle an octopus out of its hole, go to the Pacific Warrors "Open Season" episode on discovery.com and watch free-diver Kimi do it.
Beasts of the week (marlin weighing 500 pounds or more).
None weighed but note the 550-pound blue tagged by Northern Lights
Tag/Release
October 18: Blue marlin (150) Chad Drake, (200) Chris Ryer, Capt. James Dean, Blue Hawaii
October 19: Blue marlin (200) Carol Herren, Capt. Bruce Herren, Raptor
October 21: Blue marlin (175) John Campana, Capt. Kenny Fogarty, Hula Girl
October 22: Blue marlin (115) Carol Herren, Capt. Bruce Herren, Raptor
October 23: Blue marlin (125) Carol Herren, Capt. Bruce Herren, Raptor
October 23: Blue marlin (150) Sandy, Capt. Jeff Metzler, Anxious
October 23: Blue marlin (550) Leo, Capt. Kevin Nakamaru, Northern Lights
October 23: Blue marlin (200) Angie, Capt. Dave Crawford, Kona Blue.
October 23: Blue marlin (150) Jorge Castaneda, Capt. Dee Bradford
October 24: Blue marlin (160) Andrea Hutchens, Capt. Chris Cawthon, Ohana
October 24: Blue marlin (225) Donald-Lee Intihar, Capt. Marlin Parker, Marlin Magic II
Notable Catches:
October 21: Ono (35) Bill Manns, Capt. Guy Terwilliger, High Flier
October 21: Blue marlin (394) Dan Hovland, Capt. Russ Nitta, Lepika
October 22: Ahi (138) Journey and Matt Bolton, Kahele