The Lure-Making Tips blog is for readers who already know the techniques and methods explained in the books Lure-Making 101/102 and Lure-Making 201/202.  If you don't have these books, be sure to get them.
What a mess! The lesson here is that catalyst loses its effectiveness over time and no longer kicks the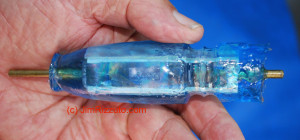 resin. Always use fresh catalyst. This came out of the mold like a blob of Jello after 24 hours of waiting for it to harden. It took a week of bright sunlight to get it this far. I considered it to be an opportunity to lathe it into a new shape. Hidden inside you can barely make out one of my special  labels. The lettering is very subtle so as not to terrify the fish. I'm experimenting with some of the Aquablue Maui shell laminates to see what they look like when cast inside colored resin.
Here is "What a Mess, Take 2." You saw the nasty blob of uncured resin in my previous picture, which was the result of catalyst that was too old. After a week in the bright sun, I finally got it hard enough to work on my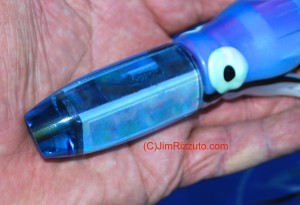 simple lathe. I had to follow the shape the cured resin provided and ended up with a new design as a result of trying to make the material work. It is loaded with lead (thanks Eric Koyanagi) and decorated with shell laminate (thanks Aquabluemaui.com) and marked with my subtle new label (thanks — mystery guy). I cut the face on a slight bevel and will experiment until I get the action I want. And if it turns out to be a winner, I'll make a new mold.