If you are having trouble hooking big fish, think small. Capt. Kenny Fogarty has been running a 7-inch blue bullet in his pattern behind Makana Lani. That's small enough to be gulped by the 10-pound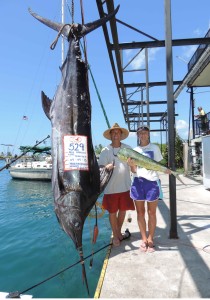 mahimahi that grabbed it Wednesday morning but not too small for the 529-pound blue marlin that sucked it in later that day. Angler Mike Scheller battled it to the boat in about an hour. Kenny fishes without a deckhand so the fish was still too "green" to handle.
Make that "blue." When he spotted the fish down deep below the boat, all he could see were its bright neon blue fins flashing signs of trouble ahead. "When I saw those fins, I knew I was going to get my butt kicked when I grabbed the leader," Kenny said. It took another half hour to subdue the big fish and Kenny is still feeling the aches and pains of hanging onto the biggest marlin weighed here last week.
Kenny caught 7 of his last 8 blue marlin on that same 7-inch lure.
Why are fish of all sizes taking small baits now?