Kona, August 18, 2015.  The charter boat Northern Lights II brought in a 1,075-pound Pacific blue marlin on Tuesday afternoon to record Kona's fourth grander of 2015.
Previously, Ihu Nui weighed a 1,058-pounder in February, Luna a 1,266.5-pounder in May, and Rayna a 1,368-pounder in July. A 1,010-pound blue on the Hilo boat Liberty Dream in July gave the Big Island its fifth grander of 2015 as part of a total of only 10 blue marlin granders worldwide.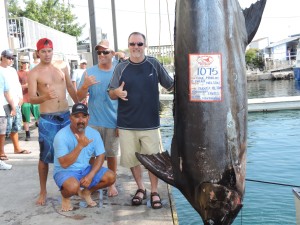 Northern Lights II captain Kevin Nakamaru and angler Brent Nelson hooked the big fish at around 2 p.m. while competing in the 25th Annual T. A. R. T (Tag and Release Tournament) sponsored by TV executive Ken Corday ("Days of our Lives"). In what Kevin called a "spectacular strike," the marlin grabbed a made-in-Kona Koya "tube" lure and battled Brent for two hours. From glimpses during the battle, Kevin and his crew of Mat Bowman and Kyle Vannatta suspected it might "go" over the 1,000-pound mark. When they got the fish near enough for a close look, they were very confident it would far surpass the minimum 300-pound weight necessary for a capture to count.
After securing the catch and bringing it aboard through the transom door, the crew measured the tail stump. Its 21-inch girth was consistent with a 1,100-pound marlin. News spread across the fleet and a crowd gathered for the 4 p.m. weighing of the potential grander. At 1,075 pounds the fish did not disappoint.
With four months still to go in 2015, the fourth grander already surpasses the long-term average of two Kona granders per year. The fleet has met or surpassed four granders only six times since 1960. The year 2015 joins hot years 2012 (4 granders), 2001 (4), 1986 (5), 1985 (5 including 1 black marlin), and 1978 (6).