A fascinating look at the development of fish hooks in Hawaii by Peter T. Young.
Some of the people of Hawaii were very knowledgeable about fishing, and they were called fisher-people. The hook was one thing used in fishing. The net was another, and the basket trap, another. (WE Kealakaʻi, Ka Hae Hawaii, 1861; Maly)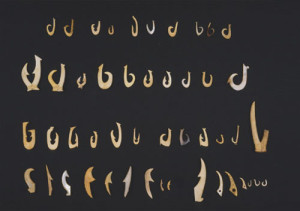 "This is how fishing was done with a hook. The cordage was first twined by the fisherman. The kind of cordage was a three-ply twine, a cord of three strands of olona. The line might be 720 feet long, or perhaps 960 feet long. Then the hooks were made and the fisherman was supplied with these things…" (WE Kealakaʻi, Ka Hae Hawaii, 1861; Maly)
Makau (fishhooks) of Hawai'i took on many different shapes, each one specialized to catching different types of fish with a variety of fishing techniques.