Published on April 2, 2007 and reprinted in The Kona Fishing Chronicles 2007/2008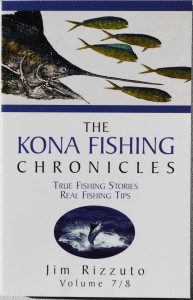 NO APRIL FOOL'S STORIES THESE.  It's April Fool's Day as I write this and last week's catches range from the bizarre to the unbelievable. And we aren't scamming you.  These events all happened when it was still March so we couldn't tell you an April lie if we wanted to.  They are all true (or as true as any story a fisherman can tell).
We'll start with the biggest thresher shark ever caught on sport-fishing tackle.  The Marlin Magic II may now have that title with the huge help of the 952-pound thresher they caught early Friday morning.
Tim Robertson of Melton's and Dr. Bill Rhee had been chasing the terrors of the night for weeks.  During overnighters aboard The Contender earlier this year, they hooked huge threshers, big broadbill swordfish (including the largest of 2007 so far) and a host of other strange critters.
For this amazing trip, they headed out aboard the Marlin Magic II with the boat's owner John "JP" Patterson, skipper Marlin Parker and crew Jason Holtz.
The strike came at the very last minute after a long night without much to applaud.
They had already declared surrender and were hauling in the lines to set up for morning trolling when something whacked the last bait down, Tim said. From the way it took the bait, Tim assumed it was a swordfish.
Tim told Jason to feed the swordy the bait and the tactic produced a solid hookup.  It also disqualified the fish as a potential International Gamefish Association (IGFA) world record because only the angler can handle the line to feed the bait.
Though not the swordfish they expected, it didn't seem like a big thresher either.
"It began a very tentative fight compared to what we usually get out of them." Tim said. "It soon turned into a heavy-drag game of cat-and-mouse.  The fish peeled off 100 to 200 yards of line more than a dozen times, each time seemingly getting stronger."
Marlin Magic owner Patterson fought the fish for about two hours and 15 minutes before finally handing it off to Dr. Bill Rhee so the latter could share in the capture.
"John knew we could not apply for a record based on how we hooked the fish," Tim said. "JP is really a team player and wanted Bill to get in on the action."
And, of course, he had been pulling on a near-grander shark for over two hours on standup gear with 45 pounds of drag and was starting to feel it, Tim said.
"JP really went to war with the fish from the start and really took a lot energy out of it before handing the rod off," Tim said.
Bill worked on it for the next 15 minutes and got the leader within reach.
"We elected to take the thresher because it was in bad shape and didn't look like it would make it if released." Tim said. "We were estimating it at 650 based on the other fish we had released over the last month."  http://www.marlinmagic.com.
Later, as the crane at the dock began to lift the fish up to the scales, their weight estimate rose with it.
"It crushed the scale at 952 pounds," Tim said. "That's 150 pounds  larger than the 802-pound IGFA all-tackle world record and 123 pounds larger than the Hawaii state record."
Though it doesn't erase any IGFA mark, it will replace the 829-pound Hawaii record formerly held by Kona skipper Kevin Nakamaru. http://www.fishingnorthernlights.com/captain-crew/
Bigger ones are out there.
"Ironically, we let go a fish that was equal to or larger than this fish and one that was just a little smaller," Tim said.  "We had called the biggest 700+plus and the other mid-600's.
For Captain Marlin Parker this is not the first time he has caught a huge fish that exceeded a world record.
In 1990 Marlin captured a 1,400-pound blue marlin that beat the world record by 24 pounds, Tim said.  That fish was comfortably bigger than the 1,376 pound blue still atop the IGFA chart (a fish caught here, of course) but the fishing team did not apply for an IGFA record because the angler needed assistance during the fight.
BIG BIGEYE MAKES BIG-FISH LIST. Walter Gay and Mike Murphy made the Big-Fish List with one of the largest bigeye tuna caught here in many years.  Their 193-pound po`onui is nearly as big as the biggest of 2006 and tops every other bigeye on our list for the previous eight years.
The lucky tuna fishermen already held the title with a 171-pound bigeye when they caught their "193." They had hooked  their 171 by sinking an aku at UU-buoy They returned to their lucky spot a week later, sent another live bait down at 8:30 am, and found the bigeye tuna waiting.
"We bridled our aku just the way the deckhands do for their sportfishing clients," Walter said.  "Instead of towing the bait at the surface, we let it swim down."
An aku's natural flight pattern when frightened is to dive as deep as it can.  This one went down about fifty or sixty fathoms, based on the marks Walter had placed on his line.  That's when Mike spotted a fish-finder mark at 80 fathoms.
"I let it go down a little further and felt something grab it," Walter said.
They'd know what that something was only after another half hour – which is how long it took them to battle the big tuna to the surface with their 130 Penn International reel.  They pulled it aboard their 19-foot skiff, iced it to preserve its flavor and headed back to Milolii.  Walter lives in Papa, right above the old fishing village and rushed the fish to KTA for an official weight on their certified scale.
OUT OF LUNAR TUNE.  A local marlin fishing myth says that the week of the new moon is the best time to catch big billfish. The week of the full moon – not so much.
With the full moon happening right about now, the last five days of March didn't provide much hope for moonstruck malcontents.
Surprise! The Kona fleet weighed or released nearly a dozen beasts, topped by a 745-pound blue boated and an estimated 600-pounder set free.
Skipper Boyd DeCoito and crew Shane O'Brien hosted Karen Philligin aboard the Foxy Lady for the battle with the 745.  The big marlin hit a Marlin Magic Superdog lure at 800 fathoms on the Middle Grounds.  The strike came at 9:15 am. And Karen got it to the boat in 45-minutes.
"We wanted to release it but couldn't get close before it went down and died," Boyd said.
When asked about his lunar preferences, Boyd said: "We are going fishing anyway so if they are biting, they are biting."
Given last week's successes, that sounds like a great plan.
After the Sundowner had spent four and a half months in drydock, skipper Eric Rusnak didn't much care what the moon was doing.  He just wanted to go fishing.
His impatience paid off with a 600-pound release, the week's top TR. Better yet, he caught it on the now-famous Super Ninja lure, which is made by Erik's company Aloha Lures.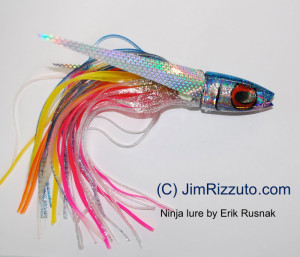 After missing a fish estimated at over 800 pounds a week before, Eric hooked the 600 on Thursday with a group of fisher-folk from Maryland.  They wanted a big fish and may have gotten more than they bargained for in this tough tussle.
"With slow fishing on the inside, my crew Kenton Geer and I  opted for an outside hunting trip to the tsunami buoy," Eric said.   "When we reached the buoy there were several boats already working the area and dragging live baits.
"Giant schools of nehu were being balled up and eaten by small aku and the area had a fishy feeling," Eric said.
"After several passes the fish came up on the shotgun lure, where I had the Super Ninja.  Angler Rob Burns quickly transferred the rod from the holder to the chair. As the fish nearly emptied the Shimano outfit, we took off in pursuit.
"After 55 minutes we had the fish boatside and confirmed its size and beauty.  We tagged and revived it and released it to fight another day.
"This fish was the first and largest for us after a nearly five-month drydock.  It's just good to be back in the game and to know that through all of that hard work the Sundowner still raises the big ones."
Full moon or no moon.
The charterboat Camelot scored the second biggest catch of the week, a 692-pound blue.
Skipper Robert Hudson and crew Mark Schubert hosted Tom Knape of Boise, Idaho.  The fish hit a Joe Yee Superplunger at 11:20 am as Robert worked outside the Top Corner of The Grounds.
After a half-hour battle, the fish tangled its tail in the leader and dove.  For the next hour, angler and crew worked to raise the dead weight from the depths.
"It seems like it is never easy for the Camelot," Robert said ruefully.  http://www.camelotsportfishing.com
But you can't blame it on the moon.
That hour-and-a-half fight would have seemed short to Bill Bravos of Barrington, Illinois.  Bill hooked a 644-pound blue and then fought it for the next four hours.  His extended battle nearly meant missing his ride out of Kona on the cruise ship he came in on.
Bill fished on the Linda Sue III with skipper Jeff Heintz and crew Lael Wilson.
The marlin grabbed a pearl jet running behind a bird while the LS III trolled in 1,100 fathoms off Pine Trees. Jeff runs it for tuna so he rigs it with a relatively light leader (300 pounds) because tuna are wary of thick leaders and a relatively small, 6/0 hook.
Because of the light leader and small hook, they fought the marlin very carefully with minimal pressure at first"it was one of those fish that just wanted to stay down and swim from side to side forever," Jeff said.
As the day wore on and the cruise ship deadline approached, they put the screws to it.
Amazingly the gear held.
Meanwhile, Jeff had alerted the cruise ship of their predicament.  When they reached Honokohau, they were greeted at the dock by a cabbie, who whisked Bill off to Kailua Pier where cruise ship security was waiting.
The Idaho visitor probably had no idea what the moon was doing but he can certainly thank his lucky stars.
MAHIMAHI ON MANY MENUS.  If you are among the millions who do your fishing at the supermarket or savor the sea's bounty compliments of your favorite restaurant chef, you had a super surprise last week.  The "catch of the day" was fresh mahimahi just about everywhere you went in Kona.
For that blessing, you can thank the crews of several dozen lucky boats.  An attractive bit of jetsam drifted into local waters surrounded by hundreds of 20- to 30-pound mahimahi. The many anglers who found the school of fish caught what they and their friends needed, and then got some more to share with all of you folks who like eating fish but can't bother catching them.
Dick Peterson was there on Stimulator and described the scene he encountered with buddies Chip Colester and Robert Bicchiri.  The trio had set out to go marlin fishing but had their plans upset by bad weather.  Because it was raining hard near shore they decided to ride it out until it quit raining.
As they wandered around, they saw the bright red hull of the boat Cherry Pit and decided to investigate why skipper Bobby Cherry was staying close to one spot.  http://www.fishingchartersinkona.com
"As soon as we got near, the mahimahi swarmed our boat," Dick said.  "They were grabbing our big marlin lures as we were pulling them in."
As usual, Dick, Chip and Robert brought bait with them.  So they switched to their 30-pound class standup gear, and started pitching ballyhoo and opelu on bait hooks.
They caught mahimahi until they ran out of bait, ending up with 22 fish before they, and their bait supply, were exhausted.