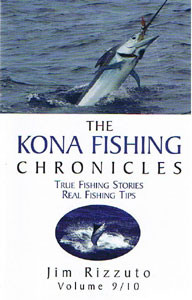 From The Kona Fishing Chronicles 2009/2010
Before he retired from chartering, I used to fish a lot with Capt. Freddy "The Philosopher" Rice. I call him that because he filled the conversation with theories and quotes consistent with his ivy-league college education.
My favorite was a pearl from the ancient Roman philosopher Seneca. Luck is what happens when preparation meets opportunity.
Undoubtedly, Freddy's grandson Capt. Oskie Rice has heard that and thousands of other words of wisdom over the years.
Fortunately, that hasn't prevented him from catching fish, as happened on a recent not-so-well-prepared fishing adventure.
Oskie runs the classic boat Lady, which has been in dry dock for the last five months undergoing thorough refurbishing.  After putting it back in the water a week or so ago, Oskie decided to take it offshore just to run the engines.
With no tackle aboard, he borrowed some rods, reels and lures from his dad, Capt. McGrew Rice.  McGrew's boat Ihu Nui was also in the yard for work so the gear was lying around looking forlorn.
Oskie took friends Bronson Cablay and Reese Anderson along for company.  They started late, around noon, but by the time they had reached Red Hill near Keauhou, they were satisfied the engines were doing fine despite idling for five months.
They tossed out some teasers, added a few lines with hooks and headed further south looking for opportunities. When they reached Hookena, up popped the largest marlin recorded here last week.
The 700-pound blue smacked a hookless teaser around a few times and hung around long enough to take a liking to a pink jet armed with a hook.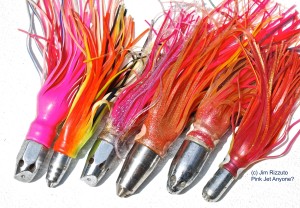 Reese got the fish to Bronson in about a half hour. With a 700-pound estimate at release, it would have weighed more than all others weighed or released here last week.
Apparently their last-minute, hastily-assembled fishing trip was preparation enough.
I won't pretend to be wiser than either my modern philosopher/friend or my ancient Roman goomba, but after 71 years of living and 40 years of teaching school, I would amend the words of the immortal philosopher.
The fact is, preparation creates opportunity.