Kona Blue hooks the blues 
Capt. Dave Crawford is a go-anywhere, try-anything, push the limits, skipper, and his determined attitude produced three of the most exciting billfish hookups of the year.  What's more, he and his crew accounted for most of the blue marlin tags reported to us last week.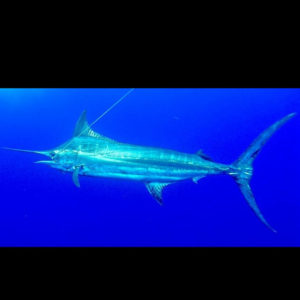 Dave runs the Kona Blue with crew Walter Gay.  The Kona Blue's owner, Clay Lawrence, was in town and Clay likes to take long-range overnight trips to seldom-fished, out-of-the-way places.  So on Friday they headed to South Point in hopes of loading up with ono, ahi and anything else you might expect in untouched waters.
They left at the crack of dawn but decided to run down the outside from buoy-to-buoy rather than trolling ono lane.
Off Honaunau, they got a strike on the short corner lure.  Walter was at the helm on the bridge while Dave worked the deck so Dave was standing next to the rod with the action.
After the fish pulled line and the reel sent out its alarm, everyone aboard turned their eyes aft to look for the jump.  Right in front of their noses, a 200-pound marlin skyrocketed out of the water as high as the bridge, flew across the wake still in the air, and crossed the halyard of the fishing line on the opposite side of the wake.
WHEN'S THE ONO RUN COMING?
The Kona Blue's catch of four ono during a two-day trip to South Point is unusual, though it shouldn't be at this time of year.  By Mid-May we are usually treated to an ono influx with more than enough for everyone and a glut on the market that drives consumer prices down to bargain rates.
So far, the ono catch has been spotty.  Determined anglers pick up one or two here and there but few can fill their fishbox during a normal day's fishing.
For the rest of the story
BIGGEST KAKU IN YEARS
While fishing on his boat Miki off Kawaihae, Tyson Fukuyama hooked the largest barracuda (kaku) we have seen in years. After the 49.5-pound fish hit a live akule Tyson turned the rod over to his fishing partner Koi Lorance to pull in. The excited duo weighed the fish at Hale I'a fish market in Kawaihae and took photos of the certified scale showing the fish and the weight.  Tyson and Koi's kaku catch fills a vacant spot on our Big-Fish List.
CANNIBALISTIC BILLFISH
The tale of the bilffish-eating billfish in last week's column got around the world quickly and found other similar stories elsewhere.  Here's one even more unusual than Kenny Fogarty's story of the blue marlin that plucked the 25-pound spearfish off the end of his fishing line.
Capt. Jason Tiny Walcott sent us a photo showing a fully-grown white marlin in the belly of a blue marlin.  The blue was caught during am East Coast tournament, and they found the partially digested white when they opened the blue to examine the odd bulge in its belly.
Big-Fish List for 2016. The list recognizes the biggest fish caught on rod and reel (except opakapaka and onaga, for which we'll accept hand line catches) in West Hawaii waters for 2016 in each of 22 categories. They are listed by species, weight, angler, skipper, boat, and date. The list is updated every Sunday throughout the year (copyright 2016 by Jim Rizzuto). If we have overlooked you, give us a call (885-4208) or send an e-mail ([email protected]).
Blue marlin, 865, Louis Paulo and grandson Kalamaokalani Kelekolio-Crivello, Anela okaikea. April 16.
Black marlin, 160.5, Jim Ives, Capt. Shawn Rotella, Night Runner. Mar. 30.
Ahi, 227, Capt. Russ Nitta, Lepika. Jan 6.
Bigeye tuna, 173, Dave Remillard, Miles Nakahara, Puamana II. Jan. 11.
Striped marlin, 136.5, Mitchell Romero, Capt. Guy Terwilliger, High Flier. Jan 22.
Spearfish, 54, Nick Humpries, Capt. Shawn Rotella, Night Runner, Feb. 26
Sailfish, 91, Mike Foster, Capt. Shawn Rotella, Night Runner. Mar. 24.
Mahimahi, 53, Nainoa Murtagh, Aulani. Feb. 10.
Ono, 62, Charlie Ford, Capt. Shawn Rotella, Night Runner. Mar. 18.
Kaku, (barracuda), 49.5, Koi Lorance and Tyson Fukuyama, Miki.  May 7.
Kahala, 70, Jessica Yell, Capt. Shawn Rotella, Night Runner. Jan 22.
Ulua (giant trevally), 74, Bochan Johnson, from shore. Apr 3.
Omilu (bluefin trevally), 15, J. J. Balucan, from shore. Apr. 10.
Otaru (skipjack tuna), 26, Randolph Fort, Capt. James Dean, Blue Hawaii. Marc 7.
Broadbill swordfish, (vacant)
Ahipalaha (albacore), (vacant)
Kawakawa, 18, Capt. Shawn Rotella, Night Runner. Apr. 2.
Kamanu (rainbow runner), 12.5. Tom Britton, kayak. Apr. 13
Opakapaka (pink snapper), 9.5. Butch Chee, Sueto Matsumoto, Sandee. Mar. 12.
Onaga (ulaula ko`aie), 19.5, Greg Hong, Kevin Shiraki, Erin Kai.  Feb 25.
Uku (gray snapper), 17.5, Devin Hallingstad, kayak. Mar. 24.
O`io (bonefish), (vacant)
Beasts of the week (marlin weighing 500 pounds or more).
None weighed
Releases
May 2: Blue marlin (400) Clay Lawrence, Capt. David Crawford, Kona Blue
May 3: Blue marlin (225) Joe Bolin, Capt. Shawn Palmer, Camelot
May 6: Striped marlin (110) Mike Yates, Capt. Kent Mongreig, Sea Wife II
May 7: Blue marlin (200) Eric Monroe, (150) Mike Engers, Capt. David Crawford, Kona Blue
Notables:
May 4: Ahi (164) John Squire, Capt. Russ Nitta, Lepika
May 4:  Ono (44.5) John Perry, Capt. Brian Phillips, Addiction
May 6: Blue marlin (143), ono (38), Bite Me
May 6: Spearfish (28), ono (25), Marlin Magic II.
May 6: Spearfish (43), Northern Lights
May 6: Ono (three fish to 40 pounds), Capt. Shawn Rotella, Night Runner
May 7: Spearfish (27.5), ono (39) Kuuipo
May 7: Oio (8), unknown
May 7: Spearfish (30), ono (4 fish to 40 poounds), Capt. David Crawford, Kona Blue
May 7: Ahi (106), blue marlin (140), Capt. Kenny Llanes, Lehuanani
May 7: Blue marlin (223), unknown, S.S. Minnow.