The big fish are coming.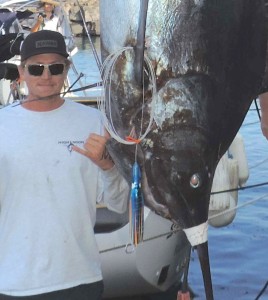 We know because some of them are already here.  On Friday, Kona Spirit reported the biggest blue marlin released so far in 2016.  That was three days after High Noon weighed the heaviest blue of the year to date.
Kona Spirit skipper Don Stutheit conservatively estimated the weight of his giant marlin at 850 pounds.  He thinks it might have topped the grander mark, but around Kona the rule is "Don't say it if you didn't weigh it."  What Don will say is that it had the thickest tail stump he had ever seen on a marlin.  The stump (technically the "caudal peduncle") is a good size indicator because it links the motor (muscle mass) to the propellor (tail fin). For the Rest of the story
HIGH NOON TAKES BLUE MARLIN LEAD WITH 642
Capt. Jah Nogues took over the helm of the charterboat High Noon three weeks ago and is already setting some memorable marks.  On Tuesday, Jah and crew Stuart Clemmons put
visiting Canadian Tyrell Foreman in the chair with a 642-pound blue marlin.
The fish hit "right out of the gate," Jah said.  A half hour after leaving Honokohau Harbor, they crossed the 1,000-fathom edge and got the bite.  For the rest of the story
FAMILY SAGA ON ANXIOUS
Nineteen years ago, Rick and Peggy Hand fished on Anxious with Capt. Ed Isaacs. That day, Rick boated a 75-pound striped marlin and Peggy a 196-pound blue, which gave her family bragging rights. Last week, the couple came back to try again on Anxious but this time they brought their son Nick. For the rest of the story
ANOTHER KONA SPIRIT SCORE
When fish act strange, be sure to pay attention.  On Monday, Capt Don Struheit was on a holoholo trip with his brother and an old high school friend when he got a puzzling strike from a spearfish.  For the rest of the story
HIGH NOON SCORES 44-POUND MAHIMAHI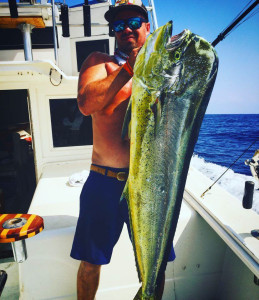 Mahimahi travel and feed in schools. It's a trait that can lead to fast action with the excitement of a three-ring circus. It gets even better when the mahimahi are big and better still when you catch them on light tackle. A few weeks ago, Capt. Jah Nogues had High Noon out at F-Buoy on a day when no other boats were around.  For the rest of the story
HOSPICE BENEFIT TOURNEY DRAWS 41 TEAMS
On Saturday, a competitive fleet of 41 teams vied for fish and prizes in the 10th Annual Hospice  Love 2 Fish tournament.  The event helped raise money for programs offered by Hospice of Kona.  Team Breezin II took first place with a 306.5-pound blue marlin.  Angler Tania Brown reeled in the winner with Keoni Torentino at the helm.
Angler Beverly Goad boated a 213-pound blue marlin to take second.  Beverly told us she fished on Sea Dancer in memory of her late husband with whom she had been married for 13 years.  For the rest of the story