Can you tell the difference between a "bigeye" and a "yellow"?  Kona fisherman Steve Cornacchia sent this photo of a tuna that couldn't seem to make up its mind.  The anal fin looks like the fin of a yellowfin tuna should look like.  The dorsal fin ism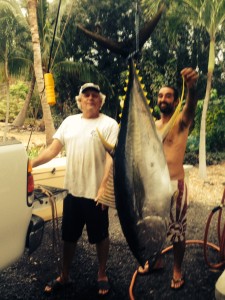 uch shorter than it should be. Could it have been a hybrid of the two species? We sent the image to tuna biologist David Itano, who assured us that it was definitely a yellowfin with a deformed dorsal fin.  All other characteristics were standard for "yellows."
For more information on the differences between the bigeye and yellow with a side by side comparison, visit our weekly Hawaii report.
WHAT A MONTH IT HAS BEEN!
What a difference a year makes!
This time last year, we were asking ourselves what happened to Kona's normal winter offshore run of striped marlin and shortbill spearfish.  In January 2015, we were getting them now and then but not in the numbers of years past.  Resource depletion didn't seem to be the answer because of the continuing growth in tag and release over the last two decades.  It all seemed to come down to unusually warm "winter" sea temperatures that were staying in the 80s.
If so, what about now when the sea surface has cooled to the 76 and 77 degree temps that we usually see in January and February?  The catch report is showing an encouraging number of shortbills and "stripes" including bigger fish than this time last year.
On Tuesday, for example, Silky caught 2 striped marlin and 3 shortbill spearfish, which were all released.  A mahimahi went into the box for dinner.  The next day, 3 boats brought spearfish and striped marlin to the dock to weigh as Puamana II topped the bunch with stripes weighing 97 and 76 pounds.  Anxious kept the run going with 3 spearfish releases the next day.  FOR THE REST OF THE STORY
KONA FOOD CHAIN BEGINS WITH AKU
Kona's offshore food chain begins with the aku (skipjack tuna).  Whether you are fishing for marlin, tuna, mahimahi, or ono, you can bet your target, in turn, targets skipjacks of a size they can wolf down.
So, when we want to get a sense of what might be happening next in big-game fishing, we talk to the guy who spends the most time fishing for aku.  That would be Capt. Kent Mongreig because he takes out two parties of novices every day on the charterboat Sea Wife II.  He knows he's had a successful trip when every member of his party has caught at least one fish.  Usually, that first fish is an aku.
This week's chat with Kent is particularly appropriate because his boat is at the top of the Big-Fish List aku column with a 14-pounder.  With congratulations to Kent, his "14" doesn't measure up to a 25-pounder that topped the list this time last year.  What's up with that?  FOR THE REST OF THE STORY
Big-Fish List for 2016. The list recognizes the biggest fish caught on rod and reel (except opakapaka and onaga, for which we'll accept hand line catches) in West Hawaii waters for 2016 in each of 22 categories. They are listed by species, weight, angler, skipper, boat, and date. The list is updated every Sunday throughout the year (copyright 2016 by Jim Rizzuto). If we have overlooked you, give us a call (885-4208) or send an e-mail ([email protected]).
Blue marlin, 625, Sunny Water & Marc Hembrough, Capt. Kenny Fogarty, Hula Girl. Jan 3.
Black marlin, (vacant)
Ahi, 227, Capt. Russ Nitta, Lepika. Jan 6.
Bigeye tuna, 173, Dave Remillard, Miles Nakahara, Puamana II. Jan. 11.
Striped marlin, 136.5, Mitchell Romero, Capt. Guy Terwilliger, High Flier. Jan 22.
Spearfish, 50, Ret Topping, Capt. John Bagwell, Silky, Jan 14
Sailfish, (vacant)
Mahimahi, 36, Larry Peardon, El Jobean, Jan 2.
Ono, 57, Monty Brown, Capt. Robbie Brown, El JoBean.  Jan 23.
Kaku, (barracuda), (vacant)
Kahala, 70, Jessica Yell, Capt. Shawn Rotella, Night Runner. Jan 22.
Ulua (giant trevally), (vacant)
Omilu (bluefin trevally), (vacant)
Otaru (skipjack tuna), tie at 14 pounds: Karey George, Capt. Kent Mongreig, Sea Wife II, Jan 21, and Jake Icenhower, Tyson Fukuyama, Miki, Jan. 28
Broadbill swordfish, (vacant)
Ahipalaha (albacore), (vacant)
Kawakawa, (vacant)
Kamanu (rainbow runner), (vacant)
Opakapaka (pink snapper), (vacant)
Onaga (ulaula ko`aie), (vacant)
Uku (gray snapper), (vacant)
O`io (bonefish), (vacant)
Beasts of the week (marlin weighing 500 pounds or more).
None weighed.
Billfish releases
January 24: Blue marlin (450) Vern Hirsch, Capt. Don, Kona Spirit
January 25: Blue marlin (500) Al Dorn, Capt. Kenny Fogarty, Makana Lani
January 25: Blue marlin (200) Ed Mueller, Capt. McGrew Rice, Ihu Nui
January 25: Striped marlin (50) Jim Williams, (50) Carol Williams, spearfish (30, 30, and 35) Jim Williams, Capt. John Bagwell, Silky
January 25: Striped marlin (75) Kim Stevens, Capt. Bill Murtagh, Nainoa
January 27: Spearfish (30) Jesse Crane, Capt. Al Gustavson, Topshape
January 27: Spearfish (25, 35, and 45) Unknown, Capt. Neal Isaacs, Anxious
January 28: Spearfish (35) Mike Magnotty, Capt. Neal Isaacs, Anxious
January 29: Blue marlin (175) Doug Christensen, Capt. Neal Isaacs, Anxious
January 29: Blue marlin (400) David Holman, Capt. David Crawford, Kona Blue
January 29: Striped marlin (70) Mike Tucker, Capt. James Dean, Blue Hawaii
January 29: Blue marlin (450) Mike Miginty, Capt. Russ Nitta, Lepika
January 30: Blue marlin (425) David Bugau, Capt. Joe Schumaker, Fire Hatt
Notables:
January 26: Big Eye tuna (132) Lance Hooker, Capt. Bobby Cherry, Cherry Pit II
January 26: Striped marlin (76) Debbie Cummins, (97) Dale Cummins, Mike Nakahara, Puamana II
January 26: Spearfish (38) Dave Olson, Capt. Jeff Heintz, Linda Sue IV
January 26: Striped marlin (74) Jim Sooy, Capt. Pete Peterson, Pepe Luau
January 26: Ahi (121 and 128) Ray Jennings, Capt. Russ Nitta, Lepika
January 28: Aku (14) Jake Icenhower, Tyson Fukuyama, Miki
January 29: Spearfish (36.5) Wanda Haugen, Capt. Kent Mongreig, Sea Wife II
January 29: Ahi (212.5) Glen Wall, Capt. Bobby Cherry, Cherry Pit II
January 30: Spearfish (30) Mark Cronshaw, Capt. Kevin Hiney, Kuuipo