In the latest Kona update from Jim Rizzuto, look for stories about bigeye tuna, striped marlin, spearfish, a new world record and great fishing ideas.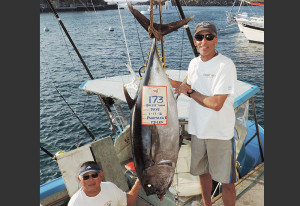 At year's end, Miles Nakahara sneaked a huge bigeye tuna past us so you never got to hear about it. His very-impressive-but-unreported 216-pounder would have topped our Big-Fish List for 2015, but that's water under the boat. Now he is making up for it. Last Monday, Miles caught a 173-pound bigeye tuna, weighed it at the Fuel Dock, and took over the lead for 2016.
Dave Remillard, from Sacramento, was Miles' guest on his boat Puamana II and found the 173-pound po'onui (it means "big head") at F-Buoy. When Miles spotted the fish on his fishfinder as a mark 50-fathoms deep, he made a wish that it wasn't a shark and sent a bait down 300 feet to tempt it. The fish bit immediately, Miles said.
"I must have dropped the bait right on its head," Miles said.
When they brought it up, Dave said he couldn't believe how big it was. "How many people get a chance to touch a fish this huge," he said.  For the rest of the story.  
STRIPED MARLIN LEAD NOW 121
The current striped marlin run as produced some dandy fish, which have pushed the bar higher and higher. Dave Britt caught a 106.5-pounder on his boat Primo Time. Capt. Kevin Hiney raised the ante to 117-pounds on the charterboat Kuuipo. But Capt. Shawn Rotella now has the lead just 4 pounds higher at 121-pounds.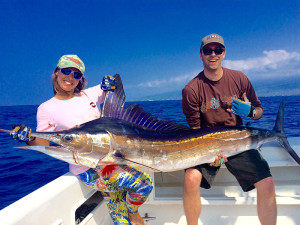 Shawn caught his big "stripe" on a day that had started out disappointingly. He and his party trolled for billfish and tuna all morning with no luck. When long hours with no fish make his charters grumpy, Shawn switches to his "sure thing" mood raiser. He looks for big gamefish along the bottom inside the 100-fathom ledge.
As he was pulling his boat Night Runner up to one of his favorite amberjack spots, he saw his outrigger bounce a few times. Something was playing with one of his lures.
He came down from his bridge helm and started reeling in the line quickly to see if he could get the fish to strike. As the fast-moving lure raced into view, he saw that it was being followed by a striped marlin, with its bright bars all lit up in excitement. The curious fish was definitely interested in the lure so he let it dangle from the outrigger to keep it nearby. As it did fast figure-eights behind the boat, he pulled out one of his light amberjack rods with a hook and leader, baited it with an opelu and tossed it to the marlin.   For the rest of the story. For the rest of the story.