Last week's biggest Kona fishing story happened half a world away. While fishing at Ascension Island in the South Atlantic, Kona gal Jada Holt boated a 1,305-pound Atlantic blue marlin. Jada's giant has been submitted to the International Gamefish Association (IGFA) for approval as the ladies' world record for the species using 130-pound class tackle.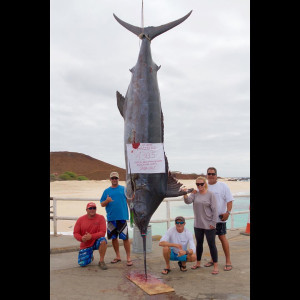 Even though Jada was about as far away as you could get from here and still fish for blue marlin, she was fishing with a captain and crew that was almost-all Kona.  Capt. Bryan "BT" Toney, who normally skippers the Kona boat Marlin Magic, was at the helm.  Capt. Chip Van Mols, Jada's dad, was among the gaffing crew along with her husband Dan Holt.  Chip runs the Kona boat Luna when he's home in Kona.  Capt. Olaf Grimkowski the only non-Kona veteran, handled the leader.
Jada caught her first world record in 2002 at the age of 10 and she put her last 13 years of experience to work immediately after the fish hit a trolling lure.  With BT's expert boat handling skills, they got the huge marlin to the boat in a quick 15 minutes to secure the potential record.
The unusual brevity of the fight may also have been aided by the placement of the hook.  Anchored in the tip of the lower jaw, it provided a pulling point which helped turn the fish and lead it to the boat.
BT had been searching for a grander since he left Kona a few months ago for the start of the Ascension Island season.  In a disppointing season there, he'd had one shot at a grander back on November 3rd but it pulled free of the hook after a short run. On seeing Jada's 15-foot long fish in the water, they knew immediately that it would top the 1,000-pound mark, but the marlin's dimensions were perplexing.
After they pulled it through the transom door on their boat Hammaton, the tale of the tape was both encouraging and confusing.
The 154-inch "short  length" (from the tip of the lower jaw to the fork of the tail) was 154-inches with a 78-inch girth (82 inches at the anal fin), was more than enough for them to guess big.  But the 19.5-inch girth in front of the tail correlated with a 950-pounder.
A similar situation had happened here in Kona in August when the Northern Lights boated a 154-inch blue marlin with a 19.5-inch tail stump.  Despite the unusually narrow "caudal peduncle," that fish weighed 1,309 pounds.  (Something to file away in your memory bank for the next time you catch a 1,300-pounder.)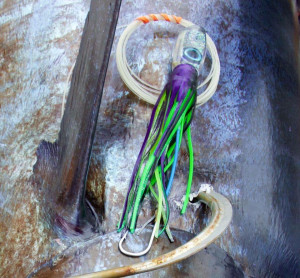 BT hooked the fish on a Moyes XL Pusherman lure made by Andrew Moyes of Fort Lauderdale, Florida, armed with a single hook rigged stiff with a length of plastic tubing.  It's not the first time you've heard of Moyes lures in this column — team Likelike used them to win the 2015 HIBT in August  — and with the world-wide publicity from those two events it is certainly not the last.
Jada first appeared in this column back in June, 2002, when she was 10.  Fishing with her dad on Rod Bender, she boated a 95-pound ahi on 80-pound class tackle to claim the IGFA Smallfry World Record in the tuna category.  At the time, Chip told us "She can put more oomph on an 80-pound stick than most adults twice her size."
And then he added something propheticly, "We are working on the marlin record for her."
There have been many major steps in between to get her ready for her big moment with marlin "1305."
When she turned 11, Jada got the jump on the Kona fleet by winning the New Year's Day tournament with a 514-pound blue marlin.  Her fish stayed atop our Kona Big-Fish List for two more months before anyone else could beat it.   Right from the start, Chip has insisted that she do all of her catching by IGFA rules from taking the rod from the holder to buckling in with the harness and doing all of the pumping and reeling herself.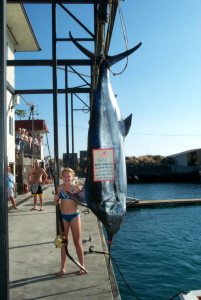 The rules became automatic and she never had to make an unknowing mistake.
Even with a pair of twins in tow Jada is now a consumate tournament angler. She took top honors this year in the 2015 Hawaii MarlinTournament series because of her catches in the Kona Kick Off, Firecracker Open, Skins Marlin Derby, Kona Throw Down, Kona Classic, Big Island Marlin Challenge, and Lure-Maker's Challenge.  While assisting her, Chip won top boat, too.
Jada and Chip have been on a world fishing tour of sorts with trips to Australia for black marlin, Nova Scotia for bluefin tuna (she caught two weighing over 800 pounds each), and, of course, Ascension Island for the largest blue marlin ever caught by any female angler in history.
But that's the Atlantic blue marlin record.  She still has plenty of time, water and fish here in Kona to match it with the Pacific blue title.
OTHER ODDITIES OF 2015
Because 2015 surprises us continually with oddities, it's worth noting more oddities as they come up.  We continue to comment on the continuing run of blue marlin in the 100- to 300-pound range, the many extra months of sea temperatures above 80 degrees and the 5 grander total that more than doubles the annual average of 2.
Here are two more.  On Sunday, Bite Me 3 weighed a 55.2-pound shortbill spearfish to take over the top slot on our Big-Fish List.  The year's biggest spearfish usually come in the months from February to May.  The two previous list-leaders for 2015 were both caught in March.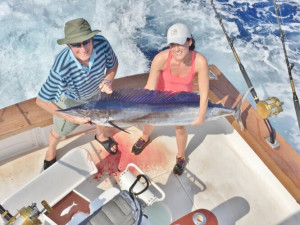 So Heidi O'Grady's catch with Capt. Andy Diehl is unusual for the time of year.
But it is also unusual for its size.  Our top contenders for the year are usually over 60 pounds most years and over 70 in the best.  Then again, we still have a month to go in one of the oddest years ever.
The sailfish situation is odd, too.  Most years, our weekly reports show no sailfish catches. This year has seen several each week like the 75.3-pounder Misty Sariano caught on Tuesday with Capt. Kevin Hiney on Ku'uipo and 50-pounder Gary Giepert caught the same day on Maverick with Capt. Trevor Child.
Either there are more here this year, or fisherman have gotten better at catching them.  Kayak fishermen might favor the latter theory.  It seems the kayakers have always been able to catch them by fishing with live opelu around opelu schools.
Duly noted for comparison with future years.
TOPSHAPE'S SECRET?
Topshape continues on a roll with fleet-leading catches.  Do they have a secret weapon?
On Monday, for example, Capt. Al Gustavson and crew John Bennet caught (and released) five blue marlin, which is a personal record for Topshape as well as being more than twice as many as anyone else caught on any day last week.
Are they hiding something?  If they have a secret weapon, it is something only the fish can see.
(Hint: try doing some research of your own by visiting the Topshape FB page Topshape Kona Sports Fishing)
Big-Fish List for 2015. The list recognizes the biggest fish caught on rod and reel (except opakapaka and onaga, for which we'll accept hand line catches) in West Hawaii waters for 2015 in each of 22 categories. They are listed by species, weight, angler, skipper, boat, and date. The list is updated every Sunday throughout the year (copyright 2015 by Jim Rizzuto). If we have overlooked you, give us a call (885-4208) or send an e-mail ([email protected]).
Blue marlin, 1,309, Michael Bilich, Capt. Mat Bowman, Northern Lights.  Aug 26.  (1,368*, Guy Kitaoka, Darrell Omori, Rayna. July 28, *electric reel).
* Black marlin, 209, Tim Flint, Capt. Butch Chee, Duck Soup. Sept. 7.
Ahi, 233, Ken Smith, Capt. Bobby Cherry. Cherry Pit II, May 1.
Bigeye tuna, 189, Meg Stern, Capt. Tracy Epstein, Last Chance. Feb. 19.
Striped marlin (tie), 141.5, Capt. Rocky Guaron, Hooked Up, March 26 and 142, Jody Pintar, Capt Jeff Heintz, Linda Sue IV.  April 8.
Spearfish, 55.2, Heidi O'Grady, Capt. Andy Diehl, Bite Me 3
* Sailfish, 101, Craig Cugnit, Capt. Shawn Rotella, Night Runner. Jan. 31
* Mahimahi, 53, Ray Mohammed, Capt. Jim Wigzell, Go Get Em. March 15.
* Ono (tie) 58.5, Asa Sugitan, Crazy Ann. Jan. 31,  58.2, Kawika Devine, Arnie Wolfe, Kiana Kai. Nov. 16.
* Kaku, (barracuda), 49, Ben Bermoro, from shore. Aug. 14
* Kahala, 44.5, Todd Shiraki, Treeny 2. July 8.
Ulua (giant trevally), 104.5, Adam Hodgson, Kayak.  March 31.
* Omilu (bluefin trevally), 13.5, Bruce Lentz, caught from shore.  April 2.
* Otaru (skipjack tuna), 29, Unknown, Capt. Chad Contessa, Bite Me. June 2.
* Broadbill swordfish, 50.5, Tony Clark, Capt. McGrew Rice, Ihu Nui. June 6.
* Ahipalaha (albacore), (vacant)
* Kawakawa, 17.5, Todd Shiraki, Treeny 2, June 20 and 17.2, Moorea Suguitan, Asa Sugitan, Crazy Ann. Oct. 8.
* Kamanu (rainbow runner), 21, Adam Hodgson, kayak. May 28, and 21.5, Jim Demand, Capt. Greg Kaufmann, Reel Screamer.  Sept. 8.
* Opakapaka (pink snapper),  (vacant)
Onaga (ulaula ko`aie), (21) Earl K. Hind, Kilohana. Sept. 11.
Uku (gray snapper), 16, Todd Shiraki, Treeny 2, June 20.
O`io (bonefish), 5.4, James Cintas (6 years old), Shoreline.
Beasts of the week (marlin weighing 500 pounds or more).
None weighed
Releases
November 22: Striped marlin (70) Jake, Capt. Rob McGukin, Integrity
November 23: Blue marlin (100, 125, and 175) Terri Jordan, (100, and 150) Richard Jordan, Capt. Al Gustavson, Topshape
November 23: Blue marlin (400) Mike Bolte, Capt. Tony Clark, Ihu Nui
November 24: Blue marlin (300) Dean Hooks, Capt. Al Gustavson, Topshape
November 24: Blue marlin (75) Unknown, Capt. Jeff Metzler, Anxious
November 24: Sailfish (50) Gary Giepert, Capt. Trevor Child, Maverick
November 26: Blue marlin (200) Griffin Quan, Capt. Chris Cawthon, Ohana
November 26: Blue marlin (150, and 200) Arie Zeller, Capt. Russ Nitta, Lepika
November 27: Blue marlin (125) Eli Johnson, (150) Bev Johnson, Capt. Neal Isaacs, Anxious
Notables:
November 24: Sailfish (75.3) Misty Sariano, Capt. Kevin Hiney, Ku'uipo