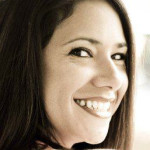 Jim says:  I couldn't resist sharing this fishing tale from friend Alayna Gomes.
Had an awesome day fishing with friends Nicole and Crystal in the Kona Iki Wahine Tournament yesterday. Got to see the beautiful sunrise over the mountain. Crystal hooked us an aku for bait. Then Nicole snagged herself a nice shibi. Trolled around all day, got myself a nice sunburn.
Then within the last hour and a half before stop fishing we hooked a big 500-plus-pound marlin. Crystal and I fought that witch for an hour. It took more than half the spool of line right from the start so we had to work hard to get it all back. We recovered most of our line then she made a run for it again. (Ugh) This time she gave us a nice show.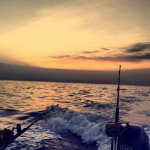 Full body jumps and twists out of the water at least 3 times then a few more smaller jumps. We were all soo excited but that's when I realized that we were really gonna have to work to get this beast. Luckily we had a good captain (Kris Gomes), he maneuvered the boat just right and we were able reel her in nice and steady. Got her in about 50 yards from the boat. I told Kris " I see color." Then she dove again. Got her back to 50 yards behind the boat again then…….SLACK. So sad we lost our fish. 😢 
But we can't be too bummed. It was still a great day. Still got dinner, had an awesome time with friends, have an epic fishing story to tell, and got an aching body and bruises to show for it. 😁 Gotta love the life we live.
So who won and what did they catch?  Here are the results as provided by Capt. Henry "Butch Chee."
First Place:  Teresa.  Capt. Steve Fassbender
Team Capt. Sandi Fassbender
Angler: Paulette Pama
153 lb. Blue Marlin
Second Place:  Kona Pearl II.  Capt. David Magallanes
Team Capt. Shardae Soares
Angler: Amber Soares
108 lb. Blue Marlin
Third Place:   Nora K.  Capt. Aaron Mori
Team Capt:  Kuuanela Kahananui
Angler:  Henriann Kahananui
107 lb.  Ahi
The Kona Iki Trollers will be running a light tackle tournament on Aug. 1 and
the Keikis will have theirs on Aug. 15.