Our weekly throwback takes us back to May, 2006 for some special stories about broadbill swordfish, ono and other May surprises.
First published on May, 8, 2006.  Reprinted from Kona Fishing Chronicles 2006/2007.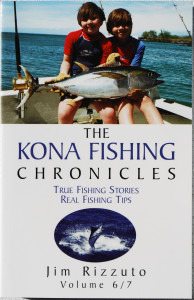 It's spring when the balmy nights turn an excitable fellow's fancy toward thoughts of broads.  
That's broadbill swordfish, of course.
Five eager swordie seekers set out one night a week ago in search of broadbills and returned with the first (therefore, biggest) rod-and-reel swordfish catch of the year to date.
Tim Robertson, Bill Rhee, Mark Loera and Sam Choy, Jr., joined Allan Bakke on the charterboat Howbadouwanit for a-last-minute, action-packed adventure.
"We had originally wanted to go south," Tim said, "but the late departure nixed that.  Instead, Alan changed the game plan to working the 1000 out in front of town."
Down-sizing the long-range trip to short range just meant an early start-fishing and start-fighting trip.
Tim suspects they had three bites, hooked two fish and finally caught one – their 101.5-pound broadbill. The first one hooked behaved much like the one they got, making them think it, too, was a swordfish rather than a tuna or shark.  The big difference came toward the end of the fight when an uninvited spoiler joined the battle.
"When we were getting that suspected swordfish close, Billy Rhee had pretty good drag on it and pulled hook when it changed direction real quick because a shark came charging in," Tim said.
"The large shark had some serious speed and agility," Tim said. "We couldn't identify it specifically, but it was a rocket and moved faster than any shark we've ever seen coming up on any fish we catch. Maybe a mako?
The broadbill bite (or bites?) came on the setting moon as the night headed toward total darkness.
After missing the first, they later marked a second fish on their electronic fishfinder and suspected it was a swordfish.
"It ate the bait on the 20-fathom line, but didn't stick," Tim said. "Then the 30-fathom line went off a minute or so later (possibly the same fish) and that one stuck!"
Swordfish went from a very rare catch to an almost nightly event about thirty-five years ago when the fish gods said "Let there be light!"  Night fishermen struck upon a brilliant idea when they began attaching chemical lights to their baits.  Broadbills spotted the pinpoints of light at great distances and found the glow to be irresistible.
"All our baits had Cyalume ™ light sticks and lumo skirts 20″ above the bait," Tim said. "The leader on the 20-fathom line was mono with an opelu for bait, but the 30-rig had a wire leader on a circle hook baited with an aku fillet.
The 101.5-pound swordfish took the bait and quickly headed off on a 150-yard run. The tactic made them suspect it might be a swordfish rather than the thresher sharks frequently caught this way.
In case it was a swordfish, they backed the drag off a little but were still able to get the fish to the boat in just seven or eight minutes.
They recognized the unmistakable bill and realize they had just caught the first broadbill for Tim and the boat Howbadouwanit.  
"Allan and Sam had caught swordfish before on handline, but this was their first on rod and reel," Tim said.  
Indeed, the rod is worth special mention. Tim manages the Kona store for Melton International and was field testing a new Ian Miller 130-stand-up-short-stroker rod wrapped with Winthrop guides.
Tim says he was pleased.  "It lifts fish effortlessly. You have to pull on one to see how awesome they are.  I presume you might get to see one if you stop by Melton's.
Standup fishermen give up quite a bit of advantage when they choose to fight a fish on their feet rather than plopping  their butt into a fighting chair.  In the May issue of Marlin Magazine, editor Dave Ferrell describes the difference using a jaw-dropping demonstration by skipper Peter B. Wright at the Miami Boat Show earlier this year.  
"First he picks a big fella out the crowd and shows how much drag he can pull standing up with different harnesses," Dave wrote.  "He then picks the tiniest girl in the crowd, puts her in the chair and connects her line to the stand-up guy's line."
In a tug-of-war between the two, "The little girl in the chair usually wins hands-down without even grunting hard," Dave wrote.  
I assume he meant "wins butt down" but you get the picture.  Still, beating a 101.5-pound swordfish in seven or eight minutes without a seat-of-the-pants advantage is still pretty impressive.
ANOTHER SHARK/BILLFISH COMBO
Sharks and billfish feed together from time to time, as the previous story shows.  Undoubtedly they do so warily – the shark watching out for the lethal marlin bill and the billfish staying beyond reach of a debilitating bite. Still, when you get a double strike while towing two live baits and one turns out to be a shark, the result is not usually good.  Two sharks, probably. If not, it's the same shark hooked on both baits.  They are just that greedy.  Indeed, at least one angler has hooked a shark, fought it to the boat, released it, watched it swim back and grab another bait and then had to fight it all over again.
 With that background, consider the case of a double catch on the Intrepid last week. Dave Johnson of Brooksville, Florida and his brother Wayne were aboard with skipper Dennis Cintas and crew Butch LoSasso.
"We got lucky, caught some live baits at C-buoy and had a double strike within the first hour," Dennis said. "Wayne had his hands full for 15 minutes with the first fish.  When he fought it to the boat we realized that it was a silky shark."
Dennis and Butch held the shark at boat side just long enough to estimate it as "huge," and take some pictures before cutting the leader. "We immediately transferred anglers and rods and knew for certain that the second fish was a blue marlin because it was jumping while we were fighting the shark," Dennis said.
Though it was a tough fish, Dave worked it to boat side in about 20 minutes, still green, Dennis said.  
"It was hooked in the corner of the jaw and we were able to release it in terrific condition," Dennis said.  "We estimated it at 275 pounds and got some great aerial photos of it at close quarters while Butch held on."
 Somewhere a tired marlin and exhausted silky shark are eyeing each other and asking "What just happened?"
 Tag-and-release is now a very significant component in the Kona billfishing picture and skippers will go to great lengths to release a healthy fish.  Sometimes the marlin makes it easy.  At other times, there's not much you can do despite what you do.
 Look no further than an Intrepid catch two days later.
 "The purple Softhead ™ went off on the short bait position and an extremely healthy blue took off jumping," Dennis said.  "A great 15-minute fight on 130 and Les Brazzel of San Francisco brought a very tired 300-pound blue to the side of the boat."
 The hooks had clamped the marlin's mouth shut during the fight, putting the fish into severe oxygen debt. Despite the odds, the Intrepid team towed the fish behind the boat while Dennis lay on his belly with his body sticking out through the transom door and held on to the bill to keep the fish swimming upright.  They did their best to resuscitate the fish for about 15 minutes before calling it and taking the fish back to the scales.
KAWAIHAE KATCH COPS KAKU CROWN
Kawaihae fishermen have capitalized on the recent influx of ono, while trolling up some surprises.
 Paul Larson, a North Kohala woodworker most days, took a day off to troll ono lane from Kawaihae to Mahukona and hooked a 91-pound `ahi in 45 fathoms afew miles south of Lapakahi.  Many Kawaihae fishermen have trolled that stretch their entire lives without hooking a yellowfin of any size, let alone a bruiser near the century mark.
 Lopaka Kuali`i took his sons Makani and Kahua out on the family boat Uakinimakalehua and hit the big-fish list with a 71-pound barracuda (kaku). When you hear about a big 'cuda catch, you automatically think bait.  Few are ever caught on lures and seldom are those large.  Kaku get big by avoiding lures, but this one was unable to resist a jet lure trimmed in blue, pink and silver.
"The boys took turns pulling it in because it was so big," Lopaka said.  "It took them about 25 minutes on a 12/0 reel with 80-pound line."
 When he got the fish to the boat and saw what he had, Lopaka didn't want any part of it.
 "I wanted to shake it free because it was just me and my boys on the boat," Lopaka said.  "But the back hook was too far down and I couldn't get it."
No sense risking your hand by sticking it inside a mouth full of inch-long razor blades.  Together the three fishermen hauled the fish aboard, carefully avoiding all sharp edges, and left the hooks alone until later.  
The barracuda hit off Red Hill at around 9:30 am after Lopaka had hooked several ono.  His early experience with the ono gives us our fishing tip of the week. He hooked an ono on a lure trolled behind a bird teaser.  When he had the ono by the boat, a second ono flashed in out of nowhere, grabbed the bird and cut the line ahead of the bird.  
"I lost everything – the bird, the lure and the fish," Lopaka said. From now on, he says he is rigging his bird behind a foot or two of wire just in case.  
Undaunted, he put his lures back out, went back over the same area and caught another ono.  
"I had marked some bait in about 200 feet and just kept working the bait pile," Lopaka said.  "The outrigger snapped again and the fight was on.  This time it was the big kaku."
Lopaka weighed the kaku at La`au's fish market where proprieter Eddie La`au Jr. told him about the role of the big barracuda in Hawaiian opelu-fishing tradition.
"He told me that in the old Hawaiian days the kaku was the guardian of the opelu, Lopaka said. "The big aku corral the opelu and protect them from other fish.  I never knew that."
Captain Gregg Kaufman skippers the charter boat Patience out of Kawaihae and says the ono have been providing steady action.  He and crew Bob Beach have been catching four to five ono per half-day charter in recent weeks.
AN `AHI QUARTET SINGS NO BLUES
Visiting angler Keishi Shiohata has perfected an unfailing formula for catching tuna when no one else does.  Keishi wants only marlin.  No marlin, no deal.  
The strategy worked once again with one of the most spectacularly unexpected tuna catches of the year. Keishi fished with skipper Bill "B. C." Crawford and crew Tom Halley on the Chiripa.  As directed they were out looking for marlin – and  marlin only – when B.C. was startled to see a bunch of splashes directly off the bow and then around the boat.  Tuna were jumping all over the place.  "When I realized my mistake, everything came crashing down at once," B. C. said. "Four reels started screaming.  The original shock was outrageous."
We are still a month or two ahead of the season of the quadruple tuna strike.  And even in June or July, a quadruple strike seldom means you catch all four. These four all stayed hooked.  But they went in four separate directions.  Keishi "Marlin-only" couldn't seem to catch a break. He was simply going to have to bring in all four tuna.
"Once they all settled down we put the one that was going left on the left side, and the one going right on the right side," B.C said. "One was going straight out and stayed on the surface and the fourth one went straight down.  First we cranked up the deep one, then pulled in the right one, the left one and finally the long one. It only took about 45 minutes."
The four tuna weighed 160, 119, 116 and 115 pounds, respectively.
Some details in case you hope to duplicate this feat. BC was running the Chiripa in 600 or 700 fathoms off Honaunau at about 1:00 pm just at the low tide change heading up to the highest tide of the day.  Get plenty of rest ("I was just waking up from a nap when I saw the splashes," BC  said.)
And don't forget to chant "marlin-only," preferably in Japanese.