From May 21, 2003.  
STRIPED MARLIN WALLS TO WALLS, THE GREATEST TUNA TRIP OF THE YEAR, A TUNA FOR SHOW AND TELL
The three Walls brothers have proved that any Tom, Bob or Pat can catch a big striped marlin.  Well, not Bob. He stayed home last Tuesday when Tom and Pat pulled into Keauhou with the largest striped marlin of the year.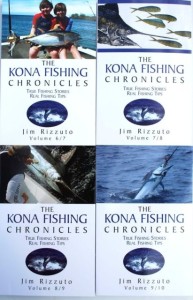 The trio of ex-Minnesota dairy farmers brought their 23-foot Boston Whaler Holo Holo here a year or so ago "because we were sick of the cold winters," Pat said in a recent interview.  The brothers now live in homes at Kohala Estates but keep their boat at Keauhou to take advantage of the calm water and big fish.
The year's biggest striped marlin hit about three miles offshore while Tom was running the boat back to Keauhou after an otherwise fishless trip. The 171.5-pound "stripe" grabbed a Marlin Magic jet lure trolled behind a "bird."
"It was my turn to bring the fish in," Pat said. And he did it like a seasoned pro in just about 20 minutes. The heavy tackle, 130-pound class, helped, but it also helped to bring the fish to the boat in a more active mood than it might otherwise. "Originally, it ran out about 250 yards of line, which seemed like quite a bit for a fish that size," Pat said. "That got it so tired out it came right up to about 40 foot of the boat. That's when it got its energy back and started to thrash all over the place. At one point it looked like it was going to get between the engines but we got out of trouble there and finally gaffed it."
The Walls brothers' recent catch may be the biggest striped marlin of the year, but it's not the biggest billfish of their short fishing career here.  "We got a 496-pound blue last August," Pat said. Is this all beginner's luck? "You've gotta have some kinda luck, Pat said. "We've been getting some fish but we've got a lot to learn."
I asked the enthusiastic refugee from cold country whether he was having a good fishing year.  His response: "It's a good year when we are in Hawaii."
The Walls' 171.5-pounder replaces a 153.5-pound stripe caught by Valerie Farmer on the Ho`okele in March.
THE GREATEST TUNA TRIP OF THE YEAR
Capt. Ryan Foster figured in the greatest tuna trip of the year. It happened back on January 10 and was noted briefly in this column. Talking with Foster last week gave me the opportunity to get the details of a day that produced 12 yellowfins big enough to wear out a crew of three veteran anglers, none of whom had ever seen the likes of it before.
Foster was fishing on the Little Dojo with Randy Parker and Mark Vierra.  Before the trip was over, they were joined by a dozen tuna weighing 149.5-, 141.5-, 141.5-, 138-, 123.5-, 111-, 110-, 105-, 103.5-, 97.5-, 80.5-, and 78-pounds.  Not handlining, not ika-shibi, not fishing the "stick," not baiting a FAD.  All caught trolling with lures.
"Randy said that was the most he had ever seen trolling," Foster said. "We did it on a short trip; we were only out for about 4 hours. We had left in the afternoon but we couldn't find anything at first. We were in a fast boat.  Ran outside and found the porpoise outside OTEC. We took a couple of triples, a couple of doubles and some singles.  I used to fish out of Waianae years back and we would see guys on the 'stick' pull those numbers. But you never saw anyone do it trolling.  I can't believe we caught every one we hooked and never messed up.  When you are fishing in a school like that, you can't afford to miss one because the school gets sensitive and leaves."
A TUNA FOR SHOW AND TELL
Shane O'Brien, 14, is a freshman at Kealakehe High School.  His dad, Capt. Fran O'Brien, babysits the Freedom, a 37-foot  Riviera. There was a good ono bite last week so Fran and Shane took the Freedom out early in the morning to catch one before school.
"This is an 'only in Hawaii story,'" Fran said later. "We took a run up ono lane and were the first ones off the "Light" at about quarter to six. We got a bite in 38 fathoms of water, typical ono territory. And a typical ono lure; a small jet with rootbeer colored skirts.  It fought harder than we expected so we were thinking it was a big snagged ono.
By the time we got it to gaff, we had drifted into 19 fathoms and the fish turned out to be a 112-pound `ahi."
Still time to weigh the fish, get breakfast and make it to school for a first class at 8:00 am. "While we weighed the fish at 7:00 am, Shane said he was hungry so he went upstairs to the snack bar and had typical Hawaiian fare for breakfast, chili and rice. He took a shower behind the boat and I got him to school on time. The Charter Desk had printed up the digital pictures of the `ahi so he was able to take them with him to class. Shane has caught ono and striped marlin before, but this was his first ahi."
HEAVY REASONS TO RETURN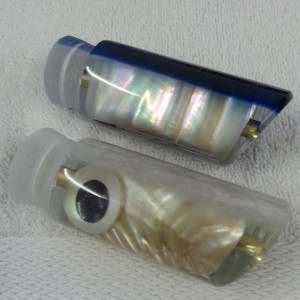 Chicago teenagers Tommy and Cole Werner have 1,200 pounds of reasons to return to Kona some day. Tommy, 15, released a 700-pound blue marlin on April 2.  His brother Cole, 14, released a 500-pounder on March 31.  The boys and their proud dad Brad fished on the Sea Genie II with Capt. Gene Vander Hoek.
Like most (maybe even all) of the big fish caught so far this year, the Werners' marlin were taken on lures. "The 500 pounder was caught on 130 on a Capt. Scott Crampton tube bait,"  Vander Hoek said. "The 700-pounder, on 100-pound line, was on a Marlin Magic Medium Blue Jet with your basic flying fish colors.
The Sea Genie II led a week of improved blue marlin fishing with a 712.5-pound blue.  Angler Scott Finelli filed his taxes early and celebrated April 15 with the catch.