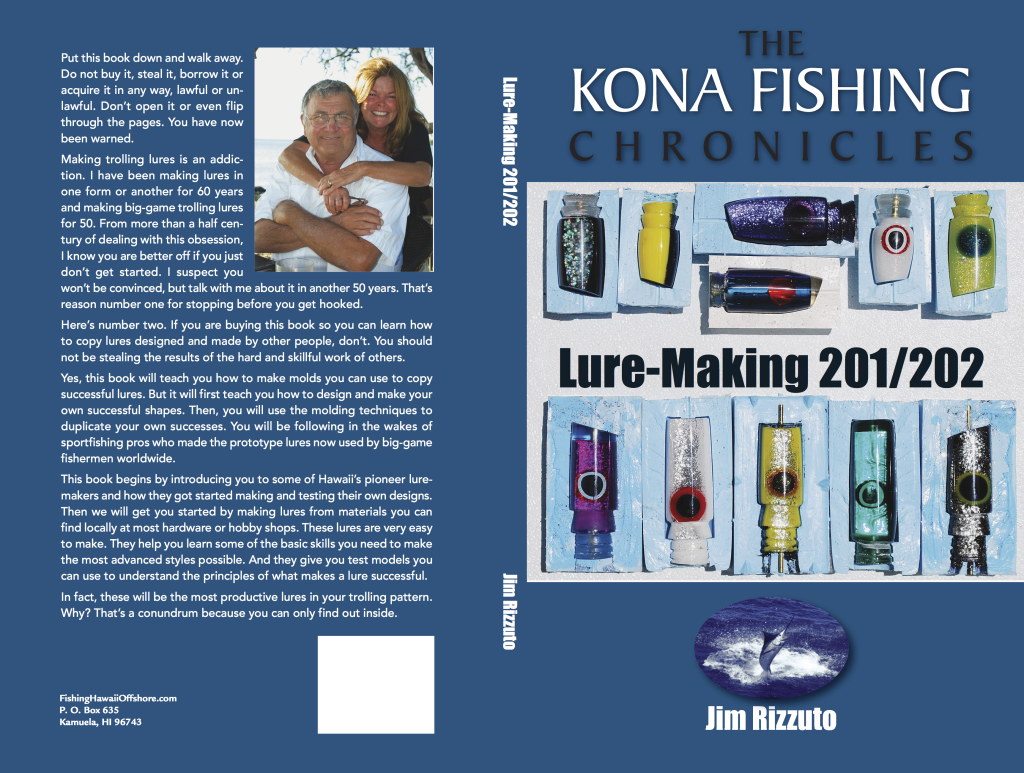 Here's the book you have been waiting for.  Lure-Making 201/202 is the second in the series of Kona Fishing Chronicles books on how to design, make and use big-game trolling lures for marlin, tuna, mahimahi, wahoo and many other major offshore gamefish.  It's a sequel to the highly popular Lure-Making 101/102.
With more advanced techniques and materials, the 201/202 book helps you advance your lure-making skills so you can catch more and enjoy your offshore fishing more.  The two books overlap about 5% for consistency.  Otherwise, this book is all new material.  Make sure you have both. If you purchase both, you save on shipping.
The book has been out only since November 2014 and the first printing is almost gone.  The first printing has already been purchased by buyers in 41 of the 50 states and 16 foreign countries. It has been received with rave reviews.
Maui lure-making legend Steve Elkins' review of 201/202 is short and to the point:  "For those who want to catch a fish on a lure they made, this book is the way. It explains everything very clearly and gives all the information needed to produce a great lure."
Table of Contents
Introduction Solving a 50-year-old Mystery
Chapter One: Heresies and Contradictions
Chapter Two: The Classic Tube Lure
Chapter Three: What's Your Angle?
Chapter Four: How Fast is Too Fast?
Chapter Five: Eye or Nay?
Chapter Six: The Goldilocks Test
Chapter Seven: Meet Your Match
Chapter Eight: Natural Colors?
Chapter Nine: Weighty Matters
Chapter Ten: Digging Deeper
Chapter Eleven: Sorting Out the Important
Chapter Twelve: Make the Most of Your Trolling Pattern
Chapter Thirteen: Jets – The Hole Truth
Pages 93-156 SPECIAL COLOR HOW TO SECTION
Chapter Fourteen: When to Change Lures
Chapter Fifteen: All about Skirts
Chapter Sixteen: Staying on Track
Chapter Seventeen: Lures and Leaders