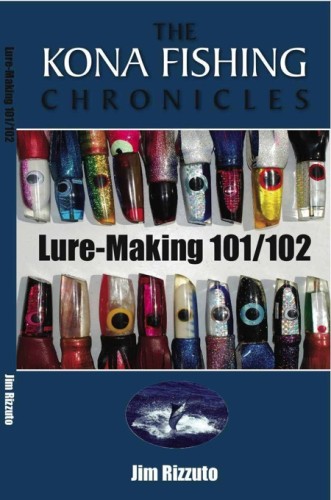 Pacific fishermen have made their own lures since the days when the only lure materials available were shells, bones and boar bristles. Many generations ago, making your own lures made you a fisherman.  The "mana" (spirit) you created with your lure determined your fishing success.
For some, that same spirit endures. As modern products have replaced the natural materials of the stone-and-bone age, lure-making has become easier and more accessible to the back-yard craftsman.
I've written about lure-making for various publications since 1964.  I receive a lot of questions about the process so I have just published the book Lure-Making 101/102.
This is a book of history and an homage to the artisans who brought big-game lure-making into the modern age. In showing you the path the great lure makers followed, the pages provide an array of ideas you can use to create and innovate.  Indeed, the book is interesting if only for the story of big-game lure-making throughout the last seventy years.
The how-to section begins with simple lures you can make from readily available materials without needing molds of any kind.  Then it introduces how to cast lures from  "found" molds in the tradition of early lure makers who used bottles, tumblers, and tubes.
After you have created some masters you want to duplicate, the book teaches you how to use RTV (room-temperature vulcanizing) liquid rubber to make sturdy and dependable molds. You can use these molds over and over to make your own lures in the spirit of centuries of master fishermen.
The book is available only directly from me.
Fair warning.  You may have to act quickly. This is a short run book with a limited number of copies.

[Best_Wordpress_Gallery id="3″ gal_title="101″]


TABLE OF CONTENTS
Chapter One: How it all began
Chapter Two:  From Plumbing to Plastics
Chapter Three: Metal Molds, Adding eyes
Chapter Four: Soft and Squishy — The Moldcraft Revolution
Chapter Five: Fat Boys, Marbleheads, and Alligators
Chapter Six: Patents Tell some Interesting Lure Tales
Chapter Seven: The Kaitas and the IGFA 1,376-pound Pacific Blue Record
Chapter Eight: Fishhead Lure Heads Seem Natural
Chapter Nine:  How to Make "Test Tube" Lures
Chapter Ten:  From Lures to Molds and Molds to Lures
Chapter Eleven: Luremakers on Lure-making.