Bluefin Trevally Please Shorecasters
Two summers ago, Hawaii coves, bays, harbors, and reefs swarmed with juvenile bluefin trevally.  These hand-sized youngsters promised great shorefishing ahead when they grew to fighting size.  A lot of these "papio" (trevallies weighing less than 10 pounds) are now "ulua" (trevallies weighing 10 pounds or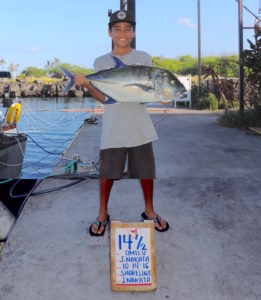 more).  These larger, hard-fighting jacks are now delighting shore fishermen like John Nakata who brought a 14.5-pounder to the Fuel Dock scales to be weighed.
Bluefin trevally go by the Hawaiian name "omilu" (oh-Me-loo), which, in itself is a puzzle.  The Hawaiian word also means "insignificant."  Believe me, this tough gamefish is anything but insignificant. Ask a shorecaster to list his favorite gamefish, he would put omilu second, behind only the giant trevally, or third behind the GT and the o`io (bonefish).  Depending on when you asked me my favorites, I would put it at the top — especially if I was trying to pull one in at the time you asked.
Korean General Wins Sea Battle
On Kona Blue, Capt. David Crawford and crew Chris Hudson hosted a visiting Korean military man and hooked him up to one of the biggest fish caught here last week.  The visitor was introduced only as "General Woo" when he arrived at the boat's slip in Honokohau Harbor with two officials in tow for a four-hour charter.
The battle kicked off at around 10:00 am when the aggressive blue marlin attacked a lure punching through the white water commotion churned up in the wake of the 53-foot Hatteras battlewagon.  As Capt. Dave worked a hot spot on the 1,000-fathom edge a mile or so off Kaiwi Point, the marlin grabbed an Aloha Lures Deep Six  and took off on a blistering run.
"The marlin screamed out a lot of line as it headed straight away from us," Capt Dave said.  "It took the top shot and was well down into the Dacron backing before it slowed down.  That's at least 500 yards of line."
Lepika Scores Biggest Fish of the Week
And the "beasts" go on.  Hawaii's big-game fishermen catch big marlin around the calendar throughout the year.  Whether the sea temps are up to a "hot" 84 degrees in mid-summer or all the way down to a "chilly" 75 degrees in the winter, blue marlin enjoy cruising comfortable island currents looking for companions and commestibles.  (Yes, they come here to eat and mate.)
So it's mid-October.  No matter.  On Friday, Lepika hit the beast list with a 550-pound blue marlin.
Big-Fish List for 2016. The list recognizes the biggest fish caught on rod and reel (except opakapaka and onaga, for which we'll accept hand line catches) in West Hawaii waters for 2016 in each of 22 categories. They are listed by species, weight, angler, skipper, boat, and date. The list is updated every Sunday throughout the year (copyright 2016 by Jim Rizzuto). If we have overlooked you, give us a call (885-4208) or send an e-mail ([email protected]).
Blue marlin, 865, Louis Paulo and grandson Kalamaokalani Kelekolio-Crivello, Anela okaikea. April 16.
Black marlin, 310, Tim Flint, Capt. Butch Chee, Duck Soup, June 21
Ahi, 233, David Diaz, Capt. Bobby Cherry, Cherry Pit II, June 5
Bigeye tuna, 173, Dave Remillard, Miles Nakahara, Puamana II. Jan. 11.
Striped marlin, 136.5, Mitchell Romero, Capt. Guy Terwilliger, High Flier. Jan 22.
Spearfish, 54, Nick Humpries, Capt. Shawn Rotella, Night Runner, Feb. 26
Sailfish, 91, Mike Foster, Capt. Shawn Rotella, Night Runner. Mar. 24.
Mahimahi, 53, Nainoa Murtagh, Aulani. Feb. 10.
Ono, 62, Charlie Ford, Capt. Shawn Rotella, Night Runner. Mar. 18.
Kaku, (barracuda), 49.5, Koi Lorance and Tyson Fukuyama, Miki.  May 7.
Kahala, 70, Jessica Yell, Capt. Shawn Rotella, Night Runner. Jan 22.
Ulua (giant trevally), 74, Bochan Johnson, from shore. Apr 3.
Omilu (bluefin trevally), 18.5, Mikey McCrum, Shoreline. May 13
Otaru (skipjack tuna), 28. 5, Ray Mohammond, Capt. Jim Wigzell, Go Get Em
Broadbill swordfish, 224, Matthew Bolton, Kahele, June 14
Ahipalaha (albacore), 52.5, Devin Hallingstad, kayak, Aug 13
Kawakawa, 23, Tom Schachet, Capt. Shawn Rotella, Night Runner. July 1
Kamanu (rainbow runner), 12.5. Tom Britton, kayak. Apr. 13
Opakapaka (pink snapper), 9.5. Butch Chee, Sueto Matsumoto, Sandee. Mar. 12.
Onaga (ulaula ko`aie), 19.5, Greg Hong, Kevin Shiraki, Erin Kai. Feb 25.
Uku (gray snapper), 31, Josh Fulton, kayak. July 31.
O`io (bonefish), (vacant)
Beasts of the week (marlin weighing 500 pounds or more, including releases).
Oct 14: Blue marlin (550R) Tim Jauthum, Capt. Russ Nita, Lepika
Released Fish:
Oct 09: Blue marlin (450) General Woo, Capt. David Crawford, Kona Blue
Oct 09: Blue marlin (100) Nick Forhearct, Capt. Marlin Parker, Marlin Magic II
Oct 09: Spearfish (25) Sawyer Bean, Capt. Kenny Forgarty, Hula Girl
Oct 10: Blue marlin (160) Ciaran O'Sullivan, Capt. Reuben Rubio, Sundowner
Oct 11: Blue marlin (200) Bob Breen, Capt Kenny Fogarty, Makana Lani
Oct 15: Blue marlin (100) Charlie Thor, Capt. Kenny Fogarty, Hula Girl
Weighed/ Boated Fish:
Oct 09: Mahimahi (20) Capt. Neil Isaacs, Anxious
Oct 09: Blue marlin (93) Kevin Zhang, Capt. Kenny Fogarty, Hula Girl
Oct 09: Ono (39.5) Josh Fulton, Kayak
Oct 10: Ahi (110) Tod Dedwler, Capt. Bobby Cherry, Cherry Pit II
Oct 12: Blue marlin (111) Brandon Bondaug, Shibi
Oct 12: Mahimahi (20) Voss Markov, Capt. Kenny Fogarty, Makana Lani
Oct 13: Blue marlin (103.5) Tim Ulsky and Shaun Koson, Alexandria C
Oct 13: Blue marlin (170) Corey Christianson, Capt. Dale Leverone, Sea Strike
Oct 14: Omilu (14.5) John Nakata, Shoreline
Oct 14: Ahi (120) Julie Sliver, Capt. Bobby Cherry, Cherry Pit II